Pastry Chef: Best Tips for Success, In and Outside of the Kitchen
Do you love to bake your own desserts and pastries? Are you constantly baking for friends and family? If so, why not take that passion and put it towards a fulfilling career as a pastry chef?
The food scene has grown more and more popular over the past few decades. It's to the point where people generally prefer to go to local restaurants and bakeries over larger chains. This means that there could be plenty of opportunities for work as a pastry chef, whether it's at a restaurant, bakery, grocery store, hotel, or catering service, to name a few options. Not only could you have chance to secure employment as a pastry chef, but you could even open up your own business as well.

Tips for becoming a professional pastry chef
If your dream is to become a professional pastry chef, then the following are a few things that you will need to know and do in order to be successful.
Efficiently measure your ingredients - While there's certainly an art to baking, it's also part science. You can't just "eye" measurements when adding ingredients. They need to be accurately measured beforehand. Professional pastry chefs will measure out all of their ingredients beforehand. It helps to save time as they began making their pastries. You need to be able to measure properly without making mistakes and to do so ahead of time to avoid being rushed into making mistakes.
Never waste anything - You might find that you have some leftover ingredients as you're baking, especially if you're making a large volume of items. For example, you may have some leftover batter or scraps, such as pie crust. You should never waste these things. Figure out ways that you can use these items for decoration or add them to another dish.
Have the right equipment - Not only do you need to have certain baking equipment, but you need to know what kind of equipment you need. Having the right equipment and knowing how to use it can go a long way in making things much easier on you. For example, any professional pastry chef will tell you that it's impossible to do their job without a stand mixer or a digital scale.
Know what ingredients you'll need ahead of time - If you're running a business and you find that you don't have the ingredients you need the day that you need them, it's going to be very difficult for you to meet the demands of your customers. The last thing you want to do is to be forced to rush out and buy extra ingredients at an added cost.
Know how to manage time - Time management is essential for any pastry chef. You need to have a sense of when you should get started measuring ingredients. As a professional, you'll likely be baking numerous things at once as well. Poor time management can cause you to go behind schedule or even to ruin your pastries.
Be very organized - Running an organized kitchen is essential. Not only to make sure you have what you need to bake your order, but also so you know where everything is. The last thing you want to do is waste time looking for a misplaced ingredient or tool.
Understand how to manage your budget - Budgeting is going to be very important has a head pastry chef or the owner of a business. You need to know how much ingredients cost and how much you can spend on them. This is also helpful when it comes to pricing.
While some of these things can be learned on your own or through experience (by working your way up at a small bakery, for example), you could get a much more balanced and comprehensive education on how to become a successful pastry chef both in and out of the kitchen if you enroll in a baking and pastry arts program.
Baking and pastry arts formal education
At a professional bakery, making mistakes can cut into profits. At a culinary school, ruining a tray of petit fours might mean you have to bake them again, instead of costing the bakery money and time they might not have.
Additionally, you will generally only make the sweets and dishes the bakery sells. It would be odd if a baker would take the time to teach you how to make items that aren't on the menu boards. Meanwhile, at a culinary school, you should receive a well-rounded education where you can experiment and try making a variety of breads and pastries. Here is an example of some of the courses you could expect from a degree program:
Principles of Baking and Pastry Arts
Artisan Breads and Viennoiserie
Advanced Pastry Design
Culinary Fundamentals
Culinary Skills
Kitchen Essentials
Procurement and Food Service Cost Control
Banquet and Buffet Service
Culinary Nutrition
Contact us for more information today
If you have a passion for baking and want to explore a career as a pastry chef, ECPI University's Culinary Institute of Virginia offers an Associate of Applied Science Degree in Baking and Pastry Arts. For more information about this hands-on program, connect with a friendly admissions advisor today.
It could be the Best Decision You Ever Make!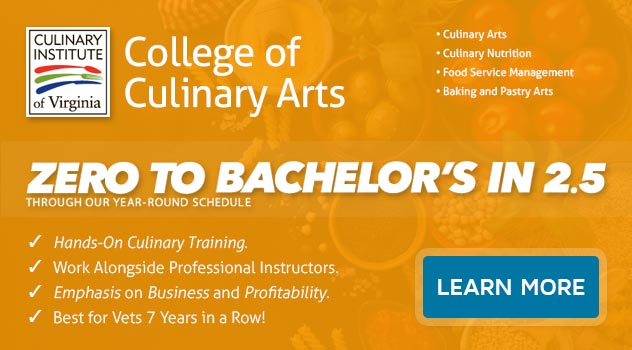 DISCLAIMER – ECPI University makes no claim, warranty, or guarantee as to actual employability or earning potential to current, past or future students or graduates of any educational program we offer. The ECPI University website is published for informational purposes only. Every effort is made to ensure the accuracy of information contained on the ECPI.edu domain; however, no warranty of accuracy is made. No contractual rights, either expressed or implied, are created by its content.
For more information about ECPI University or any of our programs click here: http://www.ecpi.edu/.