Pros and Cons for IT Management
IT management is a position of great responsibility and authority. Although it comes with great financial gains, it also comes with long hours. Being an IT manager isn't easy, but with the right training, education, and interpersonal skills, the pros can outweigh the cons. Let's take a closer look at what being an IT manager entails.
Educational Qualifications
For this position you will need at least a bachelor's degree. Some IT managers come from the computer world with a minor in business. Others earn degrees in IT management itself to best prepare for their future positions. Regardless of what you study, you have to know both how to operate the computer systems you need to maintain as well as manage employees working under you to keep the department working harmoniously.
Training Requirement
Since the work of an IT manager involves overseeing the work of an entire IT team, you will need several years of experience in your field before being considered for the role of manager. Here are some skills and experiences you have to have before you will be able to fulfill this position:
The ability to be a team leader and inspire your workers.
Take charge of all computer and technology related research on behalf of your company.
Work towards the development and productivity of your company in your capacity as an IT professional.
Be able to take orders from superiors and implement them quickly and efficiently.
Job Opportunities
There are a host of profit and non-profit organizations that make use of IT managers. With the world going digital, more and more businesses are coming out with a digital wing of their business, and seek managers who can take their company to the next level in the cyber world.
Responsibilities
As the person in charge of IT at your company, you must have a strong grasp of technological issues and the digital needs of your organization. You will have to take on a wide array of responsibilities including:
Research and implementation of new technology and systems to help improve the company's productivity.
Stay up-to-date on the latest technological trends and bring them to the attention of your superiors if considered advantageous.
Install hardware and software into the company network.
Program the network according to the company's needs and perform regular check-ups.
Oversee personnel equipment requirements.
Promote digital security and safeguard the company data available on servers.
Develop and maintain the private intranet and the public internet sites.
Advantages Offered
The job of an IT manager offers several advantages, such as:
Excellent Pay
According to the U.S. Bureau of Labor Statistics, the median annual salary for computer information and systems managers is $131,600.
Job Growth
The BLS also predicted that the profession will see a job growth rate of 15% between 2014 and 2024. For the sake of compassion, average job growth is around 7%.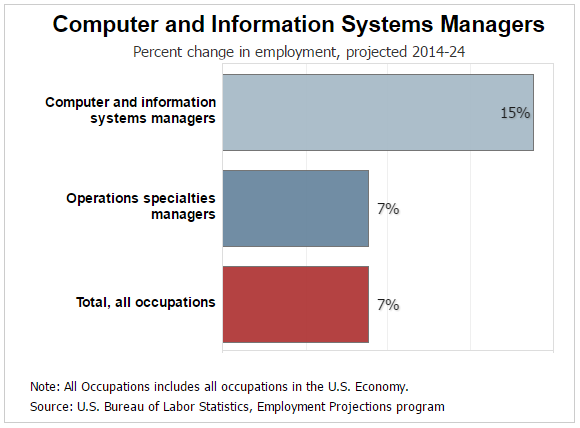 Top Position in your Field
As an IT professional, this is the highest position that anyone can obtain in your field. Becoming a manager indicates that you have reached the very top of your profession, with the most value attached to your work.
Valuable Title
When job hunting for a new position, having the experience and title behind the position of IT manager is a huge asset. Having worked in the field, you have proven you are trustworthy with company information, able to handle the responsibility of managing employees, and you have successfully completed the education and training needed to do the job.
Disadvantages
As with any other job, there are also some disadvantages of working as an IT manager:
Long Hours
As manager, you will be in charge of a great deal of IT work, and that means you will spend many late hours at the office, putting in time overseeing the work of the people on your team or discussing new strategies and security issues with your superiors.
Stress
Being a manager can be stressful. You will be called on when things go wrong and you will have to answer to other managers in the company who may or may not understand your job. You have to be able to deal with the strain that accompanies being an IT manager.
Constantly Changing Field
Technology moves so quickly, even after you earn the position of IT manager, you have to be able to keep up with how fast your company's field is moving. Whether you need to learn new an entirely new system or app, you have to stay on top of emerging technology that could benefit your company.
Do you think you have what it takes to be a successful IT manager? If you're interested in earning a Bachelor of Science in Business Administration with a concentration in IT Management, consider ECPI University for your education. For more information and to discuss your options, contact an ECPI University admissions advisor today.
It could be the Best Decision You Ever Make!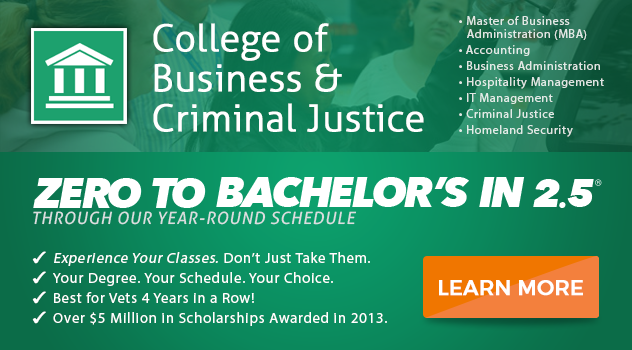 DISCLAIMER – ECPI University makes no claim, warranty, or guarantee as to actual employability or earning potential to current, past or future students or graduates of any educational program we offer. The ECPI University website is published for informational purposes only. Every effort is made to ensure the accuracy of information contained on the ECPI.edu domain; however, no warranty of accuracy is made. No contractual rights, either expressed or implied, are created by its content.
Gainful Employment Information – IT Management - Bachelor's
For more information about ECPI University or any of our programs click here: http://www.ecpi.edu/ or http://ow.ly/Ca1ya.