Refrigeration Company Expands Operations in South Carolina
Charleston Manufacturing Surge Increases Demand for Skilled Workers
AHT Cooling Systems USA, a refrigeration manufacturing company located just outside Charleston, South Carolina, has announced plans to expand, adding 70 new jobs, some involving electronics engineering technology, to its existing facility. Based out of Austria, the company will invest approximately $5 million to create an automated assembly operation at its Ladson, South Carolina facility.
AHT Group CEO Thomas Babacan said in a news report published by the Charleston Business Journal that the company wants to capitalize on the ever-changing retail market in North America. He says the expansion "will further strengthen our brand and position as a leading refrigeration manufacturer."
For several years now, South Carolina has been leading the nation with new manufacturing operations. Until recently, Charleston had been more of a tourist town. That changed when Boeing came to town and developed a massive passenger jet manufacturing facility. "Boeing signaled a fundamental change for Charleston," said S.C. Commerce Secretary Bobby Hitt in an article published earlier this year. "Charleston has now become a pretty strong manufacturing name."

That means demand for skilled workers is on the rise. According to the Charleston Business Journal, Mercedes-Benz Vans needs to hire 1,300 workers for its expanding van manufacturing campus in North Charleston by the end of the decade. And Volvo Cars plans to hire at least 2,000 people by 2018 to build its new S60 sedans in Berkeley County.
There's just one problem. Actually, it's just a problem for the employers. For potential employees, it's an opportunity. Manufacturers continue to struggle to find skilled people to work in their advanced automated facilities. As a result, they are often forced to recruit people from out of state.
Again, this represents an opportunity for young people who are trying to pick a career or anyone who is thinking about changing careers. If you're one of those people and you think this might be the right career for you, ECPI University can help you get started. Our Charleston, South Carolina campus offers two programs that are directly aligned with the needs of advanced manufacturers – Mechatronics and Electronics Engineering Technology.
The Mechatronics program offers curriculum centered on the three key areas that support advanced manufacturing: computer information science, electronics, and mechanical engineering. Classes focus on core areas that include:
Programmable Controllers
Hydraulics and Pneumatics
Testing and measuring instruments.
Computer Hardware and Software
Analog/Digital Electronics and Communications
Automation and Control Systems
Computer Programming and Networks
Microcontrollers
Applied Mechanics
Materials Science
For those looking to specialize, there's the Electronics Engineering Technology track. It can prepare you to:
Identify, analyze and solve technical problems
Use testing and measuring instruments to acquire data, analyze problems, and design a system or process
Analyze and implement systems containing hardware and software components
And at ECPI University, you don't have to spend four years in college before you begin earning a professional salary. Through our year-round, accelerated program, you can earn a Bachelor's degree in as little as 2.5 years or an Associate's in just 1.5 years.
Want to learn more? Take a moment and connect with one of our helpful admissions advisors. Right now, there are many more manufacturing jobs available than there are people to fill them. That just leaves one question: What are you waiting for?
It could be the Best Decision You Ever Make!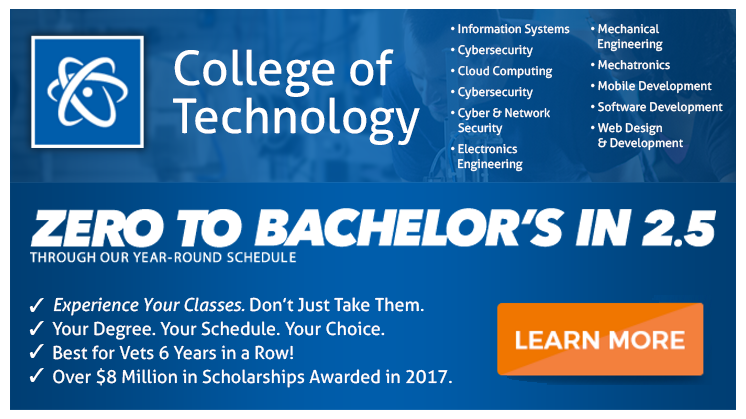 DISCLAIMER – ECPI University makes no claim, warranty, or guarantee as to actual employability or earning potential to current, past or future students or graduates of any educational program we offer. The ECPI University website is published for informational purposes only. Every effort is made to ensure the accuracy of information contained on the ECPI.edu domain; however, no warranty of accuracy is made. No contractual rights, either expressed or implied, are created by its content.
Gainful Employment Information – Electronics Engineering Technology - Bachelor's
Gainful Employment Information – Mechatronics - Bachelor's
For more information about ECPI University or any of our programs click here: http://www.ecpi.edu/ or http://ow.ly/Ca1ya.