The Art of French Pastry: Are You Ready to Earn a Formal Pastry Degree?
French cuisine is renowned all over the world for its classic style and emphasis on technique. Its pastries are no different. Not only are they technically challenging to make, they are also incredibly beautiful and delicious when finished properly.
A career as a pastry chef with an emphasis on French techniques can be rewarding and fun. Every day, you'll have the chance to see the delighted faces on your customers when they take that first scrumptious bite. Here's what you need to know about French pastry and becoming a pastry chef.

About French Pastries
Even if you don't speak a word of French, you likely still know some of the nation's most popular pastries. Croissants are common staples of breakfast tables around the world, and baguettes commonly grace dinner tables, both in homes and in restaurants.
If you prefer something on the sweeter side, you won't be disappointed. Madeleines, macarons, and mille-feuille are all amazing French pastry desserts. Of course, there are many more French pastries and desserts than just those listed here, but these are some of the most well-known. You are sure to discover plenty of new favorites as you begin your foray into baking.
Qualities Pastry Chefs Need
Some people are better suited to being pastry chefs than others. For starters, it helps to be a bit of a perfectionist and have strong attention to detail. The French cooking style focuses on technique, so you'll need to strictly adhere to the recipe and methodology. While many consider cooking to be an art, baking is more of a science. Your measurements need to be precise in order to get the best results.
You'll also need to be able to fit a sometimes unpredictable work schedule into your lifestyle. Depending on where you find a job as a pastry chef, you may need to work early mornings, late nights, weekends and holidays. You may also have to work overtime occasionally.
Commercial kitchens tend to be quite hot, so you need to be able to withstand the heat. You'll be on your feet for the majority of the day, making overall physical fitness important as well.
Formal Pastry Education vs. On-the-Job Training
It is entirely possible to learn to make French pastries in on-the-job training, but this may not be your best option. For starters, you won't have any guarantees that your boss is a good teacher. They may be an exemplary pastry chef, but may or may not have the skills needed to pass that knowledge to you effectively. You could pick up any of your boss's bad habits as well.
Furthermore, you won't necessarily get the most well-rounded pastry education. Your boss might specialize in just a few pastry styles, meaning that you might not have the chance to learn everything you need to know. A better option is to complete formal training and education in baking and pastry.
In a formal degree program, you'll start with a solid foundation in the basics before moving on to more challenging dishes. Your professors will be experts in the culinary world and can impart their knowledge and expertise to you. Many degree programs also include education about the business side of cooking as well, giving you the tools you need to be successful as a professional pastry chef.
Earn Your Pastry Degree
Are you interested in becoming a pastry chef? If you want to learn the art and science of French pastry, consider earning an Associate of Applied Science Degree in Baking and Pastry Arts. ECPI University's Culinary Institute of Virginia offers this program at an accelerated pace. For more information regarding this exciting opportunity, connect with a friendly admissions advisor today.
It could be the Best Decision You Ever Make!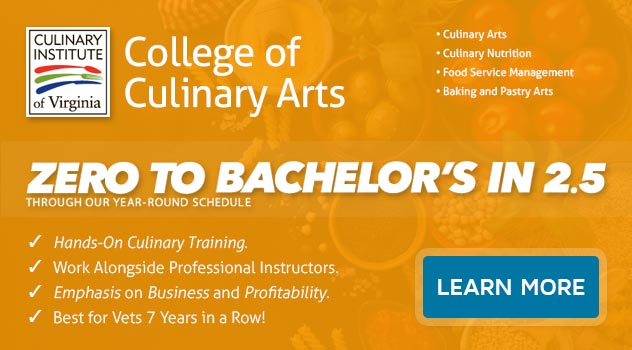 DISCLAIMER – ECPI University makes no claim, warranty, or guarantee as to actual employability or earning potential to current, past or future students or graduates of any educational program we offer. The ECPI University website is published for informational purposes only. Every effort is made to ensure the accuracy of information contained on the ECPI.edu domain; however, no warranty of accuracy is made. No contractual rights, either expressed or implied, are created by its content.
Gainful Employment Information – Baking & Pastry Arts – Associate's
For more information about ECPI University or any of our programs click here: http://www.ecpi.edu/ or http://ow.ly/Ca1ya.