Summer is coming, and it's time to break out some tasty new recipes. If you're a foodie, a master chef, or just a fan of the culinary arts, here are the top ten recipes you may have missed on Pinterest this month.
This is a burger version of the classic Greek dish, Spanakopita. The burger is a mouthful of flavor and combines a patty loaded with spinach and feta, grilled halloumi cheese and a feta cheese sauce. Topped with roasted red peppers, this flavorful burger is an interesting twist on a summer staple.
Potato salad doesn't sound very unique, but this recipe is a new take on the classic dish. After roasting potatoes, you add celery. Olive oil, Greek yogurt and lemon juice get whisked together and added to the potato mix. The result is a light and fresh potato salad that will not disappoint.

Two words that are always accompanied by a smile are "pulled pork." This recipe adds another ridiculously good ingredient for even more flavor. Just place a pork roast and some root beer in a slow cooker. After about eight hours, the pork can be shredded. Add some barbecue sauce and put it on buns, and it's ready to be devoured.
Good food doesn't need to be unhealthy, and this recipe serves as a reminder. Cauliflower and garbanzo beans are roasted with curry powder for a rich flavor. The roasted vegetables are then mixed with pearl couscous and balsamic candied walnuts to create one very healthy, yet delicious meal.
This rice is the perfect combination of sweet and savory. Coconut oil, onions, garlic, and ginger are all sautéed together. Then, basmati rice, chicken powder, and white pepper are added to the mix. Fresh pineapple is added for some sweetness. Green onions and toasted coconut complete the dish.
You can get this dish at many Asian restaurants, but it's even better when made at home. Strips of chicken breast are marinated with soy sauce, sugar, sesame oil, and olive oil. The chicken breast is then coated in a mixture of cornstarch, flour, salt, and pepper and fried in a pan. For the sauce, soy sauce, honey, chili sauce, ketchup, and water are combined and boiled. After coating the chicken with the sauce, sesame seeds are sprinkled over it.
Creamsicles are often reminders of the summer days of childhood, but now you can get that flavor in a cake. White cake mix is used for the base, but orange juice replaces water. When the cake is cooked and cooled, tiny holes are poked throughout the cake. Prepared orange Jell-O gets poured into the holes, and the cake is topped with a vanilla pudding and Cool Whip topping.
Summer is a great time to eat heirloom tomatoes, and this recipe celebrates them. Homemade pastry dough is used to form a tart shell and baked. Heirloom tomatoes are mixed with basil, garlic, salt, and pepper and placed in the shell. The tomatoes are then roasted, layered on top of the crust and topped with ricotta. After baking it, the tart is ready and full of summer flavors.
Indonesian cooking is truly something unique, and this recipe is a great representation of this cuisine. Garlic cloves, chilies, shallots, ginger and turmeric are blended together with vegetable oil. This forms a paste that is cooked and cooled, then rubbed onto chicken breasts. After it has marinated, the chicken is grilled. When served with fresh limes, the chicken is full of flavor.
No bake bars are great for hot summer days. This recipe combines butter, brown sugar, vanilla, flour, sweetened condensed milk, and mini chocolate chips to make a safe-to-eat cookie dough. The cookie dough is cooled and topped with a smooth chocolate ganache. This decadent bar is an easy treat to make.
The experts in action!! @ Culinary Institute of Virginia - ECPI University School of Culinary Arts http://t.co/5WqCMcAhcu

— Pam Chambers (@pamipoofacials) February 25, 2014
If you're passionate about food and love cooking, you should consider a career doing what you love. ECPI University, College of Culinary Arts, Culinary Institute of Virginia, offers a year-round program where you can earn your Associate of Applied Science Degree in Culinary Arts in just 15 months.  Contact ECPI University for more information on our programs. It could be the Best Decision You Ever Make!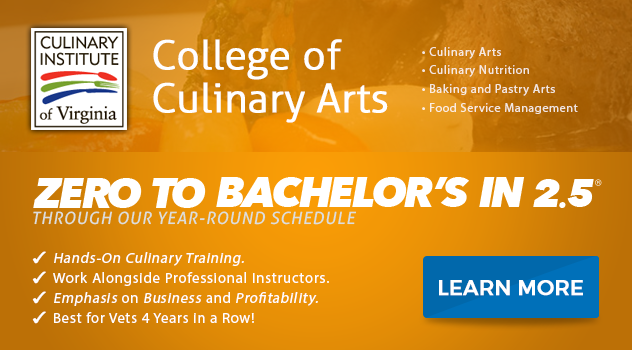 DISCLAIMER – ECPI University makes no claim, warranty or guarantee as to actual employability or earning potential to current, past or future students or graduates of any educational program we offer. The ECPI University website is published for informational purposes only. Every effort is made to ensure the accuracy of information contained on the ECPI.edu domain; however, no warranty of accuracy is made. No contractual rights, either expressed or implied, are created by its content.
Gainful Employment Information
For more information about ECPI University or any of our programs click here: http://www.ecpi.edu/ or http://ow.ly/Ca1ya.