Top 10 Reasons to Become a Chef
Considering becoming a chef? You're not alone; it's a career with surprisingly broad appeal. There are dozens of possible reasons one might become interested in this field, but you'll find ten of the most compelling ones below.
1. You Work With Food and Want More Money
It's an unfortunate fact that work in the low-to-middle levels of the food service industry isn't very lucrative. According to the Bureau of Labor Statistics, the median salary for full-time cooks is a mere $22,850. The median salary for chefs, though, is an estimated $43,180, and the top 10% in the profession earn as much as $76,280. If you want to keep cooking and also make a living wage, becoming a trained chef is one of the clearest paths to achieving that goal.
2. You Work With Food and Want More Control
Frustrated in your work as a cook? Chefs lead the way in the kitchen and have some authority over matters like menu planning, ingredient stocking and hiring staff. Unless you own your own restaurant, you'll still be following certain directives set by other people, but you ultimately have much more say over how things get done than you would if you were just another line cook.

3. You Have a Talent For It
Most of us don't get to try our hand at things like carpentry or plumbing outside of maybe a shop class or two, but almost everyone cooks fairly regularly. When you're good at it, you know it. If you're not being pulled in any other specific direction, why not develop that knack into something you can do for a living?
4. You Want To Hone a Useful Everyday Skill
Plenty of jobs require skills that you'll never use outside of the office - not so with cooking. Chefs can use their professional talents in their daily lives for everything from daily cooking to special occasion banquets. You can impress your friends and loved ones, eat more healthily and even simply feel confident that you will always be able to make a delicious meal out of the most humble of ingredients.
5. You Love Science, But Don't Want To Work In a Lab
This might seem like an odd reason to gravitate toward chef work, but think about it. High-level cooking requires exacting precision and considerable scientific understanding. It's an unorthodox application that lets you get your hands dirty and have some fun extending your area of expertise.
6. You Want a Portable Career
For some people, the most important consideration when choosing a career is how easy it is to take it on the go with them. There are jobs for chefs all over the world - even some in locations like cruise ships that are very friendly to a globe-trotting lifestyle. If you really want the freedom to travel, working as a chef might be the way you can make that happen.
7. You Want To Discover New Flavor Horizons
Artists work to please the eyes; chefs do the same thing for the nose and tongue. The work of an inventive and dedicated chef is every bit as much an act of creation as the painting of a portrait or the sculpting of a statue. If your favorite medium is food, chef training will help you perfect and execute your culinary visions.
8. You Want To Share Your Love of Food
One of the great things about cooking is that it's so hard to make just one personal portion; you almost have to share! People with giving, passionate personalities tend to thrive as chefs for exactly that reason. As a chef, you can use the power of food to get people to enjoy healthy eating, explore different cultures, or even just smile.
9. You Want To Fill a Hole In the Culinary Market
Many people seek out chef training because they want to help make more food options available to under-served populations. Individuals following gluten-free, vegan, keto and other specialized diets often find they have trouble finding appealing options that suit their needs when they go out to eat. Fortunately, the culinary industry is slowly starting to respond to this trend; if this is a cause that matters to you, now's the time to pitch in on this ongoing effort.
10. Food Inspires You
Last but certainly not least, possibly the very best reason to become a chef is because you love food. It doesn't have to be any more complicated than that.
Do you want to make your passion your career? If you are ready to earn your Associate of Applied Science in Culinary Arts, ECPI University's Culinary Institute of Virginia offers this program at an accelerated rate. For more information about this exciting degree program, connect with a helpful admissions advisor today.
It could be the Best Decision You Ever Make!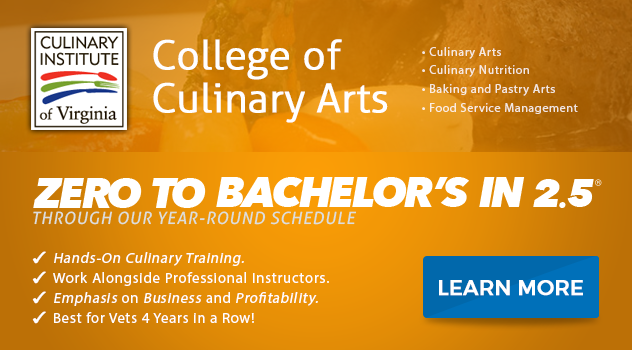 DISCLAIMER – ECPI University makes no claim, warranty, or guarantee as to actual employability or earning potential to current, past or future students or graduates of any educational program we offer. The ECPI University website is published for informational purposes only. Every effort is made to ensure the accuracy of information contained on the ECPI.edu domain; however, no warranty of accuracy is made. No contractual rights, either expressed or implied, are created by its content.
Gainful Employment Information – Culinary Arts - Associate's
For more information about ECPI University or any of our programs click here: http://www.ecpi.edu/ or http://ow.ly/Ca1ya.