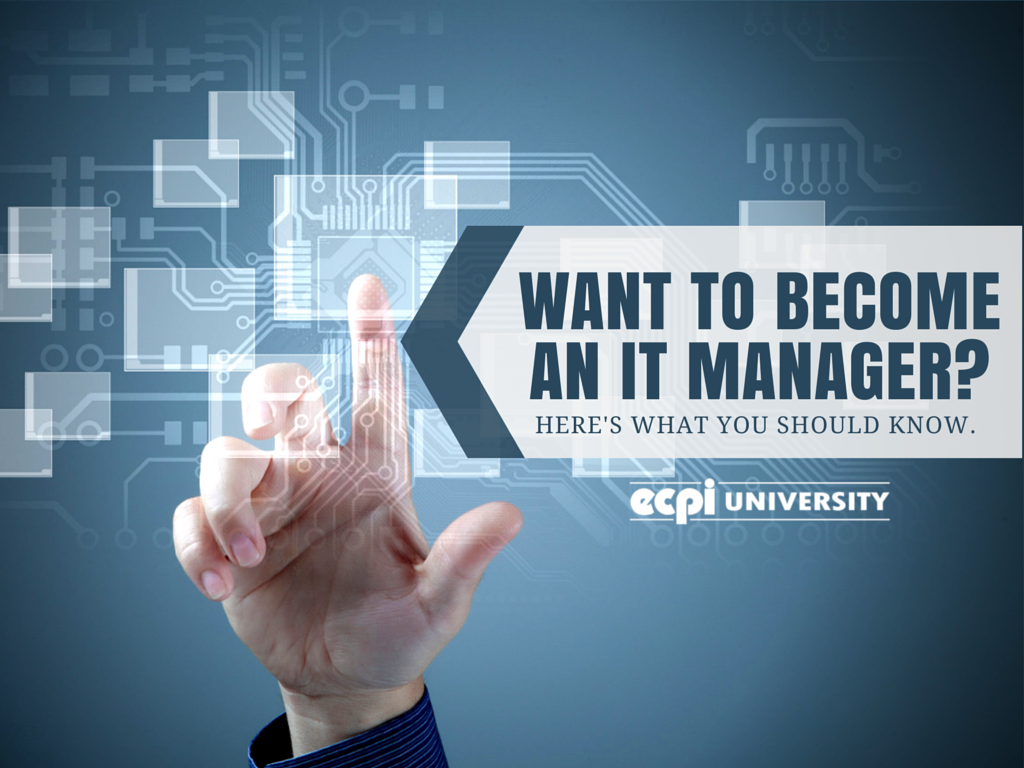 Of all the diverse careers from which you can choose, there is perhaps none more stable, yet ever-growing than that of an IT Manager. Here are five secrets about earning a degree in IT Management that make it an especially viable career:
The Future of IT Management is Bright
For those students pursuing IT management, the only thing predictable about the future is that innovation will continue to provide new jobs in areas one can only dream about today. Considering the explosion of technology and the Internet over the past 20 years, the next few decades will undoubtedly create new areas of specialization that make a solid background in IT Management quite desirable. The Bureau of Labor Statistics (BLS) expects the field of IT management to grow by 15 percent by 2022, which is faster than the average for all occupations.  As demands increase for more efficient and faster systems, IT managers with a solid background in both office and mobile networking can position themselves for success.
IT Management Specialty Areas Continue to Grow
It wasn't that long ago that a career in IT management required the knowledge to daisy chain a few laptop computers together and get them all to share a common printer. The field has exploded now to include areas like web and software development, cyber security, programming, cloud computing, and mobile device management. Corporations are looking for people not only with a general background in IT management, but also with an emphasis in a specialized area. Students should enter a program that offers a degree in their area of interest and start on a lifelong learning plan. Students should also look for internships to gain some real world experience.
IT Management Salary is Above Average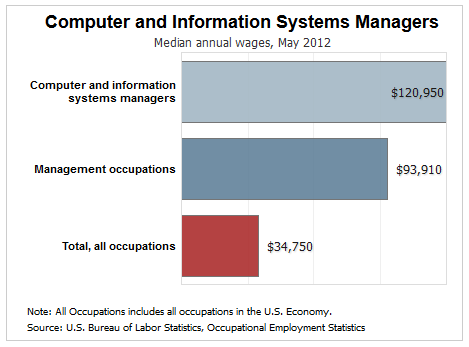 According to the Bureau of Labor Statistics, IT managers are very well paid on average, with the median pay at $120,950 per year. That's the point where 50 percent of the people make more and the other 50 percent make less than the average. Even the lowest 10 percent of IT managers make a median salary of $74,940 per year whereas the top 10 percent boast a median salary of $187,200 per year. The role of an IT manager means overtime is a common occurrence, since many companies depend on a computer system functioning 24/7/365 to stay in business.
How to Become an IT Manager
IT managers almost always have a Bachelor's degree, with some companies demanding a Master's in Business or Science. Once a degree is secured, management hopefuls should expect to work for several years before landing a management job. Companies like managers who have actual hands-on experience with computer systems. While building a resume at a lower level, management candidates should expect to continue training to keep up with advancing technology. Many companies pay for the training, especially if it is directly applicable to the job. Depending on the size of a company, a project manager could be the first step before becoming an IT manager. It could take 5 to 10 years of progressive experience, but the pay is well worth the time and education invested.
Qualities of a Successful IT Manager
Along with an education and experience, a successful IT manager must wear several hats that can easily be changed on any given day. A good IT manager has the ability to quickly analyze an issue and figure out the best way to solve the problem. The company is dependent on the manager not only to analyze the problem, but also to communicate to subordinates what needs to be done to get the system up and running again. An IT manager must also be a strong decision maker. S/He will only have so many resources to allocate to a lot of different areas, so it's important to be able to prioritize. As with any leader, the IT manager must have the ability to motivate the staff to follow the plan and get the job done. Computer systems affect all departments of a company, so it's also important to be able to organize your thoughts and influence other areas to cooperate with your plan.
Prospective IT managers should remember it all starts with a good education from an institution with a strong reputation in the technology community. ECPI University is well respected for its undergraduate and graduate computer degree programs. With campuses in Virginia, North Carolina, and South Carolina, ECPI University is convenient for students living in the Mid-Atlantic and Southeast. Its online program makes a career in IT management possible no matter where one lives in the world.
@ECPIUniversity is the best...3 months after completing my Bachelor of Science Degree in Network Security I was offered a position @Cisco

— tee.C (@ReaLifSituation) May 15, 2015
ECPI University provides robust career services to help graduates secure employment in their chosen fields. Since it was founded in 1966, the University has provided employment services to nearly 4,000 different employers, including giants like Lockheed Martin, BMW, AT&T, Boeing, and Verizon.  It caters to active Military and veterans, earning accolades for helping those who served their country achieve a college degree.  Most notably, Military Times has ranked ECPI University Best for Vets for five straight years.
Contact us today to learn more about earning a Bachelor of Science in Business Administration with a concentration in IT Management. It could be the Best Decision You Ever Make!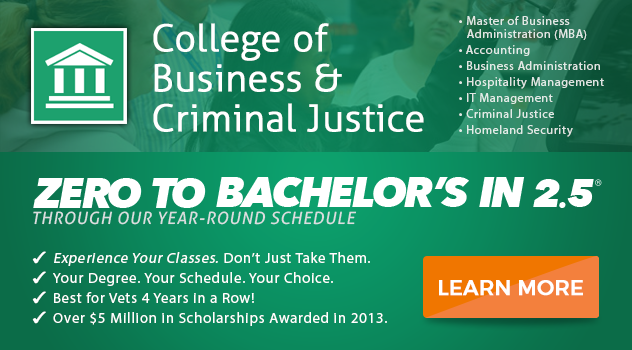 DISCLAIMER – ECPI University makes no claim, warranty or guarantee as to actual employability or earning potential to current, past or future students or graduates of any educational program we offer. The ECPI University website is published for informational purposes only. Every effort is made to ensure the accuracy of information contained on the ECPI.edu domain; however, no warranty of accuracy is made. No contractual rights, either expressed or implied, are created by its content.
Gainful Employment Information
For more information about ECPI University or any of our programs click here: http://www.ecpi.edu/ or http://ow.ly/Ca1ya.