What are the Advantages to a Web Development Degree?
A degree in web development allows graduates to qualify for careers in various roles. The qualification helps ambitious IT artists learn the intricacies of web design. Many leading IT schools offer well-formulated programs that incorporate best practices.
Students take advantage of total immersion in the latest technologies and techniques. This enables them to develop effective approaches and styles to solving a broad range of challenges. Effective web design concepts solve the needs of both businesses and consumers in a creative way.
However, it is becoming common for aspiring web designers to skip school in favor of acquiring knowledge through free online resources. The significant costs of attending school often compel individuals to weigh the benefits of enrolling for a formal course.
On the other hand, top schools offer flexible training options, including web-based and instructor-led classes. Fee-based online education is a more affordable option. It comes with the added benefit of obtaining a recognized qualification from accredited institutions. You can learn at your own pace. Interaction with instructors is conducted through email, live chats, and video conferences.
A web design degree provides a sure-fire way to stand out from the crowd. A combination of work experience and formal education allows you to earn higher salaries than self-taught designers. Many companies require a degree for candidates to be considered for web design positions. This means graduates are eligible to more job opportunities.  
IT schools offer programs that cover the latest technologies and trends. As a result, you gain up-to-date knowledge, which helps you stay at the top of your game. The institutions combine a variety of subjects in their core and elective curriculum. The extensive selection of subjects includes web client scripting, introduction to psychology, introduction to business, principles of communication, and more.
The referenced media source is missing and needs to be re-embedded.
Curriculum of Formal Degree Programs
A good web design degree program prepares you for a rewarding career by providing access to a more comprehensive curriculum. The coursework goes beyond what you learn on your own. Subjects like communication offered by IT schools as part of the web design programs are key to success.
As a graduate, you could learn the ability to create stunning websites and communicate effectively with clients. Good communication improves collaboration, which is necessary when aiming to implement the client's vision. Conversely, self-taught designers focus on technical skills while neglecting to develop supplementary skills.
The temptation is high for self-taught individuals to take quick overviews of topics. This is detrimental to long-term career prospects. An in-depth understanding of a wide array of subjects is an absolute necessity.
Formal education comes with structured coursework that places emphasis on core subjects that students cannot skip. The curriculum is designed by experts with a solid track record in the field.
Some of the key subjects neglected in self-learning domain include:
Applied Project Management
Fundamentals of Customer Service
Introduction to Business
Principles of Communication
Advanced Composition
College Algebra
Introduction to Psychology
Business Skills
Subjects like Introduction to Business are designed to help designers adopt a more professional approach to projects. The web design field entails a fair amount of value assessments, exceptional salesmanship, and balancing operating costs. As a designer, you need to gain a good understanding of clients' marketing needs.
Business skills are useful when working as a freelancer. Poor performance in this area translates to poor customer service. You will also find it hard securing orders and retaining clients.
Writing Skills
The creation of an effective copy is vital in web design. For this reason, you need to look beyond aesthetics and pixel pushing. A designer with great copywriting skills provides more value to clients. Good websites inform and communicate messages more clearly to visitors. Brands rely on a superb copy to attract new customers.
Good wording is also important for usability. Effective labels form part of site navigation and can be used in place of icons.
Psychology and Web Design
Formal education offers psychology as part of the curriculum. The subject covers various psychological aspects of web design. This knowledge is crucial for building websites that attract visitors and compel them to act or return. Experienced designers take advantage of many psychological trigger points that enhance the site's appeal and improve user experience.
Images and vivid colors are known to reinforce concepts. They have a considerable impact on how people engage and react.
When properly implemented, these elements influence how users interact with a website. IT schools teach web design students to identify how visitors assimilate information. In turn, this enables designers to appeal to the target audience's conscious and unconscious inclinations.
Could you see yourself as a web developer? If you want to get an educational background in web development, consider ECPI University's Bachelor of Science in Computer and Information Science with a concentration in Web Development. With year-round classes and an accelerated schedule, you could earn your degree in as little as 2.5 years. For more information, contact a helpful admissions representative today.
It could be the Best Decision You Ever Make!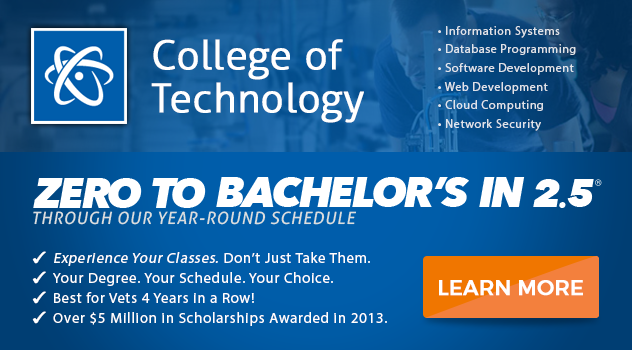 DISCLAIMER – ECPI University makes no claim, warranty, or guarantee as to actual employability or earning potential to current, past or future students or graduates of any educational program we offer. The ECPI University website is published for informational purposes only. Every effort is made to ensure the accuracy of information contained on the ECPI.edu domain; however, no warranty of accuracy is made. No contractual rights, either expressed or implied, are created by its content.
Gainful Employment Information – Web Development - Bachelor's
For more information about ECPI University or any of our programs click here: http://www.ecpi.edu/ or http://ow.ly/Ca1ya.