What are the Responsibilities of a Food Service Manager?
If you are looking to advance your career to from a supervisor to a manager, the food service industry provides a wide scope of opportunity in the terms of the food service management position. Whether you are interested in owning your own establishment or wish to work in a well-established chain of restaurants, learning the fundamentals of the industry will help give you the skills you need to succeed in this competitive job field.

What Is A Food Service Manager?
A food service manager is the individual responsible for the day-to-day operations of the food service establishment. They may be the representative of the owner's interest or be the proprietor of their own facility. They oversee all tasks related to the preparation of food and beverage services and delegate essential tasks to supervisory staff.
They determine the standards and practices that ensure that customers who visit the eatery are satisfied with their experience, staff members are safe and taken care of, and that overall operations are profitable. They may have an office in the back, but their duties take them throughout the entire building every day as they are directly responsible for everything that happens under their roof.
What Are The Daily Responsibilities of A Food Service Manager?
Food Service Managers have a wide variety of responsibilities and on a daily basis may need to perform any number of duties in their establishment. The manager is often the sole point of contact for hiring, overseeing training, and making decisions regarding termination of unsuitable employees. They ensure that food, beverages, equipment, and all materials necessary for food preparation are supplied to the restaurant.
On a daily basis, they inspect all work areas to ensure that their standards are being upheld and that all health and safety procedures are being followed. Before the doors open they have to make sure that staff is adequately scheduled and prepared for their shift. During hours of operation, they may need to interact directly with customers, by either introducing themselves and personalizing the establishment or addressing complaints regarding the food or service.
They may be required to work in the kitchen or provide table service during business rushes or to support their staff during difficult times. Perhaps most importantly, they are responsible for maintaining the budget of the restaurant and payroll services to ensure that staff is paid correctly and on time.
What Skills Do You Need To Develop As A Food Service Manager?
Managers need a diverse skills set, and although jobs in food service management can be attained with a high school diploma formal education in management can make developing these essential skills much easier. A manager needs to be adept at coordinating complex operations such as a busy kitchen environment that needs to deliver properly prepared food in a timely manner. They need the analytical skills to correctly determine where a process is breaking down if something goes wrong.
They need exceptional people skills as they may need to assuage angry customers or counsel new hires when they fall short of expectations. They need to be able to plan for the unexpected and the flexibility to adapt to changes in the workplace environment. Proficiency in managing large volumes of paperwork and business records will be necessary as every restaurant will be subject to state and local government regulations and need to be inspection-ready. Personal fortitude will also be required, as managers may routinely need to work longer than a standard 40-hour workweek.
Opportunities Abound In Food Service Management
If you are concerned that you will not be able to find a position in Food Service Management, you should put these anxieties to rest. While the Bureau of Labor Statistics projects the growth of management positions to grow at an average 9% rate over the next ten years, over 308,700 people are employed as Food Service Managers and it is one of the rare management positions where you can make your own opportunities by starting your own small business.
There is significant demand for food service managers nationwide and no matter where you live there is most probably an establishment looking for a qualified manager. An education in the culinary arts field can make a big difference and prepare a prospective manager for the rigors of restaurant management.
A New Career In Management Begins Today
Do you want to start a career in Food Service Management? A Bachelor Of Science In Food Service Management from the Culinary Institute of Virginia is an excellent place to start. Contact our helpful admissions staff today for more information on how to get started.
It could be the Best Decision You Ever Make!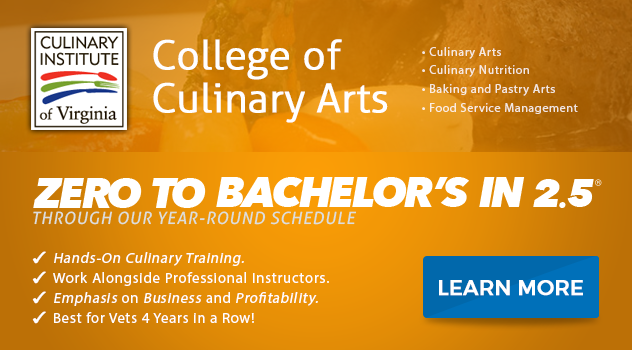 DISCLAIMER – ECPI University makes no claim, warranty, or guarantee as to actual employability or earning potential to current, past or future students or graduates of any educational program we offer. The ECPI University website is published for informational purposes only. Every effort is made to ensure the accuracy of information contained on the ECPI.edu domain; however, no warranty of accuracy is made. No contractual rights, either expressed or implied, are created by its content.
Gainful Employment Information – Food Service Management - Bachelor's
For more information about ECPI University or any of our programs click here: http://www.ecpi.edu/ or http://ow.ly/Ca1ya.