What Can a Chef Do With an Associate's Degree in Culinary Arts?
Culinary arts-related employment is one of the fastest growing sectors in the US economy. According to the Bureau of Labor Statistics, opportunities in this field will increase by at least 11% between 2018 and 2028. For those looking for a long-term career opportunity that includes plenty of variety and a chance to use your artistic skills, the culinary arts is an ideal path to these goals.
Getting a degree before pursuing this career path grants applicants a variety of unique benefits. You might be wondering, why is it important to complete a formal degree program before launching a new culinary career? How does a degree make career advancement more possible? What are the advantages of having a degree during the application and interview processes?

The Importance of Culinary Training
Cooking and serving, it often seems, are skills that require little training. Most people cook for themselves and their families every day. How much harder could it be to use those same skills in a commercial kitchen? The answer is: more difficult than you would think.
However, culinary arts training is essential for those who seek long-term careers. Completing a formal training program should give applicants a realistic education in what it means to work in a commercial kitchen.
Cooking in a restaurant requires uniform knife skills that generally can't be attained through home practice. From prep work to presentation, knowing how to slice, dice, and julienne is an important part of creating popular dishes.
Food order helps kitchen staff get multiple dishes ready without sacrificing the quality of each dish. Learning when to cook what is an important part of contributing to a commercial kitchen.
Running a kitchen is a multi-layered discipline. From protecting profits to ensuring the highest safety standards, a formal training program highlights all the duties that go into making a commercial kitchen successful.
A culinary training program also should give applicants their first real taste of commercial kitchen life with internships and hands-on practice. This type of experience is an important ingredient when formulating your desired career path.
The Career-Advancing Benefits of a Culinary Arts Degree
A degree also makes it more likely that you'll reach your specific career goals.
When managers promote, they generally choose the candidate with the most experience and/or education. Your degree could put you at the top of the promotion list.
Specializing in a certain aspect of culinary arts is easier with a tailored degree. If your dream is to spend your days creating pastries in a dessert boutique, culinary training can provide the credentials to get your foot in the door.
Moving from a production position to management isn't always easy. Your degree shows that you have skills beyond preparation and service, which makes it more likely that you'll qualify for management positions.
Another big career perk of a degree program is the connections you could make with other students. As they move through their own career paths, they could continue to provide personal references and information about open positions that could boost your own career options.
Using a Degree to Navigate the Application Process
Despite the continued forecasted growth in this field, culinary arts positions are still highly competitive. Getting a degree before seeking a position could give you a number of advantages over other applicants.
In today's digital environment, many employers use computer programs and algorithms to narrow down their open applications. Listing your degree makes it more likely that you'll make the first cut.
Without applicable work experience, a degree helps employers see that you are serious about your career path. Your degree proves you already have a base level of understanding that employers can build on.
A degree program typically exposes you to a variety of cooking methods and techniques. This varied experience means you qualify for positions in different types of eateries. You are more likely to find a job quickly when you can easily fit into almost any open position.
Many culinary schools also offer post-graduation job assistance. You may be able to secure employment before you even get your diploma through your school's employment center.
Are You Ready to Get Started on Your Education?
Education is the key to a fulfilling and long-term culinary arts career. Start your journey with an Associate of Applied Science degree in Culinary Arts from the Culinary Institute of Virginia at ECPI University. Connect with a friendly admissions advisor today for more information on this exciting program.
It could be the Best Decision You Ever Make!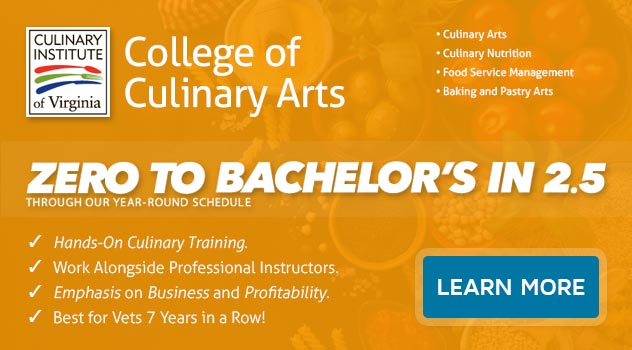 DISCLAIMER - ECPI University makes no claim, warranty, or guarantee as to actual employability or earning potential to current, past or future students or graduates of any educational program we offer. The ECPI University website is published for informational purposes only. Every effort is made to ensure the accuracy of information contained on the ECPI.edu domain; however, no warranty of accuracy is made. No contractual rights, either expressed or implied, are created by its content.
For more information about ECPI University or any of our programs click here: http://www.ecpi.edu/.