What Can you Do With a Nursing Degree Besides work in a Hospital?
For many, earning a nursing degree means working in a hospital or physicians' office. Today, there is a wide range of different settings that a nurse can find themselves in. If you are looking for a career that offers a myriad of choices, then getting a nursing degree may be the perfect career for you.
With baby boomers aging a career in nursing promises steady work. This generation is aging but still wants to be active. As a registered nurse, the job outlook and is anticipated to grow at least 15% through 2026, which is faster than the average for most other occupations.

Your Options with a Nursing Degree
When you earn your associate degree in nursing (ADN), you will be opening the door to a wide range of job options. In fact, in 2016, there were over 3 million nursing jobs, according to the Bureau of Labor Statistics. Many of those that receive the ADN go on to take the NCLEX-RN examination. Successfully passing this test could lead to finding a job and working as an RN.
For those looking to get out of a hospital environment, job options are plentiful:
Nursing homes: Those that work in nursing homes need a different set of skills as they are more involved in the case management of their residents. They must deliver quality care with dignity, compassion and respect. Sometimes residents cannot hear or see, so non-verbal communication is key.
Schools: School nurses offer services to schools and family environments. They focus on the care of children and teenagers offering health education skills to multiple cultures that will take them through their adult years.
Rehabilitation centers: Rehab nurses work with patients that have disabilities. You may be tasked with helping the re-learn basic skills like talking, walking, reading and writing. You will help with both their physical and emotional need throughout their rehabilitation and therapy. Rehab nurses may be responsible for dressing wounds, bathing, dressing and providing medication to their patients.
Hospices: There are many different roles that a hospice nurse can have. They may choose to be an admissions nurse, case manager, visiting nurse, triage nurse, or work as a liaison between hospice care and hospitals. Hospice nurses provide emotional and spiritual support as well as medical support to their patients. They are involved with direct care and are instrumental in providing the best quality of life to their patients.
Home health providers: With the aging baby boomers, more and more home health care providers are needed. Home healthcare nurses need a high level of interpersonal skills and support as much of their job is establishing a relationship with their patients. They need to be flexible and independent and can make decisions regarding their patients care. They may be working with children, elderly and everyone in between.
Preparing for Your Nursing Career
As you begin planning for your career, you may not know immediately what road you want your nursing career to take. That's why it's important to concentrate on your course of study and be open for the variety of options available to you once you have your ADN. Some courses you may take include:
Anatomy and Physiology
Microbiology
Nutrition
Pharmacology
Acute/emergency care
Medical and surgical care
Maternal/neonatal nursing
All these classes will help you determine what type of job you feel passionate about and is the right path for you.
ECPI University: Set Your Course for a Great Nursing Career
Are you interested in earning an Associate Degree of Nursing? ECPI University offers this degree in an accelerated format. For more information about this exciting career opportunity, connect with a friendly admissions advisor today.
It could be the Best Decision You Ever Make!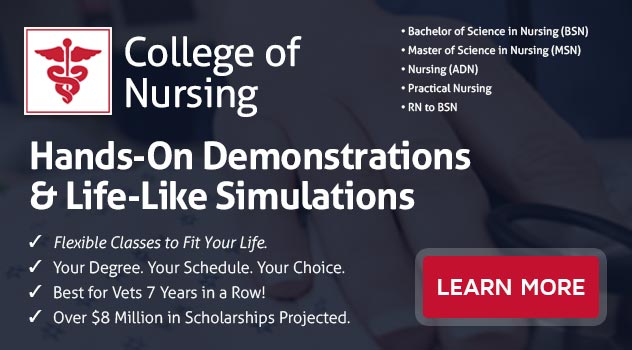 DISCLAIMER – ECPI University makes no claim, warranty, or guarantee as to actual employability or earning potential to current, past or future students or graduates of any educational program we offer. The ECPI University website is published for informational purposes only. Every effort is made to ensure the accuracy of information contained on the ECPI.edu domain; however, no warranty of accuracy is made. No contractual rights, either expressed or implied, are created by its content.
Gainful Employment Information – Nursing - Associate's
For more information about ECPI University or any of our programs click here: http://www.ecpi.edu/ or http://ow.ly/Ca1ya.