What Do you Study in Cyber Security Degree Programs?
Cyber security is one of the fastest growing career fields in the country and many people are interested in entering this fun and exciting career. For those who love computers and enjoy the challenge of protecting networks and information, it is a career that that is full of fantastic opportunities.
Programs that prepare students for entry into the field focus on providing you the necessary technical and analytical skills needed in order to achieve success. These include the ability to proactively protect networks from malware and spyware, viruses and hackers who have less than honorable intentions.

Courses Packed with Skills
Undergraduate courses in cyber security focus on the intricacies of operating systems and network security. These courses help students understand how networks work and how to identify potential gaps within the security infrastructure. Students will also study object-oriented programming so that they know how to plug these holes when they appear.
Students are usually required to take courses in digital forensics. These courses help students trace and track security threats and the exposure of data when hackers attempt to gain unauthorized access. Many programs require students to take classes in cyber security law, computer ethics, and telecommunication systems. These classes are critical as they help provide context students can use as a foundation for their cyber security studies.
Courses in cyber security focus heavily on teaching students how to use the skills they learn. These include a strong focus on the development of analytical and investigative techniques. Instructors also teach students how to forecast potential problems before they become genuine threats. Throughout your courses, you will learn how to administer networks, troubleshoot hardware/software problems, and determine the best ways to protect customers and clients from vulnerabilities within the network.
Courses that Improve Thinking Inside & Outside the Box
Courses in cyber security include introduction to routing and switching, network protocols and services, and network scripting. Students are required to take classes in Windows, ethical hacking, and computer configuration. Together, these courses teach you the hard skills needed to operate a wide variety of systems within a vast array of network configurations.
You will also need to complete courses in web interface design, web site maintenance and management, wireless security, and security systems administration. These teach you the most efficient and effective methods of protecting networks from unauthorized access while still maintaining networks that are easily accessible and navigable by authorized users.
Creating Balance within the Curriculum
Cyber security degrees are more than just computers and software. Success in the career also depends on an individual's business acumen, communication skills, mathematical abilities, and understanding of human psychology. As such, courses students are required to complete courses in college composition, algebra, psychology, and culture.
Graduation is Just the Starting Point
Cyber security is a career field that is constantly evolving. As new threats emerge, new technologies are being developed to counter them. This means that graduates of cyber security programs don't stop studying when the ink dries on the diploma.
Students should expect to continue their education through private study and employer sponsored training programs throughout their career. This includes earning specialized certificates such as the Cisco Certified Network Associate (CCNA) and other cyber security related certifications during their career.
Jobs in Cyber Security
Graduating with a degree in cyber security opens doors to a significant number of potential careers. Individuals can find jobs with private industry, law enforcement, or with state and federal government agencies. Graduates could find employment as a forensic computer analyst, security architect, or IT security engineer.
There are also a significant number of careers available as a penetration tester or IT security consultant. With advanced training and experience, graduates could move up the career ladder and into positions such as Chief Information Security Officer (CISO).
Are you interested in cyber security, but lack the formal degree needed to compete in the field? If you want to earn a Bachelor of Science in Computer and Information Science with a Major in Cyber and Network Security - Cybersecurity Track, ECPI University offers this program at an accelerated rate. For more information on this exciting opportunity, connect with a helpful admissions advisor today.
It could be the Best Decision You Ever Make!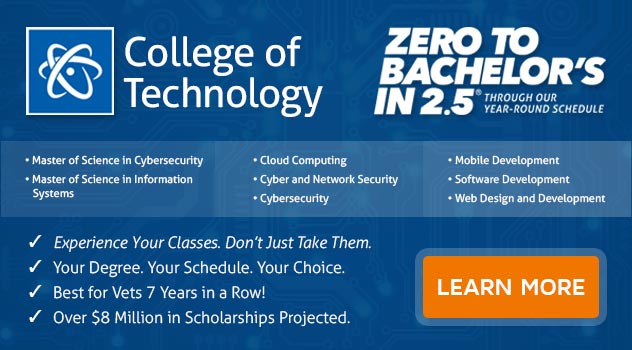 DISCLAIMER – ECPI University makes no claim, warranty, or guarantee as to actual employability or earning potential to current, past or future students or graduates of any educational program we offer. The ECPI University website is published for informational purposes only. Every effort is made to ensure the accuracy of information contained on the ECPI.edu domain; however, no warranty of accuracy is made. No contractual rights, either expressed or implied, are created by its content.
Gainful Employment Information – Cybersecurity Track - Bachelor's
For more information about ECPI University or any of our programs click here: http://www.ecpi.edu/ or http://ow.ly/Ca1ya.