What Education do you Need to be a Food Service Manager?
There are a lot of ways to break into the restaurant business as a food service manager.
Anthony Bourdain started by scrubbing dishes in Cape Cod before becoming a world-famous chef, best-selling author, reality television star, and restaurateur. Hiroaki "Rocky" Aoki drove around in a truck selling ice cream before founding Benihana. And Jason Mraz makes a little cash selling avocados to Chipotle.

But most people today just go to school to study food service management.
After all, not everyone is going to be able to get lucky enough to become a world-famous celebrity chef, franchise a chain of 70 teppanyaki joints, or make enough money selling music to plant a bunch of avocado trees in their backyard.
No, these days most people take a slightly more traditional route. It could be a wise investment, because the U.S. Bureau of Labor Statistics says that job opportunities for food service managers are projected to grow by 9 percent through 2026.
That's a lot of jobs in the restaurant business--and they're good jobs. Here's a look at three ways a formal education in food service management can help you become one.
Learn the business side of the house
When most people think about restaurants, their minds tend to wander to the "back of the house," where you'll find the kitchen. But at the end of the day, success in the food industry comes down to one word: profit.
The food, chef, ambience, menu, and marketing matter, but only so far as they help you make a profit. That's why it's important to learn the business side of things.
And that's exactly what you should learn in a formal food service management program.
You should study accounting, financial management, hospitality marketing, facility management, cost controls, macroeconomics, statistics, and other important topics that will prepare you to help your future employer make a profit.
You could learn to lead
It has been said that leaders are made, not born. It's easier to turn yourself into a leader in the food service industry if you have an instructor there to teach you how to inspire others, make difficult decisions, do your job with integrity, and communicate.
A formal education in food service management teaches you all of this -- and more.
You might take classes on leadership, ethics, and customer service. Sure, you could learn how to manage people, but you should also learn how to lead, share your vision with a diverse workforce, and drive success.
You'll get to see the big picture
Sometimes it can be hard to see the big picture--especially if you're trying to take it all in while waiting tables, working the line, or greeting customers at the front door.
Some people break into the business by getting entry-level jobs with the wait staff, cooking in the kitchen, or working the front of the house. Then they spend years jumping from job to job, trying to learn the business while at the same time hoping for their big break.
Then there are those who have it all laid out for them in a classroom, by industry experts who understand all of the facets that make up the big picture. These are the food service management professionals who pursued a formal education.
They've learned about everything from customer service to wine management to special-event planning to the art (and science) of entrepreneurship. They don't have to mop bathrooms to learn about the plumbing needs of restaurants because they've studied them in a classroom setting.
Ready to chart your course?
There are certainly a lot of ways to break into the food service industry. And, as Bourdain, Aoki, and Mraz have shown everyone, there is no one path that's right for everyone. But perhaps the most efficient path is through a formal education.
Formal Training in Food Service Management
If you're ready to chart your own course into the food service industry as quickly as possible, and earn a Bachelor of Science Degree in Food Service Management, consider ECPI University's Culinary Institute of Virginia. With accelerated classes and a year-round schedule, you could be looking for work while peers at a traditional college are still sitting in class. For more information, connect with a friendly admissions advisor today.
It could be the Best Decision You Ever Make!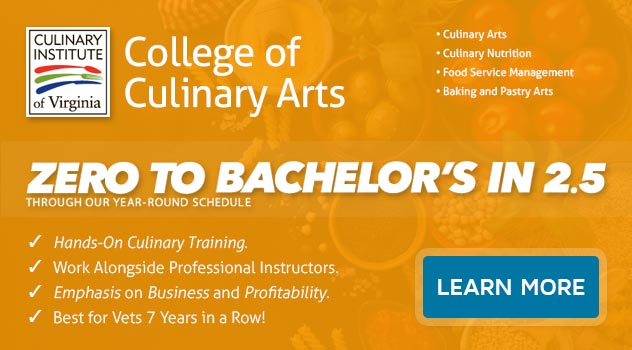 DISCLAIMER – ECPI University makes no claim, warranty, or guarantee as to actual employability or earning potential to current, past or future students or graduates of any educational program we offer. The ECPI University website is published for informational purposes only. Every effort is made to ensure the accuracy of information contained on the ECPI.edu domain; however, no warranty of accuracy is made. No contractual rights, either expressed or implied, are created by its content.
Gainful Employment Information – Food Service Management - Bachelor's
For more information about ECPI University or any of our programs click here: http://www.ecpi.edu/ or http://ow.ly/Ca1ya.