What is a Pastry Blender Used for and Other Important Things Pastry Chefs Know
Pastry chefs seem to work magic, turning piles of flour and sugar into glossy petit fours or comforting cookies. While much of the work can be done by hand or with basic tools like a mixing spoon, pastry chefs also use a number of specialized tools to get the job done.
Many of these are available to home cooks, too, but pastry chefs also have access to some more industrial equipment. So, if you're wondering what those tools are, here's a rundown of some of the items you'll find in professional pastry kitchens.

The Pastry Blender or Cutter
The pastry blender is a tool that you can find in any big box store's kitchenware section, but it's a valuable tool for professional work as well. This is a half-moon-shaped, handheld tool with four or five metal strips running along one side -- shaped into a curve -- and a handle on the other side.
This is used to "cut in" ingredients like butter into flour. The tool is curved so that you can pick up and cut into butter that's stuck to the sides of a bowl. You push the metal strips down into the butter and flour, eventually cutting up the butter and mixing the two ingredients together.
The pastry blender is essential because it both keeps your hands clean and requires a minimum of cleanup time. You'll see many older pastry recipes talk about rubbing butter into flour to create a certain texture; that gets butter and flour all over your hands and requires that you take time to clean them off before touching anything else.
Pastry chefs don't have that sort of time. The tools are also small, and since they don't contain any particularly sharp parts, they are a lot easier to clean than something like a food processor.
Cooling Racks, Torches, and Dough Scrapers
Sure, you know what a cooling rack is; you use those for cooling baked goods. But pastry chefs have to have expandable or stackable racks to handle the large numbers of cookies and pastries they churn out. These racks are vital to keeping the bottoms of the pastries from becoming soggy from the condensation that can form when you put a hot pastry on a cool plate; the spaces under the pastries dry out that excess steam.
Pastry chefs also need to have torches, small handheld devices used for caramelizing the tops of dishes like crème brûlée and browning softer meringues that won't be baked in an oven. Dough scrapers are small, usually curved on one edge and straight on the other, that do what their name implies: You use them to scrape up dough, meringue, and other ingredients and foods from bowls (with the curved side) or the cutting board (with the straight side). Occasionally you can use them as a makeshift mixing spoon, but not on a regular basis.
The Copper Jam Pan
Pastry chefs could make jams and jellies in a regular pot, just as people do at home. But a copper pan made specifically for cooking down the fruit in the recipe helps the fruit maintain a firmer texture, because the copper allows the fruit to release more juice and allows the pectin to work a little faster.
Professional-Level Goods
One thing you'll notice if you look in the kitchen of a pastry shop is that the equipment -- the oven, the blender, and so on -- is a lot bigger than what you have at home. Your fantastic stand mixer that sits on your kitchen counter is tiny compared to the almost-human-sized bowl that faces most pastry chefs each day. The ovens have to hold several racks of pastries, not just two; the chefs would never be able to bake as much as they needed to, to meet demand, if they used a typical home-style oven or blender.
Those industrial-sized items are just one reason why you need to go to culinary school to be a pastry chef. You technically don't have to, but if you want to learn how to use those larger pieces of equipment, as well as learn how to use the smaller items more effectively, pastry school is a valuable experience. Not only will you learn how to use the equipment, but you'll also learn techniques that help you create larger batches of pastries, and you'll learn more about why the techniques work, so you can adapt them as you see fit.
Are you interested in a future in the kitchen? If you want to earn an Associate of Applied Science Degree in Baking and Pastry Arts, consider ECPI University's Culinary Institute of Virginia for the education you want. For more information about this exciting program, connect with a friendly admissions advisor today.
It could be the Best Decision You Ever Make!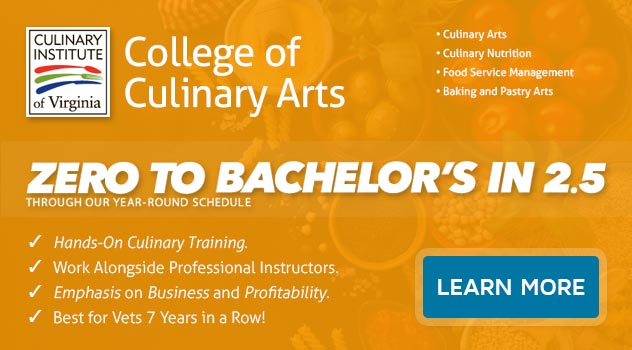 DISCLAIMER – ECPI University makes no claim, warranty, or guarantee as to actual employability or earning potential to current, past or future students or graduates of any educational program we offer. The ECPI University website is published for informational purposes only. Every effort is made to ensure the accuracy of information contained on the ECPI.edu domain; however, no warranty of accuracy is made. No contractual rights, either expressed or implied, are created by its content.
For more information about ECPI University or any of our programs click here: http://www.ecpi.edu/ or http://ow.ly/Ca1ya.