What is a Registered Nurse: Is It a Career Option for Me?
Modern medical technologies, an aging population living longer and better methods of care means that there will only be a greater need for RNs (registered nurses). According to the BLS, the future for those seeking to venture into this career is brighter than ever before. Nursing careers are predicted to experience a 15 percent growth rate for the next coming years.

Job Duties of Registered Nurses
Registered nurses have numerous job responsibilities. Apart from their primary role of treating and caring for patients, they are also responsible for educating patients, their families, and the general public about various medical conditions. Other responsibilities include monitoring, recording, and reporting different symptoms or any changes they observe in their patients.
Additionally, registered nurses are required to maintain accurate reports and medical histories for their patients. Registered nurses also perform diagnostic tests and analyze the results, operate medical equipment, and assist patients with rehabilitation.
RNs can pursue a specialization, for instance, pediatric oncology. Nurses who specialize in this field provide care for children that are undergoing cancer treatment. Other specialized nurses such as geriatric nurses focus on providing care for the elderly, while perioperative nurses major in helping surgeons in operating rooms.
Requirements to Become a Registered Nurse
Nurses play a major role in a patient's life. They administer powerful treatments and make life-and-death decisions. For these and many other reasons, the requirements for becoming a registered nurse can be strict. Some of the requirements include:
Study for a Career in Nursing
For your application to pursue a nursing degree to be considered, you should first have a high school diploma or equivalent qualification. If you're still in high school, studying math and science will give you a head start on future nursing training. Other important subjects that will be useful to your nursing career include:
Algebra
Biology
Chemistry
Geometry
RN Education
There are different educational paths that can you can follow to become an RN. The educational requirements to join this profession range from an associate degree in nursing (ADN) to a bachelor's degree. The difference in these programs will determine how much responsibility you start out with and how long your degree program is. An ADN, as an associates degree, takes two years or less when you study with an accelerated program. A BSN takes longer, but prepares you for more nursing duties once you complete it.
Nursing License
After you have completed your nursing training, you will need a state license before you can start practicing your career. The state license will give you the RN title. Part of earning your license is to take the NCLEX-RN (National Council Licensure Examination for Registered Nurses).
This exam is issued by the NCSBN, a non-profit organization that is responsible for regulating nurses in the United States. To take the exam, there is a small fee. The test is computer-based and you will be expected to answer a certain number of questions correctly in order to pass.
The NCLEX exam includes questions on how to keep your patients safe, how you will prevent accidents, how to handle infectious items, and how to use ergonomic principles. You will also be required to answer questions on how you will support patients from diverse cultures during stressful situations such as mental illness, abuse, chemical dependency, or loss.
Keep in mind that you will also be tested on whether you know how to keep patients comfortable, administer the right medication, calculating the right dosages, and whether you're able to recognize adverse effects. Keep in mind that the right answer to some questions is not often crystal clear, it can be a matter of which answer is more correct.
Nursing Certification
Although you'll be required to have a license, having a nursing certification is optional. However, nursing certificates will act as proof that you're able to care for specific groups of people such as children, patients with mental illnesses, or the elderly. According to a recent report by the BLS, some employers prefer to recruit nurses who have additional certifications.
Importance of Formal Education in a Nursing Career
Education in the healthcare industry can be expensive. However, it's essential both to your personal and professional life. In most cases, the level of education determines future success. Therefore, by completing advanced levels of education, you will prove to potential employers that you're committed to learn and apply the skills, ideas, and formulas you learn to accomplish tasks.
Important Nursing Skills Acquired Through a Formal Degree Program
There's more to nursing than just acquiring clinical expertise. Some of the skills you'll learn in school include:
Communication
Listening
Empathy
Performing dressing changes
Administering injections
Strong work ethic
Take the First Step Towards a Career in Nursing
If you want to become a nurse, consider ECPI University for their Associate of Applied Science in Nursing Degree. For more information about this exciting program, connect with a friendly admissions representative today.
It could be the Best Decision You Ever Make!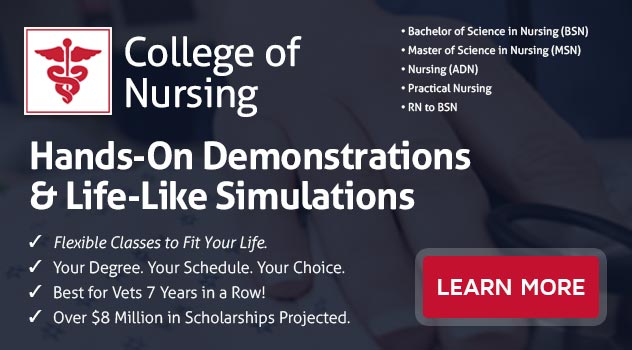 DISCLAIMER – ECPI University makes no claim, warranty, or guarantee as to actual employability or earning potential to current, past or future students or graduates of any educational program we offer. The ECPI University website is published for informational purposes only. Every effort is made to ensure the accuracy of information contained on the ECPI.edu domain; however, no warranty of accuracy is made. No contractual rights, either expressed or implied, are created by its content.
Gainful Employment Information – Nursing - Associate's
For more information about ECPI University or any of our programs click here: http://www.ecpi.edu/ or http://ow.ly/Ca1ya.