What is the Purpose of Food Service and How can I Become Involved?
The culinary world is an amazing one. Many people dream of one day becoming a chef. Yet what if you find food interesting, but you don't exactly want to be the one doing all the cooking? You still have options because food service is a vast field, and one occupation you might be interested in is food service management. This is a vital role that requires diverse skills, and it's one that will keep you on your toes. This role is that of the food service manager.

What Is "Food Service"?
Food service (sometimes spelled foodservice) is the field of getting food to customers, such as through restaurants, institutional cafeterias, grocery stores, and so on. It's a blanket term covering all of that outside of strict agriculture, though it's often narrowed down to center on food preparation specifically. Someone who stocks grocery store shelves with paper towels might not be included in this narrower definition, but the manager of the bakery in the grocery store certainly would be included.
The food service chain of command can vary, but usually there is a manager at the top. This can be the restaurant manager, or the establishment can have a specific role for managing the food side of things while the main manager sticks with the business side.
What Does a Food Service Manager Do?
The food service manager oversees all that has to do with food acquisition and preparation. This is the person who develops menus with the cooks, who looks for the best pricing, who arranges for shipments, who tracks recalls, and so on. Is there a world shortage of a necessary food? The food service manager will look for alternative sources and other food that might be acceptable substitutes.
The food service manager may also deal with customer complaints, depending on how the organization is set up. They could also handle budgetary and payroll issues, so you can see that the food service manager has to have many skills.
Is Formal Education a Good Way to Enter the Field?
Like other culinary roles, both formal education and on-the-job-experience are valid ways of getting into food service management. However, each path has considerations -- and formal education may turn out to be a better path for many people.
Formal education exposes you to more than the basics of food service. You learn about cost controls, legal issues, accounting, hospitality, how beverage management differs from food management, and more. You get a very good overview of what the entire field could entail. You do have to spend time in school first, before heading out into the full-time work world.
On-the-job experience typically is done through promotions. So instead of joining a restaurant as a food service manager, you might start as a line cook's assistant and work your way up. The advantage there is you get real-world experience right off the bat -- but the disadvantage is that you have to wait a long time to reach that managerial level, or you have to hop from place to place to get closer to your goal. Plus, you learn about how food service works for a particular restaurant or organization, which can make it more difficult to move to another place of employment.
What Preparation Should Someone Do Before Starting Classes?
Start researching the types of organizations that need food service managers. Are you more interested in places that require nutritional knowledge, like school cafeterias? Or are you more interested in a particular cuisine? Would you want to manage an entire restaurant or store, or would you prefer to be the manager of a food service section only?
Remember -- you can always change your mind as you gain more education! Just get an idea now so you can start exploring those options early on.
Are you interested in becoming a food service manager? If you want to earn a Bachelor of Science in Food Service Management, consider ECPI University's Culinary Institute of Virginia. For more information, connect with a helpful admissions counselor today.
It could be the Best Decision You Ever Make!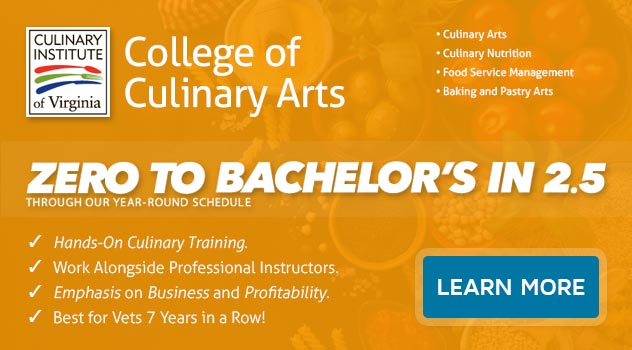 DISCLAIMER – ECPI University makes no claim, warranty, or guarantee as to actual employability or earning potential to current, past or future students or graduates of any educational program we offer. The ECPI University website is published for informational purposes only. Every effort is made to ensure the accuracy of information contained on the ECPI.edu domain; however, no warranty of accuracy is made. No contractual rights, either expressed or implied, are created by its content.
Gainful Employment Information – Food Service Management - Bachelor's
For more information about ECPI University or any of our programs click here: http://www.ecpi.edu/ or http://ow.ly/Ca1ya.