What Can I Do with an Electronics Engineering Technology Degree (ESET)?
In a world where technology has taken center stage the need for integrated systems and equipment is at an all-time high. Electronics Systems Engineering Technologists (ESET) play a critical role in designing, installing, and maintaining such systems. These professionals are the link between engineers and technicians, ensuring proper development, production, and testing of a wide variety of systems and components.
If you enjoy learning about (and working with) electronic equipment such as circuit boards, manufacturing systems, and mechanical devices, then a degree in Electronics Systems Engineering Technology may be a good fit for you. 

What is Electronics Systems Engineering Technology?
The field of Electronics Systems Engineering is quite broad. It involves a combination of product development, testing, installation, and quality assurance. As an ESET professional, you could be involved in multiple aspects of hands-on, supervisory, and technical positions within various industries. For example, you may work closely with engineers to develop new instruments for medical applications, or you may supervise a team of technicians when testing manufacturing equipment.
Electronics Systems engineers have a strong foundation in computer systems, automation, machine learning, and micro-electronics. Because much of today's word is driven by technology, the role that ESET professionals play has changed significantly in recent years.
Duties and Responsibilities
Professionals within the ESET field wear many different hats. While working, you could expect to perform a wide variety of functions, ranging from product development to systems maintenance. The ESET field is a dynamic and exciting path that could expose you to multiple industries over the years.
But what can you expect to carry out as part of your daily duties and responsibilities?
Analyze electronic systems to determine capacity, maintenance requirements, and associated costs
Act as a liaison between engineers and technicians during project implementation
Determine the feasibility of various engineering projects
Prepare sketches and detailed plans for electronic equipment installation
Carry out repairs and maintenance on electronic components, software systems, and industrial products
Prepare budgets for electronic equipment purchase, installation, or repair
Obtaining a Degree in ESET
A formal education in Electronic Systems Engineering Technology is critical for a future in this complex industry. ESET programs generally focus on teaching fundamental engineering principles that you could apply in the real world.
During the program, you should be exposed to a combination of digital systems, hardware, programming, and instrumentation techniques. ESET graduates also should have a firm grasp of theoretical and practical applications of many different engineering systems. Some universities even offer certification opportunities to students while earning their degree. Such qualifications can help you stand out in a competitive job market. 
What is Taught in ESET Courses?
The ESET curriculum is a rigorous course that should introduce students to multiple electronic systems, tools, and processes. You generally learn about electrical circuits, instrumentation, computer networking, and various industrial applications. Graduates also should have to complete a senior project that demonstrates their ability to implement what they have learned (both theoretically and practically).
Future Opportunities
ESET is a vibrant, challenging, and growing field. Graduates could expect to perform tasks oriented around project management, developing new tools and equipment, industrial engineering, and much more. With a degree in ESET, you could work in any of the following sectors:
Electronic engineering technology
Product engineering technology
Project management
Do You Want to Learn More About EET?
At ECPI University, we offer a Bachelor of Science Degree in Electronic Systems Engineering Technology. Those who enjoy learning about electrical systems, automation, and industrial technology may find the ESET path is a great fit for them. Contact one of our knowledgeable admissions counselors today to discuss your ESET educational journey.
It could be the Best Decision You Ever Make!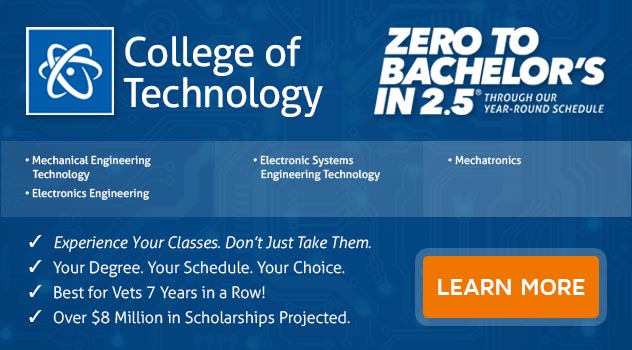 DISCLAIMER – ECPI University makes no claim, warranty, or guarantee as to actual employability or earning potential to current, past or future students or graduates of any educational program we offer. The ECPI University website is published for informational purposes only. Every effort is made to ensure the accuracy of information contained on the ECPI.edu domain; however, no warranty of accuracy is made. No contractual rights, either expressed or implied, are created by its content.
For more information about ECPI University or any of our programs click here: http://www.ecpi.edu/ or http://ow.ly/Ca1ya.