What Jobs Can You Get with an MSN: Could I Go Into Nurse Education or FNP?
The demand for nurses keeps rising by the day, thanks to the aging population and a sharp shortage driven by retirement. Currently, the Master of Science in nursing (MSN) degree is a wonderful option as many nurses seek leadership roles in the healthcare industry. MSN programs are designed to qualify graduate nurses for leadership or teaching positions.
In a typical MSN program, you will cover courses in health systems, nurse team supervision, and healthcare ethics. You will also learn how to manage quality improvement, leadership, and health policy. If you're thinking about advancing your nursing career, getting an MSN could be your best bet. Although you could major in various areas, the most common areas of specialization for MSN graduates are Family Nurse Practitioner (FNP) and Nurse Educator.

Family Nurse Practitioner (FNP)
A Nurse Practitioner (NP) can specialize in a variety of areas, and a family practice setting is one of them. The Bureau of Labor Statistics says demand for FNPs is projected to increase by 31 percent between 2014 and 2024. As a family nurse practitioner, your clinical responsibilities may include the following:
Diagnosing illness
Prescribing medication
Determining the right course of treatment
Ordering and interpreting diagnostic tests, including lab work, x-rays, and other imaging data
Becoming an FNP gives you the opportunity to work in a broad range of healthcare settings like clinics, primary care medical offices, provider offices, urgent care, public health departments, occupational health/industrial setting, and schools. What's more, by taking year-round programs, you could complete your MSN – Family Nurse Practitioner program in as little as 22 months.
Nurse Educator
Registered nurses can also advance their education to become nurse educators. You can do that through advanced education in a health care specialty. As a nurse educator, you could take a variety of roles including facility at a nursing college or program. Professional titles may include Administrative or Instructional Nurse Faculty, Staff Development Officer, Clinical Nurse Educator, or Continuing Education Specialist.
Nurse educators often take other responsibilities related to:
Designing curricula
Evaluating learning
Teaching and guiding learners
Developing courses/programs of study
Documenting the outcomes of educational processes
In the Nurse Educator concentration, students apply the theoretical foundation of education, statistics, policy and politics of healthcare, curriculum planning/development, healthcare technology, and teaching strategies in the online or hybrid classroom. More often, you will use modern technologies like apps, online databases, or video conferences to keep up with your classwork.
Nursing, like any other business, has become data-driven. Every outcome is measured and strategic plans for continuous improvement are written down, implemented, and evaluated. Nurse educators help learners to identify their training needs, strengths, and shortcomings and formulate learning programs that can help them build on strengths and overcome shortcomings.
Masters of Science in Nursing (MSN) Job Outlook
As the healthcare climate evolves at a lightning fast pace, you need to have the skills and knowledge to manage high-performing health institutions. Nurses lead the way in improving healthcare systems across the globe. An MSN is a great way to advance your education and practice at the full extent of your potential. The good news is that you can opt for an online program to accommodate your busy schedule.
The demand for specialized clinical services and advanced nursing professionals continues to grow. Consequently, several positions that require MSNs are projected to experience considerable growth over the next 10 years.
Are You Ready to Earn Your MSN?
If you're looking to advance your education in the nursing profession, consider ECPI University's College of Nursing. Through this year-round program, you could earn a Master of Science degree in Nursing with a concentration in Family Nurse Practitioner or Nursing Education and do it completely online. Contact us today and begin a conversation with one of our friendly admission counselors.
It could be the Best Decision You Ever Make!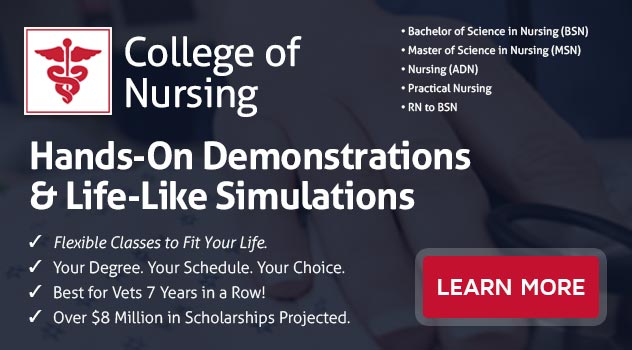 DISCLAIMER – ECPI University makes no claim, warranty, or guarantee as to actual employability or earning potential to current, past or future students or graduates of any educational program we offer. The ECPI University website is published for informational purposes only. Every effort is made to ensure the accuracy of information contained on the ECPI.edu domain; however, no warranty of accuracy is made. No contractual rights, either expressed or implied, are created by its content.
For more information about ECPI University or any of our programs click here: http://www.ecpi.edu/.