What makes a Great Chef Great?
We live in the age of the celebrity chef. These glamorous figures seem to work magic in the kitchen, turning out dishes that look and taste like they were pulled from a fantasy. But what explains the difference between top chefs and the rest of the pack? Let's see what the experts say.
What Great Chefs Do Differently
According to Thomas Kellar, who owns the famous Napa Valley restaurant The French Laundry, the key to becoming a great chef is constantly striving to improve your fundamental skills.
"I know how much we all like to do new things, but cooking is really about doing the same thing over again… I really think you have to embrace it and enjoy it… If you're the fish cook, and you're sautéing that piece of fish over and over again, you've got ten orders, twenty orders, thirty orders a night, and really the focus should be on doing it better each time – or at least consistently each time. To find joy in that is the real key to becoming a really good chef."
At The Underground Kitchen, they say that while there are countless good cooks and chefs, it's the work top chefs do outside the kitchen that makes us recognize them as great. They point out that all ten of the chefs on National Swell's list of 10 chefs who are revolutionizing America Food have dedicated themselves to worthy, food-related causes.

What Skills, Experience, and Education Helps Fuel their Work?
Any chef worth their salt needs to have strong skills in the various areas of food preparation. Even if you don't want to specialize as a pastry chef, for example, you may be called on to fill this role from time to time. You also need to be knowledgeable and skilled enough in each area to supervise others, as you advance.
Being a great chef is about more than cooking well. A chef is a departmental manager, in charge of running the kitchen. They have to manage staff, plan and cost menus, and oversee quality control and ordering.
"As important as proper technical training and creative flair are for a chef, they don't amount to much without knowledge of how to spend wisely and plan strategically to grow a business," writes Freddie Rohner, of iHireChefs.com. "Financial acumen is a vital quality because the culinary world, ultimately, is a business."
FineDiningLovers.com points out that chefs need to develop solid management and leaderships skills too. "…it is essential [for a chef] to teach and train both back and front of house about the items, how they are prepared, why certain ingredients are used, how the dish should taste and look, and then constantly monitor everything to ensure that everyone adheres to the expectations."
Why is Formal Education Important to Becoming a Great Chef?
At the very least, you need to know how to maintain proper hygiene to work in a professional kitchen, which is one of the first things you learn in any culinary program. But, beyond that, being a chef is such a complex job that it would take you a lifetime to master the various skills involved without formal training.
In terms of food preparation alone, a good chef needs to be able to prepare menus in a variety of classic and international cooking styles.
"Without having the basic cooking skills taught by virtually all culinary schools, you will not have the tools necessary to grow as a professional, devise innovative dishes, and inspire staff to follow your vision," writes Freddie Rohner.
Learning from experienced professionals is the fastest way to master all areas of the chef's craft, including the business and people-management aspects. With proper training, you enter the workplace ready to master your craft through first-hand experience.
If you tried to start your career without formal training, your focus would be on trying to keep up with your better-trained colleagues. Some essential skills would be very difficult to ever pick up, such as understanding nutrition or creating a professional portfolio.
How to Get Started as a Chef
If you want to answer your calling and become a chef, think about earning an Associate of Applied Science in Culinary Arts from ECPI University's Culinary Institute of Virginia. Make contact with a helpful admissions advisor today for more information.
It could be the Best Decision You Ever Make!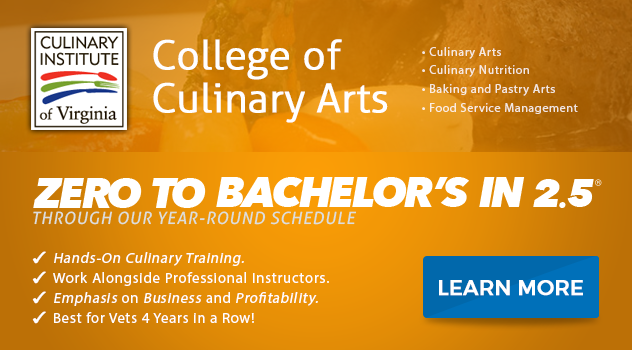 DISCLAIMER – ECPI University makes no claim, warranty, or guarantee as to actual employability or earning potential to current, past or future students or graduates of any educational program we offer. The ECPI University website is published for informational purposes only. Every effort is made to ensure the accuracy of information contained on the ECPI.edu domain; however, no warranty of accuracy is made. No contractual rights, either expressed or implied, are created by its content.
Gainful Employment Information – Culinary Arts - Associate's
For more information about ECPI University or any of our programs click here: http://www.ecpi.edu/ or http://ow.ly/Ca1ya.