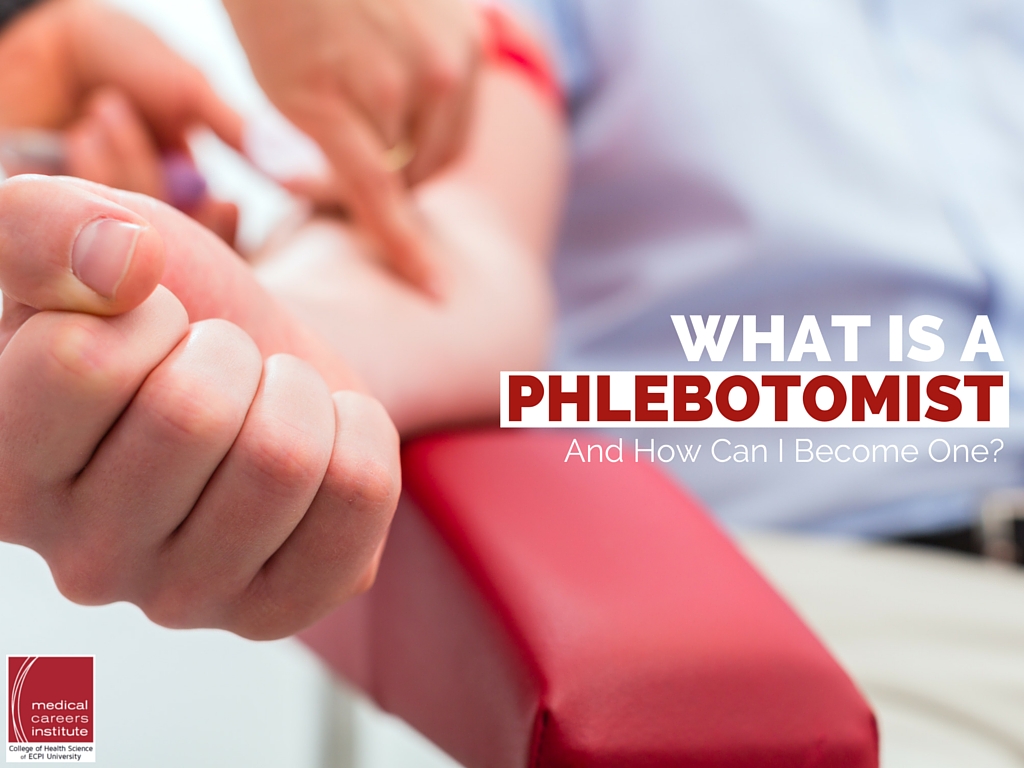 If you fear needles, then phlebotomy will probably not become your dream job. A phlebotomist is a certified medical professional that draws blood for testing. Phlebotomists also draw blood for research and for blood donations.
What's Being a Phlebotomist Really Like?
Phlebotomists normally draw blood from a finger stick, which is exactly what it sounds like, or through a needle and syringe in a venipuncture. Because blood work is often ordered before surgery or other invasive medical procedures, phlebotomists are often called upon to verify patient information, sometimes even including insurance information if working in a small medical practice. The job of a phlebotomist requires a great deal of attention to detail and excellent organizational skills, as assembling, checking and carefully labeling vials, tubes, and microscope slides are often a part of the role.
Phlebotomists are required to cause a small amount of physical pain to a patient, which requires some emotional detachment from your daily tasks. When you consider that a phlebotomist may need to draw blood from a child or a very sick adult, you will understand why cool detachment is required for this role. And you most definitely cannot be squeamish at the sight of blood!
This is a job that requires practice and skill, because finding the best vein to draw blood from, while causing the patient minimal pain, is sometimes very difficult. You'll need solid hand-eye coordination and some dexterity to be able to accomplish your daily tasks. Your patient may have trouble keeping still, or may have exceptionally tiny veins, or may even have veins that just are difficult to find. Like many jobs, it requires patience, practice, and concentration. Unlike many jobs, it also requires exceptional people skills throughout a medical procedure that is often painful and sometimes difficult to accomplish.

Phlebotomists often work in medical practices and clinics, hospitals and diagnostic laboratories and in blood donor centers.
What Kind of Education Will I Need?
Phlebotomy can stand on its own as a career path, or serve as a foundational skill in another medical career such as:
Medical Assistant
Nurse
Lab Technician
If you've decided to stick (pun intended!) with phlebotomy as a solo career, certification programs are available around the country. These programs are often accredited through the American Society of Phlebotomy Technicians.
Phlebotomists Salary & Job Outlook
The Bureau of Labor Statistics says the annual median salary of a phlebotomist is $29,730 as of 2012. Non-certified phlebotomists draw a slightly smaller salary.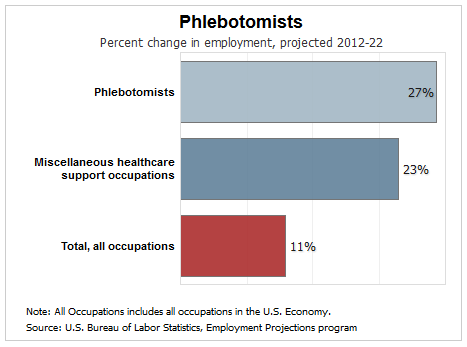 Phlebotomy as a career is growing rapidly. The Bureau of Labor Statistics says it's expected to expand by 27% in the next ten years. If you take on phlebotomy as part of a medical assistant career or some other more advanced degree, the job outlook could be even wider. Phlebotomy could provide you with the baseline for a diversity of job skills that you can draw upon to stretch more broadly across the expanding health care field.
The Monthly Labor Review has stated that the American population segment aged 55 and up, often called the "baby boomers," will expand to 87 million by 2016. As a result, the employment outlook in health care is rapidly expanding as systems are called upon to care for these elderly patients. Health care consulting firm The Advisory Board confirms that one in nine jobs are now found in the American health care field. The outlook for any job seeker moving into health care, no matter what specialty you're focused on, looks very positive.
To get started in phlebotomy, look for an accredited postsecondary non-degree program with a solid track record of job placement. Some phlebotomists enter the career track straight from high school and receive on the job training. A few states, like California, also have additional requirements and certifications for the role. Certification requires some classroom training in addition to hands on practice, sometimes in a clinical setting.
#MedicalAssisting Instructor Sees #Healthcare Through...http://t.co/QuQ9y3Lx1L #ECPIUniv More: http://t.co/V2DCcmuN0t pic.twitter.com/5nVtuAyQqM

— ECPI University (@ECPIUniversity) March 31, 2015
Become a Phlebotomist Through Medical Assisting
ECPI University trains phlebotomists as part of a career in medical assisting. The program is part of the School of Health Science, Medical Careers Institute and prepares students to work as phlebotomists, EKG technicians, and as medical assistants in physician practices, clinics and other health care settings. Contact us today to learn more about earning an Associate of Applied Science in Health Science with a concentration in Medical Assisting.  It could be the Best Decision You Ever Make!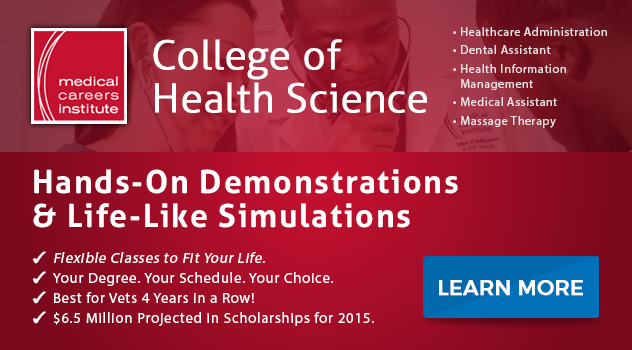 DISCLAIMER – ECPI University makes no claim, warranty or guarantee as to actual employability or earning potential to current, past or future students or graduates of any educational program we offer. The ECPI University website is published for informational purposes only. Every effort is made to ensure the accuracy of information contained on the ECPI.edu domain; however, no warranty of accuracy is made. No contractual rights, either expressed or implied, are created by its content.
Gainful Employment Information – Medical Assisting – Associate's
For more information about ECPI University or any of our programs click here: http://www.ecpi.edu/ or http://ow.ly/Ca1ya.