What Qualifications Do You Need to Be a Nurse: Where Do I Get Them?
Ask any person who has worked alongside nurses and they will tell you that it takes something special to become a nurse. Nurses encourage wellness and enhance lives; they also make strong emotional connections with their co-workers and create lifelong memories with their patients. But no one can become a nurse without the right educational background. Here's why.

Qualifications to Become a Nurse
If you choose to pursue a nursing career, you have to meet certain qualifications before you can begin your career. You will need to obtain educational qualifications, work experience, become licensed and pass a legal scrutiny before you can be hired. Additionally, it's important that you reflect inwardly to ensure that you possess a caring and compassionate nature of a person that is fully committed to helping others.
Educational qualifications
To become a nurse you will first need a high school education. Coursework in psychology, biology, English, and mathematics are helpful when pursuing a nursing career. Advanced classes in physiology and anatomy are also beneficial.
To become a registered nurse, you will have to meet rigorous post-secondary educational requirements. Some of the courses you will cover will probably include nutrition, pharmacology, psychology, and microbiology among many others. To become a registered nurse, you can follow one of three nursing education paths. These paths include:
Associate degree: This is the most common path to becoming a registered nurse. Associate degree programs take from eighteen months to two years to complete. Depending on whether you enroll at a traditional or accelerated college or university. This program will prepare you for an entry-level nursing job at health-related facilities, and after graduating; you will be eligible to take the licensing exam to qualify as an RN.
BSN (Bachelor of Science in Nursing): After graduating from high school, some aspiring nurses choose the BSN program. The BSN provides training in leadership and communications subjects and practical clinical experience in a hospital setting.
After completing your associate degree, you can enter an RN-to-BSN program. This program will apply the credits from your associate degree towards your bachelor's degree. What's more, you can get into this program at any point in your RN career. You don't have to worry about quitting your career; many accelerated nursing degree programs are offered on a flexible schedule to accommodate a working nurse's life.
Become Licensed
All states require nurses to take an exam before they get a license. As a registered nurse, you will have to pass the NCLEX (National Council Licensure Examination). The NCLEX is a 6-hour comprehensive test that will assess your understanding of health promotion skills, care management, preventive treatment abilities, psychosocial and physiological integrity, and basic care among other nursing topics. Before you can start working as a nurse, some states will require that you pass a drug test and a criminal background check.
Must-have Skills to Become a Nurse
Clinical skills
When working as a nurse, there are lives on the line. You will need several technical nursing skills to perform your duties. Some of the top clinical skills you will need to work in a healthcare facility include:
Acute care
CPR (cardiopulmonary resuscitation)
Life support
ACLS (advanced cardiac life support)
Telemetry
Critical care nursing
Case management
Non-clinical skills
While technical nursing skills are essential, there are other important soft skills that will make you a great nurse, including:
Critical thinking
Organizational skills
Stress management
Compassion and understanding for patients and families
Importance of Formal Nursing Education
The AACN (American Association of Colleges of Nursing) which is the national voice for all nursing programs believes that formal education greatly affects the knowledge and competencies of nurses and other healthcare providers. In practice, formal nursing education makes a difference in patient care in several ways including:
Administration of medication: As a nurse, your primary role will be to administer medication and monitor the response of your patient to treatment. Formal education in nursing will equip you with knowledge of medication and delivery methods, which are important when providing patient care.
Evaluating treatment and recovery: One key component of the nursing process is the evaluation of treatment and how patients respond to nursing care. Formal nursing education examines different approaches to patient, family and community nursing care.
Technological proficiency: The nursing field has adopted the use of technology in providing patient care, for example, the electronic medical record (EMR) which has brought with it several challenges and opportunities to the nursing workforce. Formal nursing education explores and uses the latest nursing technology.
Are you interested in a career as a nurse? If you want to earn an Associate of Applied Science Degree in Nursing, ECPI University offers this program at an accelerated rate. For more information about this exciting degree, connect with a knowledgeable admissions representative today.
It could be the Best Decision You Ever Make!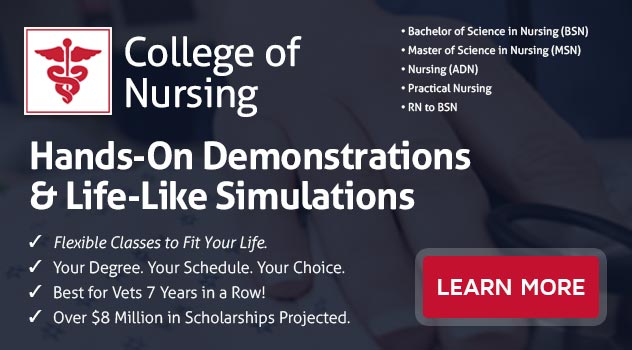 DISCLAIMER – ECPI University makes no claim, warranty, or guarantee as to actual employability or earning potential to current, past or future students or graduates of any educational program we offer. The ECPI University website is published for informational purposes only. Every effort is made to ensure the accuracy of information contained on the ECPI.edu domain; however, no warranty of accuracy is made. No contractual rights, either expressed or implied, are created by its content.
Gainful Employment Information – Nursing - Associate's
For more information about ECPI University or any of our programs click here: http://www.ecpi.edu/ or http://ow.ly/Ca1ya.