What Qualifications Do You Need to Become a Nurse: Is it the Right Path for Me?
Becoming a nurse is a special calling. Nurses directly affect people's lives and are usually the first professionals to provide critical care to ailing patients. As more people seek to live longer and healthier lives, the demand for nurses is at an all-time high.
These professionals work in hospitals, clinics, and outpatient facilities to provide quality care to patients. If you have a passion for caring for the sick and injured, have excellent attention to detail, and enjoy engaging with people from many different backgrounds, a nursing degree is an excellent option to consider.
Healthcare facilities around the country need more nurses. As baby boomers age and preventative care continues to rise in popularity, the quality hands-on care that nurses provide should be in higher demand than ever before.

Should you become a nurse?
If you're wondering whether you have what it takes to enter the nursing profession, remember that nurses come from many different backgrounds. Some grew up with a passion for entering the healthcare field, while others went through experiences that made them decide to make a difference within their communities.
Nurses handle many different aspects of primary care, including administering medication, monitoring patient health, communicating with doctors, and treating a variety of patient conditions. Nurses also supervise other healthcare workers, such as Certified Nurse Aides. If you have a passion for leadership, compassion, teamwork, and promoting quality care, a career in nursing may help you make a difference in people's lives.
As a nurse, you could also enjoy job security for many years to come. Indeed, according to the BLS,  the nursing profession is projected to rise 15% by 2026. This is an extremely fast-growing profession.
Duties and Responsibilities
As a nurse, you'll be responsible for providing medical care to patients in hospitals, clinics, homes, and other related settings. Nurses typically treat patients who are suffering from chronic and acute diseases, mental health complications, physical injuries and impairment, among others. You'll need to gain medical knowledge across multiple areas of human health when training to become a nurse.
Using this knowledge, you should expect to carry out the following duties and responsibilities in your profession:
Testing and evaluating patients to diagnose their medical condition
Providing pre- and post operation care
Taking blood samples, temperature readings, and pulses for diagnosis
Administering medication to patients
Preparing patient records and sharing them with doctors
Supervising junior staff members in multiple settings
Communicating with patients to address their concerns while undergoing care
Providing emotional support to patients and family members
Obtaining a degree in Nursing
If you have a calling to become a nurse, you'll need to obtain formal education and training within this exciting field. Nurses undergo a period of both theoretical and hands-on training to acquire the skills necessary for becoming a qualified nurse.
There are many different career tracks in nursing, starting from an Associate's degree to a master's degree. The path you chose will depend on what your specific goals are. For example, if you wish to obtain fundamental knowledge about disease prevention, health promotion, pharmacology, and acute care, an Associate's Degree in Nursing may be a good place to start. This degree, combined with hands-on training, should prepare you for work in many different healthcare facilities.
If your goal is to enter the administration, teaching, consulting, or research fields (with regards to nursing), a bachelor's or master's degree may be the best path to follow. But regardless of the path you choose, all nursing graduates are required to take a national nursing exam (the RN-NCLEX exam). Passing this exam will allow you to become a registered nurse.
How a formal education can help
All nurses need to receive appropriate knowledge and training so they can provide quality care to patients. Therefore, you should expect to learn about many different aspects of human health, nutrition, and pharmacology when obtaining your nursing degree. Some of the courses you can expect to take include microbiology, anatomy, surgical nursing, acute care, and nutrition.
What will your career look like?
As a registered nurse, you'll have numerous opportunities available to explore. The need for quality healthcare is increasing daily. This means that nurses are in demand in hospitals, schools, elder care homes, private homes, military outposts, and mental health agencies, among others.
Are you ready to start your nursing journey?
If you're interested in becoming a nurse and want to get started today, consider earning an Associate of Applied Science Degree in Nursing from ECPI University. With our accelerated format, you could earn your degree faster than at a traditional college. For more information, connect with a friendly admissions advisor today.
It could be the Best Decision You Ever Make!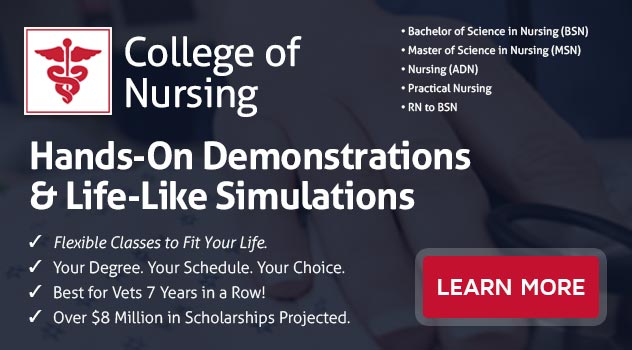 DISCLAIMER – ECPI University makes no claim, warranty, or guarantee as to actual employability or earning potential to current, past or future students or graduates of any educational program we offer. The ECPI University website is published for informational purposes only. Every effort is made to ensure the accuracy of information contained on the ECPI.edu domain; however, no warranty of accuracy is made. No contractual rights, either expressed or implied, are created by its content.
For more information about ECPI University or any of our programs click here: http://www.ecpi.edu/ or http://ow.ly/Ca1ya.