What Should I Major in to become a Police Officer?
One of the noblest callings you can answer is that of protecting your community, and one of the most direct ways of doing that is by becoming a police officer. Those who aspire to work in the criminal justice field will find a variety of settings to explore, in addition to that of being a patrol officer, including security, forensic science, computer technology, and investigations.

Becoming a Police Officer
How do you go about becoming a police officer? Some departments require no more than a high school diploma or a GED, and then successful completion of their training program. But increasingly, officers are being required to successfully complete a certain number of semester hours from an accredited college with a minimum GPA.
While some future police officers take courses in pre-law, most seek an associate's degree in criminal justice. As with most fields, higher education can make a difference in the criminal justice field when it comes to attaining advancement and higher pay. You may not always want to work as a patrol officer, so an investment in college can pay off in the future in the form of promotions and higher salaries.
Studying Criminal Justice
Criminal justice programs are likely to provide competencies in areas relevant to police officers nationwide, including courtroom procedures, security, surveillance, anti-terrorism and Homeland Security, gangs and organized crime, juvenile justice, and border security.
Among your core subjects, you would most likely be required to take courses such as these:
psychology
mathematics or algebra
communications and composition
statistics
culture and diversity
Courses more specific to your degree would include
criminal law and ethics
corrections
criminology
crime scene management
forensics
drugs and crime
juvenile justice
emergency planning
probation and parole
Once you complete your coursework, you should have developed competencies in critical thinking, analyzing human behavior, integrating scientific inquiry into analyzing criminal justice issues, and critically evaluating evidence to build a case.
In general, you will need 45 to 60 semester hours to obtain an associate's degree, and approximately 120-130 semester hours for a bachelor's degree. Bachelor's degrees are usually needed for jobs at the federal level, such as the U.S. Fish and Wildlife Service or the FBI. Increasingly, bachelor's degrees are in greater demand for promotions to detective, police supervisor, and fish and game warden.
Is a Degree in Criminal Justice Worth the Effort?
As you consider the merits of obtaining a degree in criminal justice, it will probably occur to you that you can become a police officer more quickly if you forgo the degree and just sign on with a police force, where you will be given basic training in the police academy. However, you won't just be passing up possible opportunities to earn a higher salary in the future, but also maybe even the opportunity to work in a variety of interesting fields as your career advances.
Some of the jobs holders of criminal justice degrees might also go for are legal assistant, paralegal, detective, criminal investigator, forensic science technician, police supervisor, probation officer, corrections officer, security guard, fraud investigator, FBI agent, CIA agent, U.S. postal inspector, immigration and customs enforcement (ICE) agent, DEA agent, Secret Service agent, blood splatter analyst, U.S. marshal, and transit and railroad police.
But aside from the great career diversity the criminal justice field offers, a degree in CJ also provides students with a richer background that will help them put their skills to better use once they begin work. Criminal justice instructors generally bring their own varied experiences into the classroom, and can help students develop a deeper understanding of the challenges they will face in the field and the best ways to respond to them.
While police officers still need physical strength and stamina, as well as training in self-defense and subduing and arresting suspects, that's not all. Today's police officers need good analytical abilities and highly developed critical thinking skills so they can make good decisions when confronted with highly charged situations.
Are you interested in being a police officer? If you want to earn a Bachelor of Science Degree in Criminal Justice, consider ECPI University for your education. With accelerated classes and a flexible schedule, you could earn your bachelor's degree in as little as 2.5 years. For more information, connect with a knowledgeable admissions counselor today.
It could be the Best Decision You Ever Make!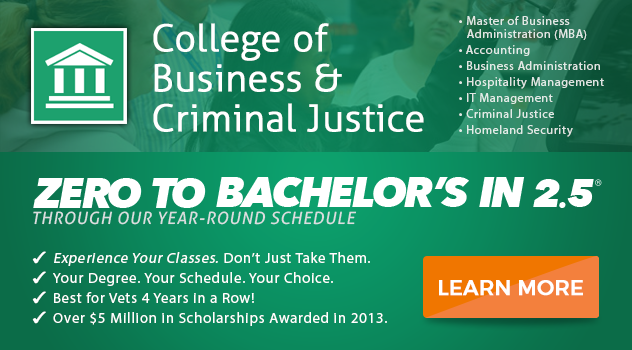 DISCLAIMER – ECPI University makes no claim, warranty, or guarantee as to actual employability or earning potential to current, past or future students or graduates of any educational program we offer. The ECPI University website is published for informational purposes only. Every effort is made to ensure the accuracy of information contained on the ECPI.edu domain; however, no warranty of accuracy is made. No contractual rights, either expressed or implied, are created by its content.
Gainful Employment Information – Criminal Justice - Bachelor's
For more information about ECPI University or any of our programs click here: http://www.ecpi.edu/ or http://ow.ly/Ca1ya.