What Skills Do You Need for Cloud Computing in Today's Market?
Businesses of all sizes across the world are pushing forward with cloud projects and there are no signs of slowing down. According to The International Data Corporation (IDC), global investment in cloud computing services and infrastructure will reach $210 billion in 2019, and expected to reach $370 in 2022.
Furthermore, the rise and explosive growth of innovative technologies such as machine learning have created the need for new skills and shaped new professions. In the US, the Department of Labor Statistics projects that this industry will create 557,100 new positions. There is clearly a big opportunity for professionals with the right skills – both soft and hard skills.

Prospective employers are on the lookout for professionals who can fit into the needs of their organizations now and into the future. They are looking for wholesome employees with a wide range of skills to tackle emerging technologies and to adapt to the changing business environment.
The following are some of the hard and soft skills you need for cloud computing in today's market.
Cloud Security
The growth of cloud computing has not been without difficulties – security being key among them. Although the situation is slowing improving, this is still a potent threat. Businesses must keep close attention to the security of their data mostly under shared responsibility. The cost of losing data is huge and businesses are looking to invest in professionals who can ensure that their data is secure.
Machine Learning and AI
Machine learning, big data, and AI are no longer buzzwords. They are happening and sweeping the market. With the two largest cloud platforms providing machine-learning tools, businesses are looking to take full advantage of this technology for a competitive edge. Professionals who can help businesses to get valuable information out of these tools are better placed in the market.
Serverless Architecture
The idea that applications should be deployed to a server is outdated. Serverless architecture gets rid of the need for developers to manage underlying infrastructure when building or running an application.
This is the way all businesses are looking to design their services – it is efficient, flexible and easier. Professionals who can help a business take advantage of this development have a more solid footing in today's market.
Business and Financial Skills
It is important to remember that there is a business behind every profession. At the end of the day, every business must protect its bottom line. As cloud computing continues to infuse every sector of business, professionals need to make a business case for cloud deployment.
They need to assure the management that investment in cloud computing has a healthy and sustainable ROI. They also need to make judgement calls on which technologies to use based on cost vs. performance analysis.
Enterprise Architecture and Business Needs Analysis
Cloud computing professionals now have to understand business is structured and how businesses operate. They need to lay out a roadmap on which services are needed and how they integrate with the enterprise. You will need to work with the business, understand the business and speak the business language.
Project Management Skills
IT projects require marshalling of people and resources to achieve set goals in a timely manner. The growth of cloud computing offers the end-user a chance to run wild with service requests. For this reason, professionals in this field need to possess effective project management skills to ensure that projects don't delay or end up costing more than planned.
Data Integration in Multi-cloud Environments
Businesses are adjusting to using a complex mix of cloud types and cloud services – private, public, and hybrid. Cloud professionals now have to possess the skills needs to effectively and efficiently manage these multi-cloud environments. Unifying the various databases to make data utilization possible is a huge exercise. Moving forward, data integration is a mandatory skill.
How to Acquire the Important Cloud Computing Skills
Cloud computing is growing at a phenomenal rate much to the delight of its enthusiasts. To position yourself for this market, learners must equip themselves with the above skills that are proving very important for businesses.
Although there are many certifications that can teach these skills, a bachelor's degree focused on cloud computing usually offers these and other skills essential for cloud professionals. The course should start by laying the basic of information technology and advances into more specific skills needed in cloud computing.
Do You Need Formal Education in Cloud Computing?
Some people might argue that with the right resources, most of the skills needed in cloud computing can be self-taught. This is true. However, it all depends on your goal. If you are looking to get into a career in cloud computing, a degree places you at a vantage point compared to people with no certification to show.
Additionally, having a degree charts your career path and could allow you to easily progress in the organization or even move on to a new workplace. Most importantly, earning a degree in a formal setting also could allow you to take up some very important soft skills that are now very crucial for cloud professionals. Skills such as teamwork, communication and leadership are best learned through practical application.
Are you interested in becoming a cloud computing professional? If you want to earn a Bachelor of Science in Computer and Information Science Degree with a Major in Cyber and Network Security - Cloud Computing Track, ECPI University offers this course at an accelerated pace. For more information, connect with a helpful admissions advisor today.
It could be the Best Decision You Ever Make!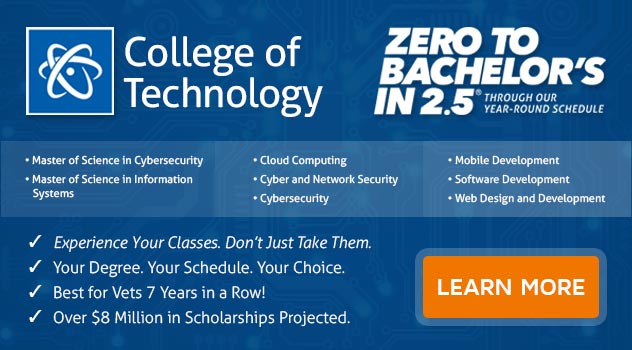 DISCLAIMER – ECPI University makes no claim, warranty, or guarantee as to actual employability or earning potential to current, past or future students or graduates of any educational program we offer. The ECPI University website is published for informational purposes only. Every effort is made to ensure the accuracy of information contained on the ECPI.edu domain; however, no warranty of accuracy is made. No contractual rights, either expressed or implied, are created by its content.
Gainful Employment Information – Cloud Computing Track - Bachelor's
For more information about ECPI University or any of our programs click here: http://www.ecpi.edu/ or http://ow.ly/Ca1ya.