What to do with a Culinary Nutrition Degree?
Written by Kristen Rohrer, CIV Nutrition/Arts & Sciences Faculty
The explosive new field of culinary nutrition is a unique fusion of a culinary specialist and a wellness enthusiast, which means the career possibilities are endless. These professionals may work directly with a dietitian or nutritionist in creating healthy menu options for special populations, like diabetics, people with allergies or people who just want to make better choices for optimal health.
Nowadays with the ignition of debate over GMOs, the increasing prevalence of chronic disease and the amplified push to take health into our own hands, many companies that previously seemed disinterested in nutrition are now joining in by hiring culinary nutritionists for corporate wellness and professional menu planning.
Culinary nutritionists can become food writers, work as head chefs and health educators in the private or public sector, provide expertise through municipal health departments or nonprofits that emphasize community outreach, and even work in spas and resorts. Anywhere that serves food would be a given for a chef's career choices.
Any establishment that emphasizes health while addressing specialty diets and thriving on the implementation of food as a therapeutic agent of healing would be looking to hire a culinary nutritionist. There has even been an increased push for this health and wellness knowledge when it comes to food preparation in local grocery stores, catering companies, schools, hospitals and even airlines as new opportunities arise almost daily.

A Distinct Set of Skills and Expertise
What used to be a 40-hour workweek in the United States has actually expanded to 47 hours per week on average, leaving less time for meal prep or eating at home and more reliance on quick, on-the-go meals that are usually frozen, high sodium, and loaded with preservatives. This emerging convenience culture is taking its toll on our health. According to the CDC, diet and lifestyle are the single most important constituents in preventing the seven out of ten deaths per year that result from chronic disease.
Why are these statistics so important, especially if we have genetic predispositions toward certain diseases, anyway? Because emerging evidence is pointing to the power of food in changing our genes. What if you had the ability to turn on favorable genes and turn off disease-promoting factors? That's exactly where the science is pointing when it comes to nutrition. Culinary nutritionists are the star players in providing healthy convenience as personal chefs and in the quest for health and wellness outreach through education.
Culinary nutritionists are ahead of the game because their education is a synthesis of two amazing fields. They bring to the table an amazing skillset of culinary expertise in combination with innovative nutritional knowledge that can help them execute culinary masterpieces that deliver individualized healing with every bite. The current push for quality ingredients, traceable foods, local resources and activating the innate healing systems within each of us are foundational principles that shape a culinary nutritionist. The ability to listen, harness the use of beautiful colors, textures, amazing tastes and to execute delicious meals that address a needy populace are all important skills and qualities that make a culinary nutritionist so successful.
Formal Education Can Launch Your Dream Job in Culinary Nutrition
Because there are no "one-size-fits-all" diet plans that can equally address wide-ranging needs in a complex society, formal education for a culinary nutritionist is a critical factor for career development. Presently, a growing number of people are being diagnosed with multiple disorders that are multifactorial and depend greatly upon nutrition and lifestyle for disease management. The average person may not know where to start, but the culinary nutritionist, upon formal education, can be a guiding force by providing the right tools for individualized nutritional care.
They can take a static meal plan and turn it into nourishing foods that address every aspect of healing for the distinct needs of each person. This is the true definition of precision nutrition and as we move closer to individualization in the clinical realm, culinary nutritionists will have the means to work with the entire healthcare team in helping to create and deliver recommendations founded in science to regenerate health and promote personal well-being.
Career Options for Culinary Nutritionists: The Sky is the Limit
Are you interested in helping others sort through the confusion of our current disease epidemic by providing creative and wholesome foods that excite people? How would you like to earn an Associate of Applied Science in Culinary Arts and Applied Nutrition degree through ECPI University's Culinary Institute of Virginia so you can really make a difference?
If you are hungry to begin a career in this exciting field, call today to request more information from a helpful admissions representative. You may have just what it takes to inspire, heal and motivate a population hungry for drastic changes!
It could be the Best Decision You Ever Make!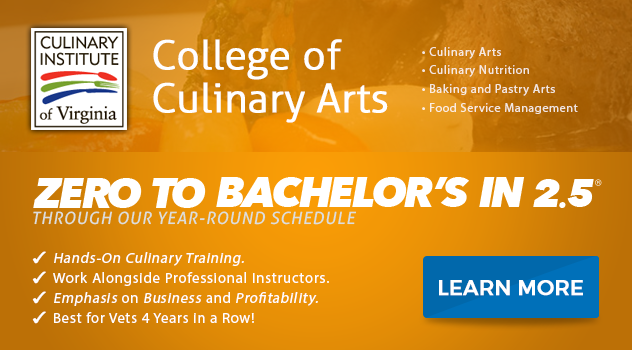 DISCLAIMER – ECPI University makes no claim, warranty, or guarantee as to actual employability or earning potential to current, past or future students or graduates of any educational program we offer. The ECPI University website is published for informational purposes only. Every effort is made to ensure the accuracy of information contained on the ECPI.edu domain; however, no warranty of accuracy is made. No contractual rights, either expressed or implied, are created by its content.
Gainful Employment Information – Culinary Nutrition - Associate's
For more information about ECPI University or any of our programs click here: http://www.ecpi.edu/ or http://ow.ly/Ca1ya.