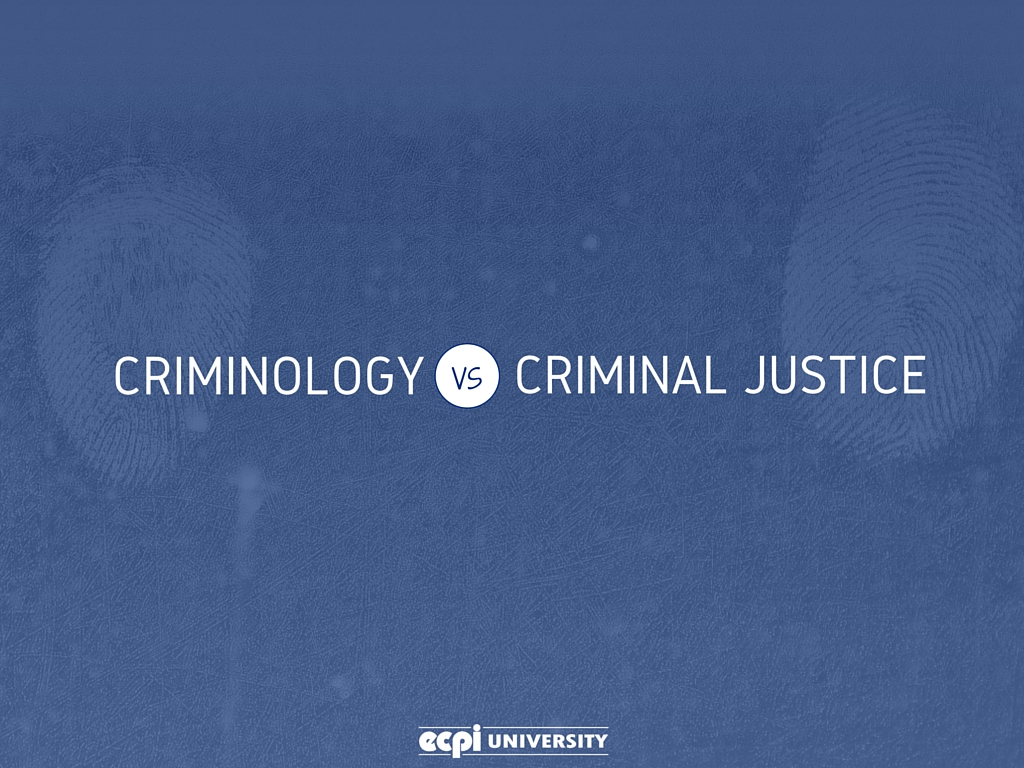 A group of students enrolled in a Criminal Justice program were touring a nearby courthouse. The tour guide explained that the lawyers, judge, stenographers, the jury, bailiff, and the court clerk were just a few of the professionals who contributed to the criminal justice process. "You can see that there are a lot of different people who make this system work," said the tour guide.
A prisoner, shackled and cuffed, was being escorted past the group and overheard the guide's comment. "They may be the ones who make it work," he called out, "But I'm the one who makes it happen!"
Everyone, it seems, finds criminology fascinating; that's why we watch television series like "Law and Order" or "Criminal Minds." The psychology of crime and criminology itself are intriguing and it's just our nature to want the bad guys to be punished. If we were to simplify it, we might say that criminology is studying how law enforcement and the criminal justice system work to seek justice for victims of crime. The word "criminology" itself is from the Latin crimen (accusation) and the Greek logia (the study of). Criminology and Criminal Justice are interwoven but they're actually not the same thing. Criminal Justice is the actual system of day-to-day processes investigating crimes and criminals, participating at some professional level in their trial and punishment.
Criminology is interesting enough that perhaps you are thinking of pursuing a career in Criminal Justice. The list of exciting jobs available in Criminal Justice is long and continues to grow more every year. At this time, some of the top career profiles in criminal justice are:
Corrections Facility Management or Officer
Court/Law Consultant or Paralegal
Federal Officer and/or Investigator for FBI, CIA, DEA or TSA
Insurance or Fraud Investigator
Park Ranger
Police Officer
Private Security Investigator
Probation and Parole Officer
State Trooper
U.S. Customs/Border Patrol Officer
The qualities and skills you need for a criminal justice career include:
Above-average ethics
Leadership qualities
Physical fitness
Technological know-how
The ability to respond to crisis in a calm, reassuring manner
Getting paid to do something you enjoy is such a benefit!
Criminal Justice Careers Pay & Job Outlook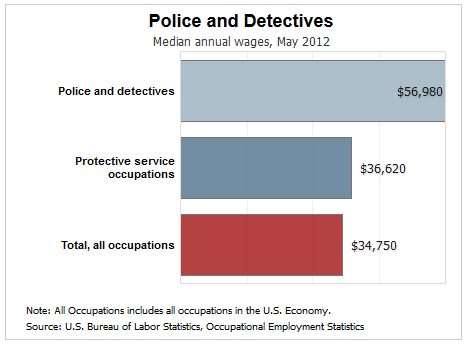 For criminal justice professionals, earning potential varies, depending on which career and in which area of the country you live and work. According to the Bureau of Labor Statistics (BLS), the median salary for Police and Detectives for 2012 was $56,980. The BLS also indicates police and detective jobs will grow annually at 8%, though a heightened sense of concern and awareness may increase criminal justice jobs' growth substantially.
In addition to salary, the hours you work are variable: A forensic science technician will probably work normal business hours, Monday-Friday. Crime scene investigators, as you might imagine, put in long hours, including weekends, and travel to sites within their county or state. As of 2014, there were about 3.2 million Criminal Justice professionals, most working in corrections, education, forensic science, law enforcement, legal services and private security.
Getting a Criminal Justice Education
A great start for a career in criminal justice could be pursuing a degree in criminal justice. Perhaps the biggest benefit of a criminal justice degree is knowing that you could make someone's life better, every day. And what you know may even save a life someday. With an accelerated degree program, you could earn a Bachelor of Science degree in criminal justice in a shorter period of time, allowing you to enter the workforce sooner. Upon completion, you should have an understanding of:
Law enforcement policies and procedures
Legal system and court structure
Security and surveillance principles and processes
Technology used to deter, investigate, track and solve crime
If I would have gone straight to ECPI from high school I would have had my bachelors in Criminal Justice at the age of 19

— Emily Cabrera (@__emmagiselle) June 5, 2015
ECPI University classes are available online, during the day or even at night to work with your schedule and your lifestyle, so contact us today to learn more about earning a Bachelor of Science in Criminal Justice. The real crime would be if you waited another day, so let's get started! It could be the Best Decision You Ever Make!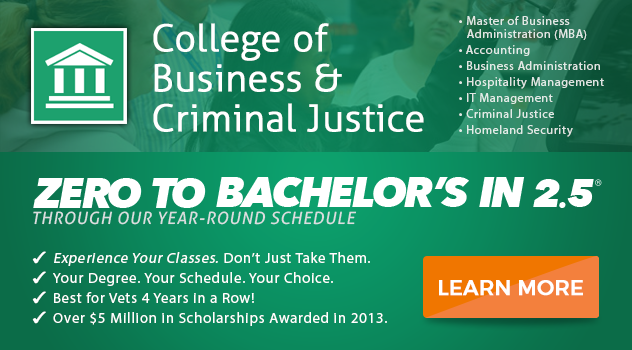 DISCLAIMER – ECPI University makes no claim, warranty or guarantee as to actual employability or earning potential to current, past or future students or graduates of any educational program we offer. The ECPI University website is published for informational purposes only. Every effort is made to ensure the accuracy of information contained on the ECPI.edu domain; however, no warranty of accuracy is made. No contractual rights, either expressed or implied, are created by its content.
Gainful Employment Information
For more information about ECPI University or any of our programs click here: http://www.ecpi.edu/ or http://ow.ly/Ca1ya.