Surgical Tech. – it sounds official, doesn't it? But what does the job entail? Do they perform surgeries, or do they keep an eye on the electronics? There's '-ologist' in there, do they study? What do they, in fact, do?
In short, prior to a surgery, a surgical technologist is responsible for getting the operating room prepared, making sure the proper sterile equipment is available, in working order, and arranged for the surgeon. Each surgeon will often have their own particular way of carrying out an operation, which should be taken into consideration when preparing the operating room. The surgical tech must also prepare the surgeon by helping with their gown and gloves, and assisting in creating a sterile field for the patient.
What Does a Surgical Tech Do During an Operation?
During an operation, a surgical tech is responsible for making sure the doctor is able to perform without hindrance. Their first duty is to anticipate the surgeon's needs so that they can focus on the operation, but aside from that, they have a series of jobs that they must be doing in tandem:
It's the surgical tech's job to pass the doctor the correct instruments, sponges, etc., as well as to provide suction if required.
The surgical tech must also keep a true and accurate count of the amount of sponges and instruments used during the operation. The instrument and sponge count is vitally important, as leaving anything inside of a patient can cause severe complications and could be fatal.
The surgical tech will collect all sharps (bladed instruments or needles) used during the operation to prevent them from injuring any of the operating staff, and safely dispose of them or process them for sterilization.
It is also the surgical tech's job to collect any specimens from the surgery. This means, essentially, collecting pieces of the patient's body or foreign objects in sterile dishes for further analysis.
While doing all of the above, among other tasks, the surgical tech must be ever-watchful, since it is also part of their job to ensure that nobody breaks sterility protocol during the operation. They will need to pay close attention to the surgery itself, constantly making sure that they are ready to pass the next instrument while being prepared for any complications or emergencies that may arise. All of that may not sound exciting, but knowing the names, designs, use, and appearance of hundreds of different instruments is all part of the job. Instrument use, name, and recognition is a large part of the training and classroom teaching, as well as the practical experience in the hospital setting.
Surgical Tech Salary & Job Outlook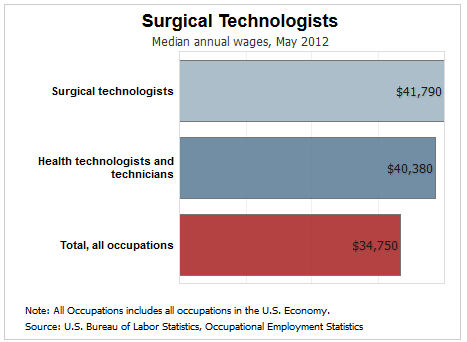 Now, all of that sounds like a great deal of responsibility for one person, but remember, surgical techs are also working within a team of people who are all doing their own tasks, as well as keeping a close eye on everyone else in the room. So many people keeping track of one another, doing sometimes redundant jobs, and ensuring the safety of the patient and one another, is what allows an operation to proceed safely in any hospital environment. A surgical tech's job is complicated, demanding both physically and mentally, and also a lot of fun to the right kind of mind. And if the challenge doesn't strike your fancy, you may be interested to know that surgical techs have an annual median income of $41,790 (that's $20.09 per hour) with a projected growth rate of 30% between 2012 and 2022 according to the Bureau of Labor Statistics.
This is it! After today I will be a graduate of ECPI University with my Associates of Applied Science in Surgical... http://t.co/qyxUfKvvql

— Leon Mendenhall (@Sthrn_Taurus) April 3, 2014
Interested in Surgical Technology?
If you're curious about becoming a surgical tech, ECPI University offers a surgical tech degree program that could allow you to begin working in the field as soon as possible. Through our year-round, accelerated degree program, you could have your Associate of Applied Science degree in Surgical Technology in as little as 1.5 years, so you could be working as a surgical tech before you know it. So what are you waiting for? It could be the Best Decision You Ever Make!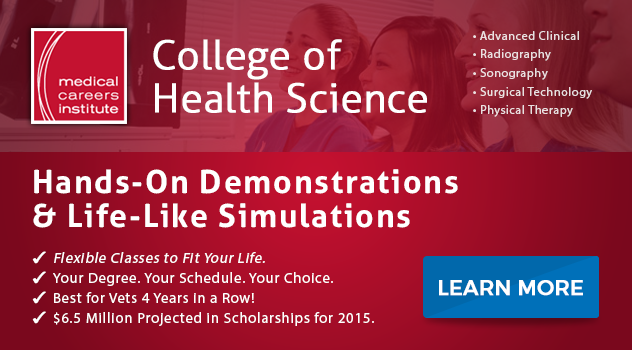 DISCLAIMER – ECPI University makes no claim, warranty or guarantee as to actual employability or earning potential to current, past or future students or graduates of any educational program we offer. The ECPI University website is published for informational purposes only. Every effort is made to ensure the accuracy of information contained on the ECPI.edu domain; however, no warranty of accuracy is made. No contractual rights, either expressed or implied, are created by its content.
Gainful Employment Information
For more information about ECPI University or any of our programs click here: http://www.ecpi.edu/ or http://ow.ly/Ca1ya.