Why is Cyber Security Interesting: Fun Facts About the Field!
Are you interested in the cybersecurity field? Today, hackers work day and night to discover vulnerabilities in the information systems that we highly rely on. They hack into these systems by interrupting supposedly safe communication, alter the messages, and use this information for their personal gain.
There are white hat hackers that hack for good reasons and workplaces such as government buildings to identify loopholes in the existing technology and fix it before black hat hackers discover them. Blackhat hackers hack for bad reasons and some of their activities include stealing credit card information and accessing email accounts. Other hackers hack just because they are able to or which to cause chaos and not that they have any real agenda.

Interesting Facts About the Cybersecurity Field
The Cybersecurity field is full of interesting tidbits that can help you to understand potential dangers and how you can protect yourself from black hats of the world. Some of the most interesting facts about the cybersecurity field include:
Kevin David Mitnick is the worlds most renowned hacker: The US Department of Justice referred to Mitnick as the most wanted computer criminal ever in the U.S. History. His story was so wild that it was used as the basis for the Track Down film. Mitnick hacked into the Digital Equipment Corporation's network and was jailed for a year. When he was let out he went on a hacking spree for almost three years where he stole corporate secrets and breached the national defense warning. However, he was later caught and convicted.
The U.S. alone loses approximately $100 billion every year due to cybercrime: Cybercriminals target both individual citizens and large corporations such as the U.S. Navy, which receives over 100,000 cyberattacks per hour. In the year 2016, personal medical records belonging to over 100 million Americans were stolen.
MyDoom is the most expensive computer virus that cost $38.5 billion: Up to date, MyDoom is the most expensive virus that the world has ever experienced. This virus caused approximately $38.5 billion worth of financial damages. The virus originated in Russia and it was first spotted in the year 2004 but the author was never discovered. This virus spread quickly through email worms.
Hackers often target social media users: There are over 3 billion social network users in the world. These active users spend a lot of their time on social networks and they are more likely to click on links posted by their most trusted friends and hackers use this to their advantage. For instance, like-jacking often happens when hackers post their fake like buttons which when clicked prompt the download of malware on the victim's computer.
Ransomware is currently the leading technique used by cybercriminals: Ransomware is a malicious software that captures a victim's data hostage until a certain amount is paid. Instead of the hacker selling the victim's information on the black market, through ransomware, a hacker can get money from the victim directly. The threat of ransomware is based on the publication of the stolen personal data (doxxing) or blocking the victim's access to their online accounts.
How Formal Education can Help you Fight Cybercriminals
According to Obama, cyberspace is a world that we rely on every day. From shopping online, banking, completing our homework, staying in touch with friends and family, and gaming, the internet-connected devices we use are woven into all aspects of our lives.
These devices contain a wealth of our personal information and it's important that we protect them. Thanks to the cybersecurity industry, people and companies can go about their daily business knowing that there are professionals keeping their sensitive data safe from the hands of cyberattackers.
According to Pew Research Center, more than 60 percent of Americans have experienced data breaches. The study also revealed that due to these rampant data breaches, the public has lost its trust in institutions, especially the federal government.
Additionally, educating the public about every aspect of cybersecurity can be tough. However, with a bachelor's degree in cybersecurity, you will be able to combat cybercrime by equipping you with the skills and knowledge you need. Some of the things that you will be able to do include:
Designing a network that meets the strategic objectives and that reflects the current issues and trends in cybersecurity.
Apply ethical and professional standards of conduct that help in the protection of personal data.
Apply the appropriate network countermeasures guidelines that are meant to prevent data security breaches.
Develop detailed security plans of storage servers, computer systems, and networks.
Are you interested in the cybersecurity field? If you want to become a cybersecurity expert and earn a Bachelor of Science Degree in Computer and Information Science with a Major in Cyber and Network Security - Cybersecurity Track, ECPI University offers this degree at an accelerated pace. For more information on this exciting opportunity, connect with a helpful admissions counselor today.
It could be the Best Decision You Ever Make!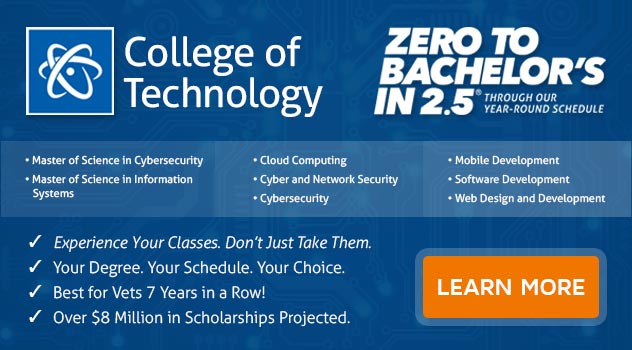 DISCLAIMER – ECPI University makes no claim, warranty, or guarantee as to actual employability or earning potential to current, past or future students or graduates of any educational program we offer. The ECPI University website is published for informational purposes only. Every effort is made to ensure the accuracy of information contained on the ECPI.edu domain; however, no warranty of accuracy is made. No contractual rights, either expressed or implied, are created by its content.
Gainful Employment Information – Cyber and Network Security - Bachelor's
For more information about ECPI University or any of our programs click here: http://www.ecpi.edu/ or http://ow.ly/Ca1ya.