Why is it Important to be a Chef in Today's World?
A chef is often described as someone who has been professionally trained to cook, and often works in a restaurant or a hotel. Chefs are highly regarded as the most important cooks and may also be addressed as head cooks because they manage the kitchen (which is their workplace). A chef's mandate may involve supervising the junior cooks as well as other kitchen workers.
Chefs also have the responsibilities of planning menus, help and supervise the preparation of dishes as well as developing recipes. The chefs order supplies and receive them in the kitchen. It is also a duty of the chiefs to maintain cleanliness in the kitchen. The chefs hire, upskill, and if need be fire the cooks and other kitchen staff.

Types of Chefs
Contemporary kitchens harbor the following types of chef:
Executive chefs - their work is to supervise the kitchen operations as well as manage other cooks in preparation of dishes.
Sous chefs - they manage other subordinate chefs, prepare meals and report to the head chefs.
Personal chefs - they privately prepare meals for clients, sometimes in their homes.
Private household chefs - these are chefs employed by one client. They work all time for that client, for example, a top executive or a diplomat.
Benefits of Being a Chef: Job Opportunities
Today's world has become extremely competitive in the job market. As a result, many individuals are moving from one place to another looking for jobs, which are scarce. By becoming a chef, one has an advantage of easily being employed by innumerable eateries around the world.
Almost every restaurant employs a chef to work or oversee the kitchen operations. In 2006, food preparation workers, cooks, and chefs occupied 3.1 million jobs. They worked in hospitals, universities, schools, airline catering services and facilities of nursing care. Some chefs are hired to work on cruise ships.
Such chefs enjoy the advantage of traveling to different parts of the world while still on their job. Others may be employed overseas in food services firms. Chefs also have an advantage because they can find jobs in nearly any place they want to go.
Competitive Salary
Chefs and cooks are able to enjoy good salaries can that favorably competes with other kinds of careers. For instance, the Bureau of Labor statistics states chefs and head cooks in the year 2012 were paid an average of $22.39 per hour and consequently, a median salary of $46,570 in one year. With the highest paid chefs making over $74,120 per year.
The Diversity of Work Environments
Chefs can be employed in different places, which allow them to experience a variety of working environments. For instance, they may work in restaurants or cook food in outside sites including special events, or work in cruise ships or airlines. Personal chefs may travel with their clients to cook for them around the world. For example, if the client is a celebrity.
Job Growth
Talented chefs get experienced with time and can easily move up the job ladder where there are numerous chances for growth. They can grow from prep chefs, cooks, line chefs, progress to sous chefs, then to executive chefs and eventually become cooperate chefs.
Physiological Benefits
Cooking contributes to some physiological benefits. It can sometimes become emotional; it can also be a way of merrymaking. For example, making a birthday cake for someone you love. Cooking can also be a form of passing a message, especially during hard times. For instance, it can show compassion to someone who just lost their beloved ones.
Are you interested in becoming a chef? If you've always had a flair for cooking and you want to earn an Associate of Applied Science Degree in Culinary Arts, ECPI University's Culinary Institute of Virginia offers this course at an accelerated pace. For more information on this exciting degree program, connect with a friendly admissions counselor today.
It could be the Best Decision You Ever Make!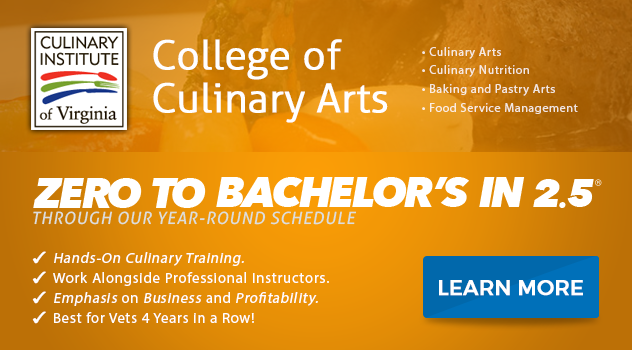 DISCLAIMER – ECPI University makes no claim, warranty, or guarantee as to actual employability or earning potential to current, past or future students or graduates of any educational program we offer. The ECPI University website is published for informational purposes only. Every effort is made to ensure the accuracy of information contained on the ECPI.edu domain; however, no warranty of accuracy is made. No contractual rights, either expressed or implied, are created by its content.
Gainful Employment Information – Culinary Arts - Associate's
For more information about ECPI University or any of our programs click here: http://www.ecpi.edu/ or http://ow.ly/Ca1ya.