4 Advantages to a Culinary Arts Degree
If you're interested in becoming a chef and have been researching the topic, you know that there is no requirement to have a Culinary Arts Degree in order to work in a kitchen. While this is absolutely true, there are particular advantages to earning a Culinary Arts Degree. Here are just four of them.
1. A Culinary Arts Degree could Teach You a Variety of Cooking Styles
When you start cooking in a restaurant kitchen, you will only learn how to prepare the dishes that restaurant serves. After all, they're not a school. They don't have time to teach you sushi if you're working at an Italian restaurant. They want you to be able to cook their menu and cook it well. But that's all.
When you go to culinary school, you will learn how to prepare a variety of dishes, making you a well-rounded chef. With hands-on training, you will get a taste, so to speak, of each style and type of cooking. When you get to your first position as a cook you will already be familiar with the basics, so the restaurant can teach you the finer points and exact dishes they're known for.
2. A Culinary Arts Degree Could Prepare you for the Stress of the Kitchen
It's no secret a restaurant kitchen can be a difficult environment to work in. The kitchen is fast-paced, demanding, and if your output is less than perfection the business could suffer for it. When you go to culinary school, you will be able to start slowly and build up to better prepare you for the pressure of working as a chef. When you make a mistake in your first few weeks in culinary school, you don't have to worry about bad Yelp reviews for your restaurant or a head chef showing you his best Gordon Ramsey impression.
Don't get the impression that becoming a chef will be infinitely easier if you go to school. Culinary school will still expect you to learn quickly and build on your skills immediately. The heat of the kitchen is the same no matter where you learn, but culinary school will give you a chance to make mistakes without it impacting a restaurant's business.

3. A Culinary Arts Degree Might Give You a Head Start
When you arrive at a restaurant with no experience, you will probably start as a dishwasher or prep cook. The path to work your way up will depend on a lot of variables inside the restaurant, including open positions, the disposition of the head chef, how well you do your job, and a variety of other factors, some of which will be out of your control.
Walking into a restaurant with a Culinary Arts Degree, even with no experience, will place you in a different position than if you had no degree and no experience. Culinary Arts Degrees usually include a lot of hands-on experience which you can discuss in your interview. Many of them include externships to get you into the kitchen and cooking. If your situation allows, you can also work at a restaurant while in culinary school to help boost your experience while working on your education.
Naturally, when you're just starting out, there is no perfect résumé that will get you hired at any restaurant any time you apply. Finding the right job after cooking school will take dedication and some patience.
4. A Culinary Arts Degree can Provide you with Varied Opportunities
When you enter into a Culinary Arts Degree program you will have a different experience than starting out as a cook. When you go to a culinary school, you have a chance to network with faculty, other students, guest lecturers, past graduates, and others whom you might encounter during your education. You can use programs such as LinkedIn Students to help you find job leads and meet others in the culinary field.
Beyond that, you will have access to a library and other beneficial facilities when in school. You will also be in an academic environment, which a lot of people find mentally stimulating and exhilarating. There are also various discounts and programs available to students for many different products and services which could help you along your way.
Great food and big scholarship money as I join Atlantic Shores community at ECPI Culinary school https://t.co/mDyz1fsAYt

— Les Smith (@LesSmithwtkr) April 1, 2016
Is Culinary School the Right Choice for You?
A Culinary Arts Degree isn't right for everyone. Some people prefer to go right into the kitchen. But earning a Culinary Arts Degree is another path to a life as a chef. There are many advantages to gaining an educational background before you step out into the world.
If you're considering a degree in the Culinary Arts, the Culinary Institute of Virginia's Associate of Applied Science in Culinary Arts Degree might be a great fit for you. Contact an admissions counselor today to find out more information about this exciting degree. It could be the Best Decision You Ever Make!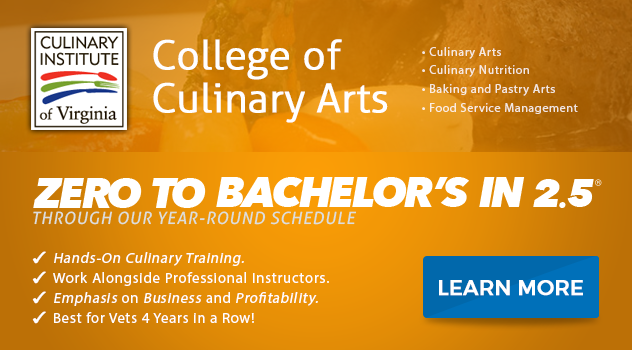 http://www.ecpi.edu/ or http://ow.ly/Ca1ya.