Can a Software Developer Work from Home?
If you're thinking about becoming a software developer, you might already be wondering about whether you'll be able to work from home. The number of Americans working from home at least half time has jumped 115% in a single decade to nearly 3% of the total workforce.
That number doesn't include freelancers (whose ranks are also growing at a healthy rate) or workers who spend the majority of their time at the office but still work from home regularly. There are many reasons you might want to join them, and as a software developer, you'll be in the perfect position to do so.

Benefits of Making Your Home Your Office
Working from home is becoming more common partly because it is so attractive. Here are just a few things that it allows you to do:
save money on lunches, transportation, and work clothes
reclaim commute time
create a controlled working environment where everything is exactly the way you want it
accommodate any disabilities you might have
work at least a little when you're sick
leave briefly to take care of other commitments (i.e. going to a doctor's appointment, picking up kids from school)
As you can see, this arrangement is ideal for people who, for whatever reason, need a little extra flexibility in their work lives.
Why Software Development?
Software development is perhaps the ideal field in which to be a home-based worker, since there is typically little need for direct contact with coworkers. A software developer might need to meet with a team occasionally to clarify project expectations or receive feedback, but these things can easily be done through remote contact methods. In fact, the computer-based nature of the work means that due to the inclusion of additional tools like screen-sharing functions, these methods might actually be preferable to face-to-face meetings in this case.
The vast majority of the work a software developer does is actually solo work, the kind that needs a laser-sharp level of focus to be done to the highest quality standards. It can be very difficult to achieve this perfect mental state in the distracting environment of the typical office. Workplaces usually contain a lot of noise, movement, and unexpected interruptions.
There's nothing worse than being in the middle of a long string of complex code and being interrupted by a coworker coming around just to chat. The greater control you experience when you work from home may allow you to keep this focus up for longer and tackle a higher volume of work than you otherwise would.
How Online Learning Can Help You Get Started
If your ultimate goal is to become a software developer who works from home at least part of the time, one of the best ways you can work toward it is by opting to get your relevant education online. Studying at home isn't all that different from working at home. You can't let yourself get distracted by playing with your cat or browsing whatever's on TV; those temptations will always be around you, but in order to succeed, you'll have to learn to ignore them. This means that by the time you complete your online software development education, you'll have primed yourself to be an ideal candidate to work from home and have proven results to back it up.
Are you interested in working as a software developer? The first thing you need is a solid education. If you want to earn a Bachelor of Science Degree in Computer and Information Science with a Major in Software Development, consider ECPI University. For more information about this accelerated course, connect with a helpful admissions counselor today.
It could be the Best Decision You Ever Make!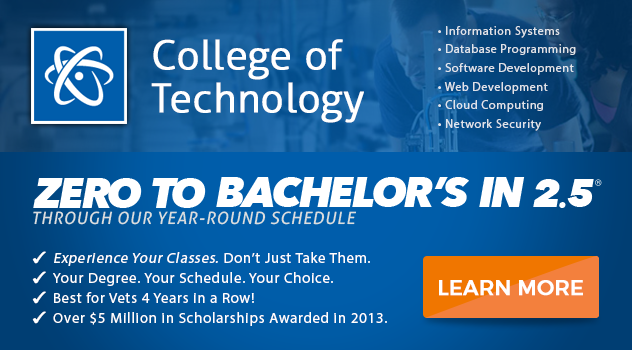 DISCLAIMER – ECPI University makes no claim, warranty, or guarantee as to actual employability or earning potential to current, past or future students or graduates of any educational program we offer. The ECPI University website is published for informational purposes only. Every effort is made to ensure the accuracy of information contained on the ECPI.edu domain; however, no warranty of accuracy is made. No contractual rights, either expressed or implied, are created by its content.
Gainful Employment Information – Software Development - Bachelor's
For more information about ECPI University or any of our programs click here: http://www.ecpi.edu/ or http://ow.ly/Ca1ya.