Cyber Security Companies in Northern Virginia: The Best of the Best!
ECPI University Expands Cyber Security Offerings to Accommodate Rapid Growth in the Cyber Security Industry
When you look at the world's best cybersecurity companies, one region appears dominant. Cybersecurity Ventures just released its annual international list of the 500 Hot Cybersecurity Companies to Watch in 2017, and Northern Virginia Cyber Security companies occupy 33 spots on that list.
While this list is new, ECPI University has long understood the role these companies play in keeping our nation's information safe. Many of the companies on the list partner with ECPI University and its Northern Virginia campus, serving as program advisors. Because these companies rely on ECPI University to produce top talent, we recently expanded our degree offerings to include:
If you would like to learn more about ECPI University and our Northern Virginia campus, take a moment and connect with a helpful admissions advisor. To learn more about the 33 companies on the Cybersecurity Ventures list, read on.
#46 – Northrop Grumman: Mclean, VA
Northrop Grumman is a leading global security company providing innovative systems, products and solutions in unmanned systems, cyber, C4ISR, and logistics and modernization to government and commercial customers worldwide.
#55 – L-3: Reston, VA
L-3 provides secure communications, information systems' networks, and mobile devices to ensure the integrity of information and to facilitate trusted, interconnected, and resilient networked defense.

#81 – Leidos: Reston, VA
Leidos helps the U.S military, Department of Defense, and federal law enforcement respond to some of the biggest threats to national security.
#93 – PhishMe: Leesburg, VA
PhishMe is the leading provider of threat management for organizations concerned about human susceptibility to advanced targeted attacks. PhishMe's intelligence-driven solutions empower employees to be an active line of defense by enabling them to identify, report, and mitigate spear phishing, malware, and drive-by threats. Its open approach ensures that PhishMe integrates easily into the security technology stack, delivering measurable results to help inform and adapt an organization's security programs.
#95 – CYREN: McLean, VA
CYREN is the global leader in information security solutions for protecting web, email, and mobile transactions. It continuously innovates its cloud-based threat detection and proactive data analytics to provide security solutions to businesses of all sizes. CYREN's patented technologies increase the value and profitability of their partners' solutions - protecting over 550 million end users worldwide.
#101 – CSC: Falls Church, VA
CSC's global cybersecurity services, which clients have trusted for more than 35 years, give users the confidence to securely open their systems to partners, customers and suppliers. As users move into the 3rd Platform and leverage big data & analytics, the cloud, mobility, social media and the Internet of Things, they can trust CSC to secure their operations.
#117 – CACI: Ballston, VA
CACI provides information solutions and services in support of national security missions and government transformation for Intelligence, Defense, and Federal Civilian customers. A Fortune magazine World's Most Admired Company in the IT Services industry, CACI is a member of the Fortune 1000 Largest Companies, the Russell 2000 Index, and the S&P SmallCap 600 Index. CACI provides dynamic careers for over 16,300 employees in 120 offices worldwide.
#123 – Invincea: Fairfax, VA
Invincea is an endpoint security software company dedicated to killing enterprise IT threats without impacting business performance. More than 25,000 customers rely on Invincea to prevent and detect threats and enable their workforce to conduct business—in the office or on the road. Only X by Invincea comes with Performance-Built-In™, which combines machine learning and behavioral monitoring to eliminate endpoint security blind spots without sacrificing usability.
#151 – Haystax: McLean, VA
Haystax enables enable enterprises to fully leverage their existing cybersecurity capabilities and to implement comprehensive end-to-end solutions. Its cybersecurity and network management solutions offer a full range of services and advanced threat analytics to protect and certify mission-critical information, identify and deflect penetration attempts, and rapidly understand threats and prioritize actions.
#154 – Endgame: Arlington, VA
Endgame is delivering the next generation of Security Intelligence & Analytics (SIA). Its core capabilities use data science and cutting-edge technology to give federal and commercial customers real-time visibility across their digital domains, and its ecosystem of applications use that insight to solve a wide array of security problems.
#156 – Lookingglass: Arlington, VA
Lookingglass, the leader in threat intelligence that transforms security operations, empowers confident real-time decisions through focused verified multi-source information. It provides a unique lens to information customers may already have, creating active intelligence for effective decisions. Lookingglass is transforming the art of threat intelligence with innovative technology that empowers customers with complete and relevant risk information, delivering confidence, streamlining workflows and dramatically driving efficiencies.
Its threat intelligence management system delivers content, context and confidence in risk and security operations decision support. This platform increases visibility within and beyond the network perimeter, enabling customers to continuously assess and mitigate threats.
#163 – ThreatConnect®: Arlington, VA
ThreatConnect® is an enterprise solution that bridges incident response, defense, and threat analysis. Its premiere cyber-threat intelligence platform allows global organizations to effectively manage the massive amounts of threat information that comes in daily. Organizations are able to move proactively against threats using ThreatConnect to increase productivity and deliver dynamic knowledge management, high context indicators, and automated responses. More than 3,000 users and organizations worldwide across industries, and ranging in size from the small business through the enterprise, leverage the power of ThreatConnect every day.
#168 – SAIC: McLean, VA
SAIC employs active security controls that combine discovery, threat intelligence, off-the-shelf software, and internally developed threat detection capabilities to protect users' networks against known dangers. Plus, you they continuously monitor for signs of emerging threats. Services include:
A security portal with customizable views to provide situational awareness into security operations
Security and risk assessment reports that identify weaknesses within users' network infrastructure
Penetration testing to demonstrate the effectiveness of users' security measures
Information assurance and certification to identify anomalous activity and potential threats to network resources and data sources
#175 – Siemens Government Technologies: Arlington, VA
Siemens Government Technologies, Inc. (SGT) is a leading integrator of Siemens innovative products, technologies, and services for programs within the Federal government. With exceptional resources, advanced technologies and a dedicated client focus, it helps advance mission-critical programs for Defense, Intelligence, and Civilian agencies to manage operational demands with greater efficiency than ever before. Siemens' focus on security, energy, infrastructure and lifecycle support solutions, combined with its expertise in designing, implementing and providing ongoing support for advanced technology initiatives, has helped SGT develop the reputation of a trusted, reliable partner.
#189 – ThreatQuotient: Reston, VA
ThreatQuotient was founded in March 2013 and is dedicated to revolutionizing cyber defense capabilities by building analyst-driven applications, helping organizations manage threat intelligence and defending against sophisticated cyber-attacks. Its foundation is built on operational experience and delivering a relevant vendor agnostic on-premise deployment – allowing analysts to spend more time on high-value processes rather than transferring intelligence across multiple cloud solutions and internal platforms.
ThreatQ will advance threat information management through end-to-end automation that transforms disparate data into actionable intelligence. Because of its power and ability to provide defenders with critical contextual information, ThreatQ is becoming a team's cornerstone tool.
#217 – Verisign: Reston, VA
As a global leader in domain names and Internet security, Verisign enables Internet navigation for many of the world's most recognized domain names and provides protection for websites and enterprises around the world. Verisign ensures the security, stability and resiliency of key Internet infrastructure and services, including the authoritative directory of all .com, .net, .tv, .cc, .name top-level domains and the back-end registry for a portfolio of generic top-level domains.
The company also operates two of the Internet's root servers and performs the root-zone maintainer functions for the core of the Internet's Domain Name System (DNS). Verisign's Security Services, including intelligence-driven Distributed Denial of Service Protection, iDefense® Security Intelligence and Managed DNS, help to ensure online businesses are as available as the Web itself.
#220 – General Dynamics IT: Fairfax, VA
General Dynamics Information Technology defends the nation's critical cyber resources and networks. As a leading cyber security integrator, General Dynamics IT delivers agile, defense-in-depth solutions geared to its customers' unique mission and enterprise requirements. With decades of proven experience, General Dynamics knows how to make cyber-security work – reliably, measurably, and affordably.
General Dynamics IT cyber security solutions have defended mission-critical systems, including tactical, cross-domain, large-enterprise and national networks. It provides cyber-security services across the life-cycle – from requirements assessments and architectures, to building out security operations centers or providing fully managed security-as-a-service.
#240 – Distil Networks: Arlington, VA
Founded in 2011, Distil Networks is the leading public and private cloud security provider that blocks malicious bots, or automated computer programs, attacking users' websites. With a mission of making the web more secure, Distil Networks mitigates against duplicate content, improves SEO strength and accelerates the end-user experience – all while reducing infrastructure costs. The setup to stop bots is lightning–fast, secure, and completely transparent.
#254 – ePlus Security: Herndon, VA
ePlus Security understands the high costs and challenges of safeguarding today's complex and rapidly changing IT environment. From SOX, GLBA, and PCI compliance concerns to the threat of attack from inside dangers, faceless criminals, and Advanced Persistent Threats, ePlus Security can help defend any organization.
#290 – MicroStrategy: Tysons Corner, VA
Founded in 1989, MicroStrategy is a leading worldwide provider of enterprise software platforms, including the Usher Mobile Identity Platform. The company's mission in providing Usher Mobile Identity is to deploy the most convenient, powerful, and secure identity solution, delivered on leading mobile devices, optimized for biometrics and infused with analytics.
#308 – MindPoint Group: Springfield, VA
MindPoint Group was created by a group of experienced government consultants with a vision to create an information security company that could compete at the highest levels. By purely focusing on IT security support services, MindPoint Group provides clients breadth and depth across the IT security sphere – providing a broad perspective on today's security challenges, early insight into tomorrow's threats and engineering innovative security solutions. MindPoint Group's services for federal and commercial clients include managed security services, cloud security, vulnerability assessment and penetration testing, FedRAMP compliance, enterprise security solutions (architecture, operations, and engineering) and IT GRC (governance, risk and compliance).
#322 – Centripetal: Herndon, VA
Centripetal Networks was founded with one vision, to protect the Internet at the scale of the Internet. By bringing together a team of individuals with backgrounds firmly rooted in the defense and intelligence sectors from various government agencies as well as branches of the United States military, Centripetal has made it its mission to manufacture a complete solution in cyber defense. The Centripetal team is comprised of experts from Verizon, the Department of Homeland Security, the National Security Agency, the Department of Defense and many more prestigious organizations. Through its combined efforts, the Centripetal team was able to engineer the first real-time active network defense solution while continuously updating and improving its products to make a more effective system.
#327 – Nehemiah Security: Tysons Corner, VA
Nehemiah Security's mission is to empower its client organizations to fight cyber crime in this new age of expanding complexity and interconnectivity. Winning the ongoing battle is one thing. Nehemiah's aim, however, is to help its clients restore trust in their IT environment. Its team of cybersecurity experts, coupled with its advanced platform of intelligent solutions, makes Nehemiah Security the choice for organizations eager to make progress in their stand against cyber threats.
#348 – Virgil Security: Manassas, VA
Virgil Security enables software developers to authenticate without passwords, encrypt data both while in transit and at rest, and to cryptographically verify the authenticity and provenance of data, devices and identities. All of this without any additional training and available for most platforms and software languages.
#372 – SecureStrux: Arlington, VA
SecureStrux, LLC is a women-owned small business that provides specialized services in the areas of compliance, vulnerability management, cybersecurity strategies and engineering solutions. It offers a comprehensive range of services that provide businesses with proven methods and common-sense approaches to secure their data, build trust with their customers, and remain compliant with DoD, Federal, and commercial cyber governance.
#393 – CyFIR: Manassas, VA
CyFIR Enterprise is a revolutionary, enterprise Digital Forensic Investigation, Incident Response, and eDiscovery platform that provides the ability to perform full Enterprise Incident Response and network forensic operations. CyFIR is exclusively offered through the digital forensic experts at CyTech Services, Inc.
#421 – Paraben: Ashburn, VA
Paraben Corporation provides solutions in the fields of security, and digital forensics. With specialties in mobile devices and data recovery, user needs can be met all in one place. From end-to-end solutions or accessories to enhance forensic response or security policy, Paraben has it covered.
#427 – Ntrepid: Herndon, VA
Ntrepid's Cyber Operations product suite has been enabling enterprises to securely conduct their online activities for nearly 20 years. From IP management tools to secure virtual browsing environments, its technologies and diverse global points of presence facilitate online research, investigations, and big data collection, while protecting identities and minimizing the spread of malware.
#430 – Verodin: Reston, VA
Verodin is defining the emerging concept of Instrumented Security. Its revolutionary platform empowers customers to measure and continuously validate the cumulative effectiveness of layered security infrastructures, revealing true security posture. Through automated defense analysis, Verodin customers achieve maximum value from security spending, better leverage existing security investments, and measurably improve their cyber prevention, detection and response capabilities.
#431 – Oberthur Technologies: Chantilly, VA
Oberthur Technologies is one of the world's largest providers of security and identification solutions and services based on smart card technologies.
#439 – Novetta: McLean, VA
Novetta is an advanced analytics company that extracts value from the increasing volume, variety, and velocity of data. By mastering scale and speed, its advanced analytics software and solutions deliver the actionable insights needed to help its customers detect threat and fraud, protect high value networks, and improve the bottom line.
#469 – SurfWatch Labs: Sterling, VA
SurfWatch Labs delivers powerful cyber-risk intelligence analytics and applications through a business intelligence approach that helps organizations improve their long-term cyber resilience.
#481 – GigaTrust: Herndon, VA
GigaTrust™ was founded in April 2000 by a seasoned and experienced team of business leaders who have worked in the Enterprise Rights Management industry and is the largest and oldest security software provider that enhances and extends Microsoft's Rights Management Services (RMS) content security solution. GigaTrust is the only provider of the Intelligent Rights Management™ solution, which combines innovative next generation content security technologies, enabling intellectual property protection and confidentiality using Office/Office 365/Exchange/Exchange Online/SharePoint/Desktop/Mobile Devices, in any combination. GigaTrust's products and services include security solutions for email/attachments and document protection, administrative oversight and compliance tools.
Are you interested in the expanding world of cyber security? If you think you could make a difference, consider ECPI University's Northern Virginia Campus. There you'll find three levels of cyber security training, including an associates, bachelor's, and master's degree. Are you ready to take the next step? Contact a friendly admissions advisor today.
It could be the Best Decision You Ever Make!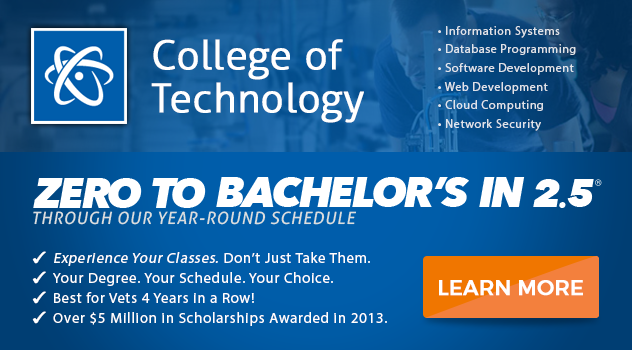 DISCLAIMER – ECPI University makes no claim, warranty, or guarantee as to actual employability or earning potential to current, past or future students or graduates of any educational program we offer. The ECPI University website is published for informational purposes only. Every effort is made to ensure the accuracy of information contained on the ECPI.edu domain; however, no warranty of accuracy is made. No contractual rights, either expressed or implied, are created by its content.
For more information about ECPI University or any of our programs click here: http://www.ecpi.edu/ or http://ow.ly/Ca1ya.