ECPI University Earns #1 National Ranking as Best for Vets
Honor Marks 8 Straight Years on Best for Vets List
ECPI University is pleased to announce it has been ranked number one in the nation by Military Times in its annual Best for Vets survey – the most comprehensive school-by-school assessment of veteran and military student services and rates of academic achievement – as well as a detailed review of public data collected by federal agencies. More than 500 colleges took part in this year's survey, with ECPI University ranking #1 in the nation among career and technical colleges, a category that includes community colleges and four-year career-focused colleges and universities.
"We are thrilled to be recognized as number one in the nation," says ECPI University Executive Director of Military Education Bill Brown. "ECPI University works very hard to find the best ways to support our military and veteran students, and recognize that this great group of students has some unique situations to face as they work to earn their degrees. 

"This selection shows that all of what we do to support our military and veteran students is exactly what we should be doing, and that these students are succeeding at the highest levels and finding meaningful careers when they graduate. I am asked continually by our senior leaders, faculty and staff if we are doing all we can to support our military and veteran students; this focus and concern proves to me that ECPI University will always do what it takes to ensure these students have the resources they need to reach their goals."
The Military Times Best for Vets Survey is an editorially independent, objective and rigorous news project. Colleges and Universities are asked to disclose academic outcome and input data, describe many aspects of veteran culture on campus, and meticulously document a wide array of services, special policies, accommodations, and financial incentives offered to students with military ties. Military Times also factors in data from the Veterans Affairs and Defense departments, as well as three Education Department sources: the IPEDS Data Center, College Scorecard data and the Cohort Default Rate Database. The 2019 Best for Vets ranking list can be found on the Military Times website.
"Military Times' Best for Vets designation is trusted throughout the veteran community as the mark of excellence for schools and other organizations that work with veterans, service members and military families. It can't be bought with advertising dollars – unlike some other supposedly veteran-friendly rankings – only earned through a record of steadfast service and dedication to those who have served," said George Altman, the Military Times editor in charge of the rankings.
ECPI University takes our commitment to military and veterans very seriously. We have taken many steps to support them, including designated military admissions and financial aid teams that have an in-depth understanding of the unique demands of our military and veteran students, and can assist them in getting signed up for classes, using their military TA and VA GI Bill ® benefits.
"Military and veterans are attracted to our five-week terms which replicate the training programs they experienced during their military service, as well as the flexible scheduling that can fit just about any schedule whether it be in the classroom or online," says Brown. "We also work hard to recognize the military education and training our students bring with them to our university, and reviews all military records for possible academic credit. 
ECPI University's five-week terms and year-round education allow veterans and military members to get their degrees in as little as 2.5 years and to start their education at any point of the year, not just the traditional fall and spring starting times.
Want to learn more about our opportunities for military students? Take a moment and contact one of our helpful admissions advisors today!
It could be the Best Decision You Ever Make!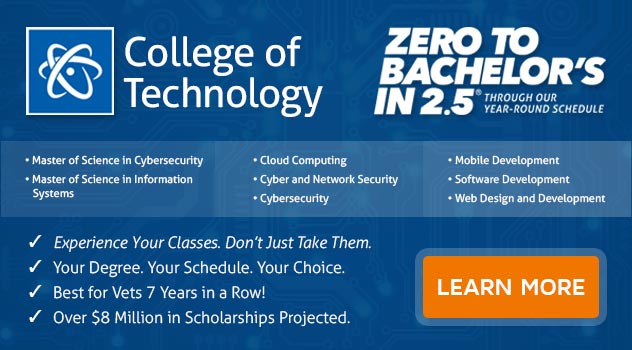 DISCLAIMER – ECPI University makes no claim, warranty, or guarantee as to actual employability or earning potential to current, past or future students or graduates of any educational program we offer. The ECPI University website is published for informational purposes only. Every effort is made to ensure the accuracy of information contained on the ECPI.edu domain; however, no warranty of accuracy is made. No contractual rights, either expressed or implied, are created by its content.
For more information about ECPI University or any of our programs click here: http://www.ecpi.edu/ or http://ow.ly/Ca1ya.