Mechanical Engineering Technology: How Important is Education in this Field?
You live in a world where you are surrounded by objects designed to do different tasks. Regardless of what it is and what it was designed for, at some point in time, a mechanical engineer probably played a part in designing and building it.
The role mechanical engineering technology (MET) plays is inescapable in modern technology. What this means for all of you who like to tinker with things and solve puzzles, is a career that has almost endless opportunities. This is because every type of manufacturing business will need the services of mechanical engineering technologists.

Career Track for METs
Since METs are needed in so many different fields, graduates in MET can generally choose to go into jobs that suit their specific interest and talents. The most common or traditional jobs in mechanical engineering technology are found in automation, manufacturing, design, and control. Nowadays, there are also jobs to be had that are connected to the environment, called green technologies.
Green technology is a huge umbrella that includes power production, waste management, water purification, nanomaterials, and biomechanics. Whichever type of industry it is, graduates of MET could have the opportunity to choose between more hands-on, practical jobs or do more theoretical and calculations related work. If you have wondered which job titles you will get once you get a job in MET, the following are a few examples.
Mechanical Engineering Consultant
Product and Materials Testing Technologist
Drafting and Computer Graphics Engineer
Manufacturing and Quality Management Engineer
Industrial Engineer
Why Getting a Degree in MET is Important
If you want to work in the mechanical engineering technology world, you will need to get a bachelor's degree. There are also associate degrees available, but the number of jobs and salary prospects will probably not be anywhere as impressive as those positions that require a bachelor's degree.
In fact, many potential employees will not even consider those who do not at least have a bachelor's degree. Most mechanical engineering technology programs put greater emphasis on lab work and the practical side of the education, as opposed to theory. Hands-on learning could be essential to success in the field.
MET Might Not Be What You Think it Is
The big news in mechanical engineering technology is that related jobs are showing signs of a comeback. This is partly due to the rise of robotics and advanced electronic technologies. In fact, employment news is filled with stories of manufacturing businesses having difficulty finding people who are qualified to do the job.
In fact, according to recent surveys done on the industry, most employers said that they were having difficulty finding able and qualified applicants. Part of the reason for this is because mechanical engineering has suffered from an image problem. The public still sees this field as one that requires people to get their hands dirty and greasy. The truth is that mechanical engineering technology jobs are primarily done in clean, scientific labs.
Are You Ready to Make a Change?
If you are thinking about pursuing your bachelor's degree, ECPI University offers a Bachelor of Science Degree in Mechanical Engineering Technology. For more information on this accelerated program, connect with a helpful admissions professional today.
It could be the Best Decision You Ever Make!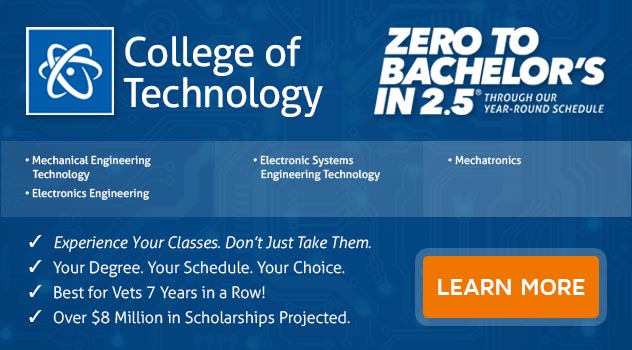 DISCLAIMER - ECPI University makes no claim, warranty, or guarantee as to actual employability or earning potential to current, past or future students or graduates of any educational program we offer. The ECPI University website is published for informational purposes only. Every effort is made to ensure the accuracy of information contained on the ECPI.edu domain; however, no warranty of accuracy is made. No contractual rights, either expressed or implied, are created by its content.
For more information about ECPI University or any of our programs click here: http://www.ecpi.edu/.