Mechanical Engineering Technology Jobs: What is Out there for Me?
The mechanical engineering technology field continues to evolve and has become a critical part of the workforce. As such, it offers a wide range of career paths. This demand for well-educated mechanical engineering technicians, consultants, and production managers has increased, making a degree in mechanical engineering technology a highly desirable degree to obtain.

Is a Career in Mechanical Engineering Technology the Right Path for You?
If you are the type of person who enjoys working with your hands, analyzing a situation and figuring out solutions to problems and how to make things work, then you may be very well suited for a degree as a mechanical engineering technology.
Mechanical engineering technicians are often tasked with assisting mechanical engineers design, develop, troubleshoot and finally manufacture a wide variety of devices such as complex tools and machine engines. They often will make renderings and layouts of their designs and run testing operations to make sure the operations of their designs are viable.
Mechanical engineering technicians help mechanical engineers design, develop, test, and manufacture mechanical devices, including tools, engines, and machines. They may make sketches and rough layouts, record and analyze data, make calculations and estimates, and report their findings.
According to the Bureau of Labor Statistics the job outlook for those seeing a degree as a mechanical engineering technician is projected to increase. They further state that one of the keys to a job as a mechanical engineer is to stay ahead of the newest technology advances especially when it comes to the burgeoning area of 3-D software.
Some possible career paths include:
Mechanical Engineering Technology
Mechanical Product Design and Fabrication
CAD and Computer Graphics
Automation and Manufacturing
Machining and Mechanical Maintenance
Power Generation and Plant Management
Climate Control: Heating, Ventilation, and Air Conditioning
Transportation: Vehicles and Infrastructure
Aerospace and Aerodynamics Industry
Systems Control
Choosing the Perfect Mechanical Engineering Technology Job
When you pursue a job in mechanical engineering technology, you could have a wide range of options available to you. Here are some of the fields you may wish to follow:
Product and Materials Testing Technologist: This is a very wide field and can vary based on the field you intend to enter. Main responsibilities include meeting the standards of the specific industry in which you are working. You will monitor, assemble and find ways to improve the products and internal work flows. To enter this field, you will need to have an associate's degree in engineering technology with special courses in electronics and circuits. Obtaining specialty certification can further advance ones' career.
Manufacturing and Quality Management Engineer: All engineering systems need to have regular quality checks to make sure they are running at peak performance—this is the responsibility of the manufacturing and quality engineer. In this role, you will monitor internal processes and fix any issues preventing the system for running at its best and meeting the quality standards put in place by the organizations' leadership team.
Industrial Engineer: An industrial engineer is responsible for find efficiencies; integrate workers, machines and all materials. They make sure that all departments are running "lean" and as productive as possible. They will review production schedules, processes to find more efficient ways to manufacture parts and products and deliver them to market with maximum efficiency.
Product Engineer: In this role, you will be responsible for designing, developing and coming up with new ideas for products. They must have technology expertise and creativity as they will take a germ of an idea and develop it into a usable product. This includes prototyping, tooling and manufacturing—taking a product from inception to the final product ready to go to market.
Start Your Career with a Strong Educational Background
Are you interested in MET? If you want to earn a Bachelor of Science Degree in Mechanical Engineering Technology, ECPI University offers this degree in an accelerated format. For more information regarding this exciting opportunity, connect with a friendly admissions officer today.
It could be the Best Decision You Ever Make!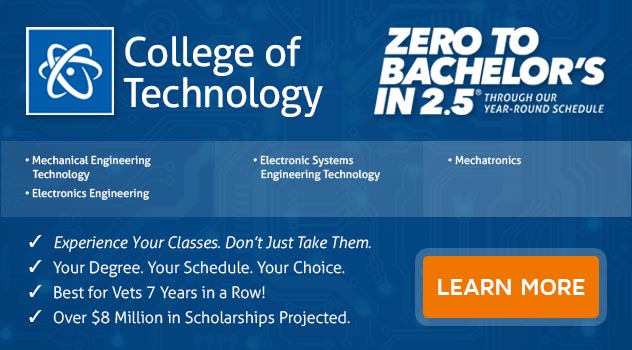 DISCLAIMER – ECPI University makes no claim, warranty, or guarantee as to actual employability or earning potential to current, past or future students or graduates of any educational program we offer. The ECPI University website is published for informational purposes only. Every effort is made to ensure the accuracy of information contained on the ECPI.edu domain; however, no warranty of accuracy is made. No contractual rights, either expressed or implied, are created by its content.
Gainful Employment Information – Mechanical Engineering Technology - Bachelor's
For more information about ECPI University or any of our programs click here: http://www.ecpi.edu/ or http://ow.ly/Ca1ya.