Why is it Important to Understand Nutrition: The Benefits of Culinary Nutrition Training
Over the past few years, nutrition has taken center stage in the public eye when it comes to food quality, the great GMO debate, the USDA guidelines, and the issue of school lunches across the country. But what exactly is nutrition?
According to the World Health Organization, nutrition is the intake of food in relation to the body's dietary needs. Proper nutrition is foundational for preventing chronic diseases and in sustaining a long and healthy life. This is important information to have and to cultivate in others because people who eat a healthier diet not only live longer, but live better!
They have less of a risk for developing many diseases that plague the lives of thousands of Americans every year. For people already afflicted with a chronic disease, good nutrition may be just what the doctor ordered when it comes to modulating symptoms and even preventing disease progression.

The Importance of Proper Nutrition
Why is nutrition so important? Because, believe it or not, roughly nine out of ten American children fail to consume the proper amount of vitamins and minerals based on the recommended dietary intake. This is especially scary in children with growing minds and bodies.
Research shows that malnourished children are at a much greater risk of developing cognitive impairments and as these children grow, they are more likely to give birth to infants with central nervous system defects or other maladies.
As if malnutrition in the childhood population wasn't cause enough for concern, poor nutrition across the lifespan has been estimated to cost the nation more than $3 billion in unnecessary healthcare expenses over a lifetime.
Formal Training as a Sustainable Solution
We are faced with some extremely complex medical situations in this day and age. People nowadays not only have more allergies and sensitivities, but they also have more diagnoses. For instance, type 2 diabetes and heart disease go hand-in-hand.
Kidney disease may also be a downstream effect in type 2 diabetics, which makes things tremendously complicated for a patient who just wants to feel better. With all this being said, formal training in culinary nutrition can help you provide some real-world answers to our growing healthcare problems and chronic disease epidemic.
Having the power to create individualized support for the populations who need it the most, along with providing proper education for sustainability, could be exactly the ticket we need to change our current reactive paradigm to a proactive culture of prevention.
A Culinary Nutrition Degree = A Well-Rounded Education
With the rise of fad diets and hastily referenced nutrition advice at the click of a mouse, it is becoming increasingly difficult to sift through the good, the bad and the ugly when it comes to misinformation. Who has time for all of that anyway?
Having stout nutrition credentials is the number one way to gain a clientele who are ready to listen to an expert in the field. You could save your clients the trouble by providing evidence-based nutritional information in the form of personalization centered on their specific condition.
If you have a passion for nutrition, then a well-rounded education with a background in culinary nutrition is going to be a critical cornerstone in your journey to success. Not only will you have the skills and confidence to create individualized meal plans for your clients, but you will have the culinary expertise to actually produce delicious and healing foods to nourish the body from head to toe.
Is Culinary Nutrition the Right Step for You?
Are you interested in learning more about the exciting world of nutrition? Do you want to become part of an elite new group of culinary nutritionists who not only excel in the kitchen, but also shine in the healthcare setting as certified dietary managers?
If so, then ECPI University's Culinary Institute of Virginia is the place you want to start, by pursuing your Associate of Applied Science in Culinary Arts and Applied Nutrition Degree. Connect with a friendly admissions counselor today and by tomorrow, you may be on your way to helping people improve their quality of life with every bite they take!
It could be the Best Decision You Ever Make!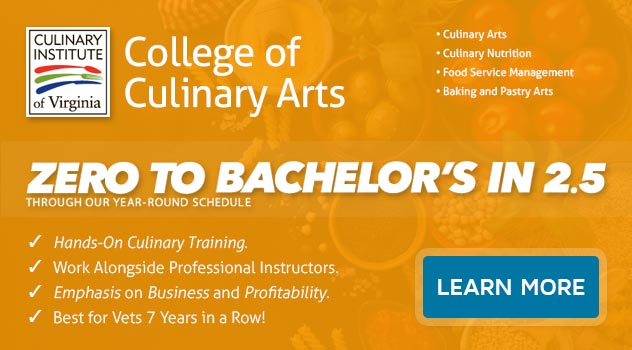 DISCLAIMER - ECPI University makes no claim, warranty, or guarantee as to actual employability or earning potential to current, past or future students or graduates of any educational program we offer. The ECPI University website is published for informational purposes only. Every effort is made to ensure the accuracy of information contained on the ECPI.edu domain; however, no warranty of accuracy is made. No contractual rights, either expressed or implied, are created by its content.
For more information about ECPI University or any of our programs click here: http://www.ecpi.edu/.