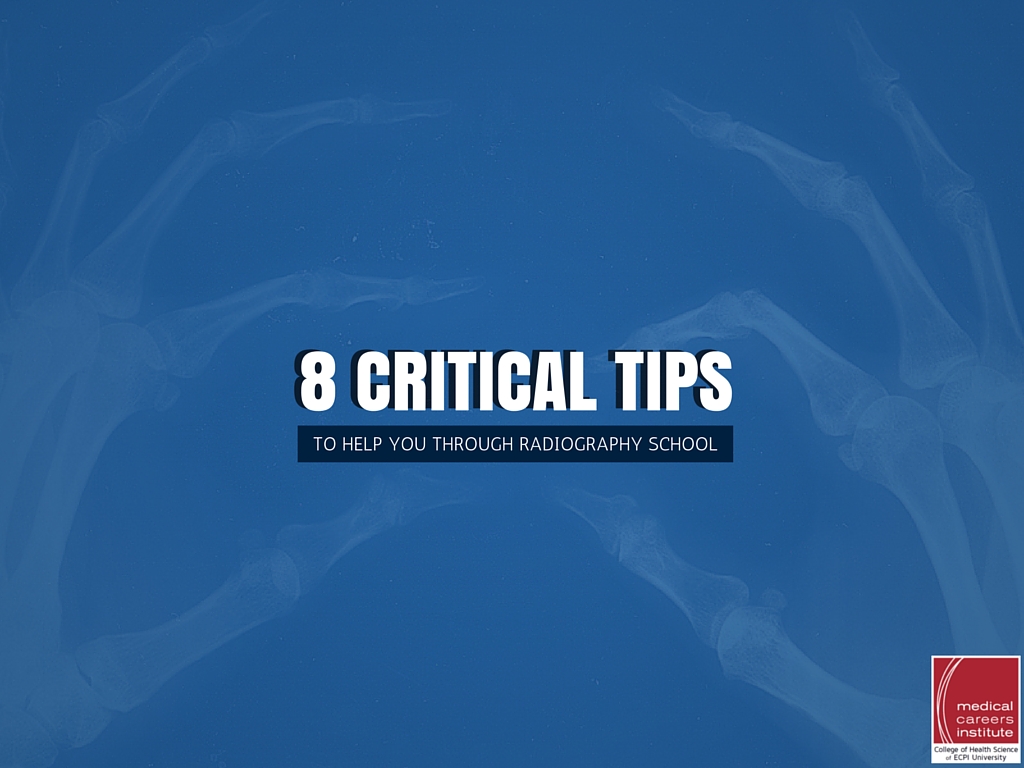 There is no doubt about it, radiographic technologists are in high demand. An aging population, new healthcare laws, and insurance company pressures cause doctors to prescribe more imaging tests every day. Predicting a faster than average increase in jobs in this field, the Bureau of Labor Statistics estimates there will be 21% more jobs for radiologists by 2022. Should you consider joining this profession? You might wonder what it takes to make it through your radiography degree program.
Here are 8 tips to help you through radiography school:
1. Keep in Shape
Whether you like to exercise at the gym, walk the neighborhood or do housework, keeping physically fit will help you. Of course that includes eating healthy foods and getting enough sleep, too. Having a healthy lifestyle will not only help you focus when learning new material, but also help you prepare for clinical work. Radiography is a physically demanding job and during clinicals, you may be asked to do such tasks as:  
Position patients correctly to get accurate images.
Lift, push and pull different types of imaging equipment and machines.
Stand and walk for extended periods.
Be able to bend, reach, and twist in order to perform procedures.
2. Form a Study Group
We all know that learning with friends is always more enjoyable and motivating than studying alone. In addition, study groups help you practice communicating effectively. People in healthcare professions like radiography need to be good communicators because they have to be able to:
Explain procedures to patients.
Answer questions of patients and their families.
Discuss results with doctors.
Arrange schedules with other medical personnel.
A study group helps you practice being a good communicator as it pertains to radiography, too. If you explain something to someone else, chances are you will understand it better yourself. You'll also have less stress if you know that you are all in this together.

3. Don't Forget Laughter is the Best Medicine
When exams are coming up, or when you make a mistake in school, don't give up. Look for the humor in the situation.  Even seasoned technologists make mistakes and have to sometimes re-do a scan. So give yourself a break, take a deep breath and look for something to laugh about. You might even check online for humorous radiography cartoons or jokes that you can share with classmates or on social media.
5.  Listen to Advice
If an instructor or a classmate gives you tips on how to do something, don't ignore them and think you can do it on your own. Remember that they probably are trying to help you avoid a mistake they may have made themselves. What kinds of advice might be helpful?
Ways to study the human anatomy so you can remember.
How to get a patient in the best position for an image.
How to remember the steps in doing a scan.
Safety tips for using scanning equipment.
6. Ask Questions
The familiar proverb "there aren't any dumb questions" is absolutely true.  If you aren't sure about something that is explained in class, be sure to ask the instructor to explain it again.  Chances are, you aren't the only one who was confused.  And remember: don't be afraid to take advantage of the instructor's office hours or to catch them before or after class.  Instructors are usually glad to have students who are engaged and wanting to learn more.
7. Schedule Breaks When Studying
While college students are famous for pulling "all nighters," that probably isn't the best way to really learn the material you'll need to study in radiography school. Instead, schedule several study sessions before a test. Aim for studying 30-50 minutes solid, and then take a break for 1-20 minutes. That way your studying time will be more focused and it will help you from being tired and distracted.
8.  Let Friends and Family Help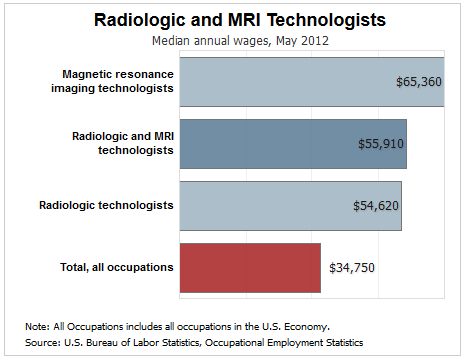 Does your neighbor want to watch your kids while you get ready for a test?  Did your mom offer to make you her special chicken pot pie when you had a long day?  Don't turn them down!  Let your friends, neighbors and family be a part of your journey. With the Bureau of Labor and Statistics reporting a median annual salary of $55,910 a year, you'll be able to pay them back in one way or another after graduation!
She went to ECPI to be an x-ray tech, now she's making mad money working at Sentara.

— Scott (@lucky_sal) April 21, 2012
Ready to Ace Radiography School?
Do these 8 tips encourage you to think you may want to earn an Associate of Applied Science in Medical Radiography?  In as little as 18 months, students at ECPI University may be able to complete their degree and have the opportunity to take the American Registry of Radiologic Technologists (ARRT) examination. Highly motivated students like the ECPI University program which mixes on-campus classes with labs and practical clinical experience. Why wait?  Contact ECPI University today—it could be the Best Decision You Ever Make!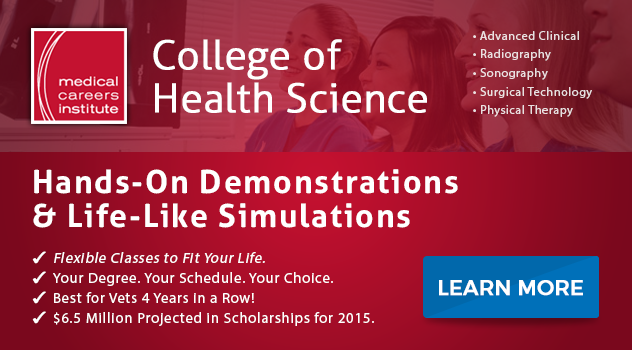 DISCLAIMER – ECPI University makes no claim, warranty or guarantee as to actual employability or earning potential to current, past or future students or graduates of any educational program we offer. The ECPI University website is published for informational purposes only. Every effort is made to ensure the accuracy of information contained on the ECPI.edu domain; however, no warranty of accuracy is made. No contractual rights, either expressed or implied, are created by its content.
Gainful Employment Information
For more information about ECPI University or any of our programs click here: http://www.ecpi.edu/ or http://ow.ly/Ca1ya.