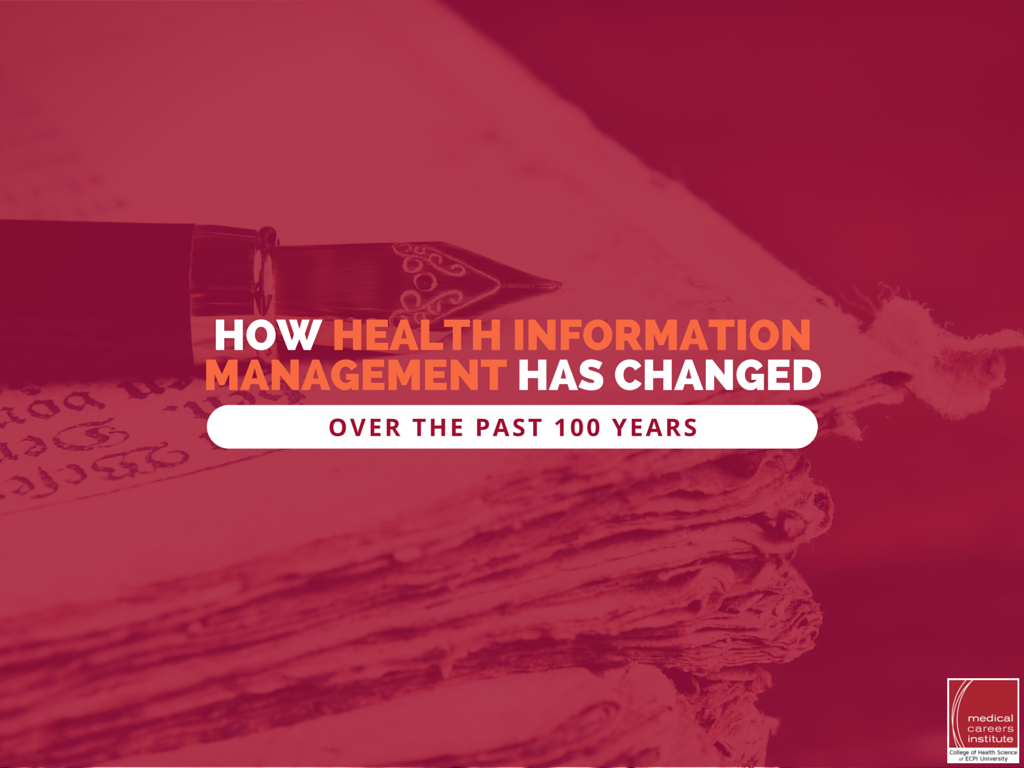 The transformation of the health information management field during the last 100 years is monumental. In fact, if you could look at the system now compared to what it looked like in 1915, you would not know they were related.
Health information management is the process of acquiring, analyzing, and protecting medical information (commonly called medical records) on patients each time they are seen by a healthcare provider. 
The History of Health Information Management
In the early 1900s, very little patient information was recorded. Toward the end of the second decade, healthcare professionals realized that their patients would benefit by keeping more accurate records, as well as obtaining a complete medical history of their patients.
Prior to the computer age, maintaining health information was very labor intensive. All medical information was prepared and stored manually. Imagine the paper used and hours of work involved to store and maintain all of this information. What's more, it was quite difficult to retrieve past medical information quickly, and accuracy and timeliness was a continual problem. Ultimately, patient care suffered. 
Eventually all of the medical information that had been stored manually had to be transferred to an electronic format, a new era in healthcare management information began. 

The Organization of Patient Information
In 1928, the first official association relating to patient medical records was established by the American College of Surgeons. It was originally called the Association of Record Librarians of North America. Its primary goal was to "elevate the standards of clinical records in hospitals and other medical institutions." 

Over the years, the organization has evolved and changed into what is now AHIMA, or the American Health Information Management Association. The association in its current form is a strong group that affects the quality of patient information and patient care. Leaders of AHIMA also serve as political liaisons and advise legislatures and lobbyists regarding healthcare issues. 
Health Information Management Today
For the most part, the entire process is managed electronically. The Electronic Medical Record (EMR) is now in place in physician offices, hospitals, and most healthcare facilities. Physicians use voice recognition for their dictation, and instead of employees transcribing verbatim, they only have to edit; medical coding is done via electronic platforms and insurance billing is completed online. 
Health Information Management Careers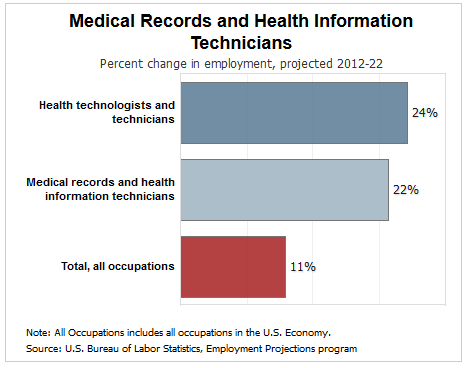 Health information management is one of the faster growing fields in healthcare, according to the Bureau of Labor Statistics. Physician offices, hospitals, long-term care facilities, and every facility and organization that care for patients have health information management employees. Recent changes in governmental regulations have brought about a high demand for health information professionals. 
Within the health information management field, there are many types of careers, from medical coding, and transcription and editing of physician dictation to management and technical support. Each plays its role in providing quality healthcare. Most healthcare facilities have now implemented the Electronic Health Record (EHR), creating new careers in technology.
Patient privacy is an important part of the Health Information Management field. In 1996, the Health Insurance Portability and Accountability Act (HIPAA) was enacted, requiring patient information to remain private. This law has also led to additional careers in this fast growing field. 
I Scheduled a RedCross blood donation. Help me save lives: ECPI College of Technology & MCI School of Health Science http://t.co/NVfWkbavLJ

— Frances Louise Cagle (@FrancesLCagle) May 20, 2015
Does Your Future include a Health Information Management Degree?
Education for employment in the health information management field has grown at the same pace as the field itself.  If you think you would like to pursue a career in the interesting field of health information management, contact ECPI University today to learn about earning an Associate of Applied Science in Health Science with a concentration in Health Information Management. Degrees can be completed online, evenings, and part time, and with our year-round program, you could earn your degree in Health Information Management in just 1.5 years! Contact us today and learn why ECPI University could be the perfect fit—it could be the Best Decision You Ever Make!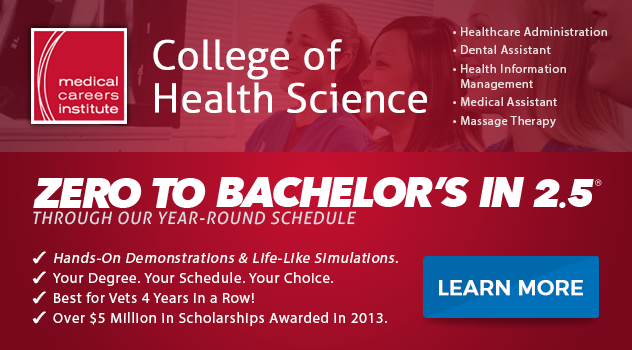 DISCLAIMER – ECPI University makes no claim, warranty or guarantee as to actual employability or earning potential to current, past or future students or graduates of any educational program we offer. The ECPI University website is published for informational purposes only. Every effort is made to ensure the accuracy of information contained on the ECPI.edu domain; however, no warranty of accuracy is made. No contractual rights, either expressed or implied, are created by its content.
Gainful Employment Information
For more information about ECPI University or any of our programs click here: http://www.ecpi.edu/ or http://ow.ly/Ca1ya.