Is Mechatronics a Good Way to Get into Robotics: How Can I Learn Engineering Technology?
Mechatronics is a branch of engineering technology that involves designing, manufacturing, and maintaining devices that have both mechanical and electronic components. It defines the synergy that exists between mechanical machines and the electrical control systems that regulate them. Today, mechatronics engineering technology has evolved to encompass other disciplines like computer engineering, programming, system engineering, and robotics.
Overall, mechatronics values systems thinking and interdisciplinary approaches to problem-solving. Mechatronics allows technicians to work in cross-discipline collaborative teams to smoothly manage complex, highly-integrated systems in modern manufacturing plants.

How is mechatronics connected to robotics?
Mechatronics is closely tied to robotics. The only difference is that in mechatronics, systems inputs are provided while in robotics, the inputs are independently acquired. A Mechanical Engineering Technician is responsible for the mechanical body parts of any robotics system, Electrical/Computer Engineering Technician takes care of the electrical and computer aspects of the system, and a Computer Engineering Technician takes charge of the programming (the brain).
The functional units of robotics include:
Body Structure: Most robots are made of metal-based physical body structures that offer protection to the internal mechanisms within the robot. The shape and size will depend on the intended purpose of the robot.
Muscle Systems: This unit is made up of a number of mechanisms like gears, artificial muscle, pneumatic actuators, and thrusters.
Sensory Systems: The sensory system can range from simple to complex mechanisms. A simple system could be a motion detector while a complex system could be a combination of optical cameras that enable the robot to see the environment and make decisions based on the surroundings.
Power Source: Robots can draw power from grounded electrical power outlets (stationary robots) or internal battery units (mobile robots).
Brain System: The "brain" system works closely with the sensory system. It sends signals to the robot's muscle system telling it to act when a sensory system is activated. In a complex system, the brain system allows the robot to identify objects within the environment based on data from the sensory system. Here is where artificial intelligence comes into play.
How Mechatronics Engineers Can Gain Entry in the Robotics Field
Mechatronics is a high-tech field with a promising outlook. As more businesses advance their innovations and embrace sophisticated intelligent systems and robotics, technicians will be in high demand. Manufacturing businesses, for example, turn to mechatronics technicians to help them evaluate assembly line efficiency and costs.
With a degree in Mechatronics engineering technology, you could land various jobs in advanced manufacturing companies and even in Homeland Security. Some of the titles you could assume include:
Industrial Technician
Field Service Technician
Computer Engineering Technician
Electronic Engineering Technician
If your goal is to jumpstart your career in advanced manufacturing and robotics, a bachelor's degree in mechatronics engineering technology could be your best avenue. The program should give you a strong background in robotics and opens up opportunities to gain hands-on industry experience that will prepare you for an exciting career in robotics.
You could work in medical and health fields, advanced manufacturing firms, or in the military. In these positions, you might build robotic solutions to improve manufacturing quality, productivity, and efficiency.
Why is formal Education Important?
A mechatronics engineering technology (ESET) program equips graduates with the right skills and knowledge to function in multidisciplinary teams. Graduates are able to design, install, maintain, and repair various systems, components, or processes that meet specific needs for engineering applications. Mechatronics technicians serve as a link between engineers and technicians in a wide range of industries from the conception of electronic systems to implementation and maintenance.
The education curriculum provides ESET graduates with the foundation and formal education needed for employment in a variety of industries, including the computer industry, automation and manufacturing, Homeland Security, and education.
Prospective candidates may enroll for a bachelor's degree program in mechatronics engineering technology in various colleges or universities. Requirements for admission may include engineering fundamentals, calculus, or physics. Once core courses are completed, students may cover topics in digital controls, circuit analysis, and robotics. Most courses include laboratory courses where students get an opportunity to test materials and processes.
Since mechatronics technicians need to know how to design and operate computer-aided software programs to accomplish their work, they should also have a deep understanding of physics, circuitry, calculus, and robotics.
Are you ready to learn more about mechatronics ESET?
Interested in learning more about mechatronics engineering? Through ECPI University's year-round schedule, you could earn your Bachelor of Science Degree in Electronic Systems Engineering Technology with a concentration in Mechatronics in as little as 2.5 years. Contact one of our knowledgeable admissions officers today to start the conversation.
It could be the Best Decision You Ever Make!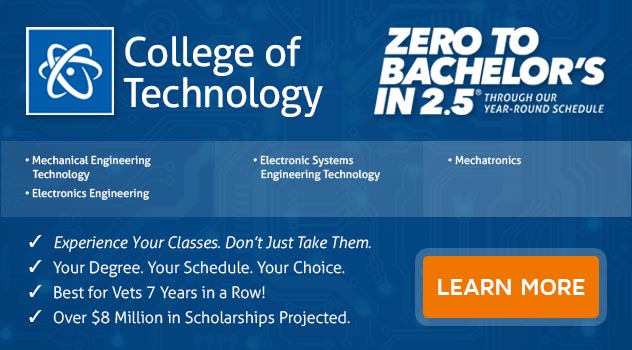 DISCLAIMER – ECPI University makes no claim, warranty, or guarantee as to actual employability or earning potential to current, past or future students or graduates of any educational program we offer. The ECPI University website is published for informational purposes only. Every effort is made to ensure the accuracy of information contained on the ECPI.edu domain; however, no warranty of accuracy is made. No contractual rights, either expressed or implied, are created by its content.
For more information about ECPI University or any of our programs click here: http://www.ecpi.edu/.