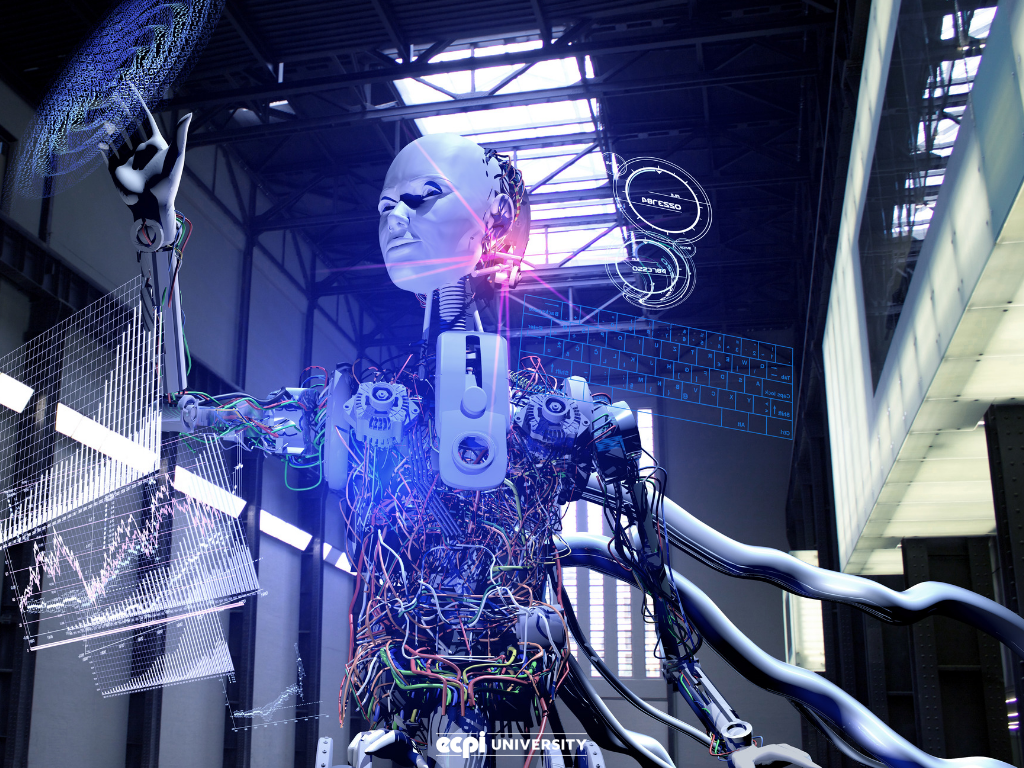 If you look for the greatest popularizer of mechatronics—the mechatronics equivalent of Steve Jobs—you may have a tough time singling out one person. In a business intent on re-inventing nearly every manufacturing process across every industry, many great minds are working on multiple fronts simultaneously. The word "mechatronics" is a combination of mechanical engineering and electronics, describing work created when mechanical engineering, electrical engineering, and computer information science join forces. Since its inception, the field has spread across the globe and across disciplines, and no one person can take full credit for burgeoning job growth.
Tetsuro Mori
In 1969, Tetsuro Mori was a senior engineer with Yaskawa Electric Corporation. The company was devising electronic controls that ran mechanical factory equipment when Mori coined "mechatronics" to show the intersection of the two disciplines.
Today, Yaskawa America is the local presence for this worldwide company, including its Motoman Robotics and Drives & Motors divisions. The work of Mr. Mori and the firm continues in client plants around the globe with: 
300,000 robots
10 million servos
18 million inverter drives
The growth in Yaskawa reflects the growth of mechatronics, a field rapidly expanding in opportunity from North America to Europe to Asia and beyond.
Kevin Craig
Imagine you are on your way to a job interview for a mechatronics position. You find yourself in the elevator and your potential future employer asks you to explain mechatronics before you reach the lobby. You can do no better than to quote Kevin Craig, one of the leading advocates for mechatronics. Just as Steve Jobs redefined the personal computer, Craig defines mechatronics as the synergy of four overlapping circles:
mechanical systems
electronic systems
control systems
computers
Where any two overlap, things get interesting, such as the intersection of mechanical systems and electronic systems, which yields electro-mechanics. Combine computers and control systems and you get digital control systems. Any overlap is far more interesting than the one discipline, and a person cross-trained in two or more can become a very attractive job candidate.
The overlap of all four gives us mechatronics, and points towards a growing field with opportunity. A university that provides and connects classes in computers, mechanical, electrical, and control systems is at the leading edge of mechatronics. An ECPI University graduate can apply her or his mechatronics training at just about any industry in the world, becoming a valued member of a dynamic company.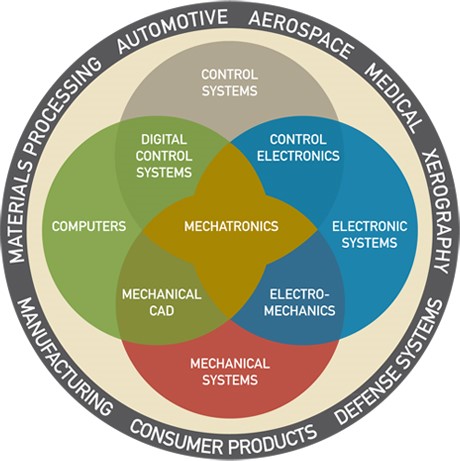 Spin the Wheel
Kevin Craig's graphic illustration of mechatronics is cleverly ringed with industries that employ mechatronic engineers including:
aerospace
automotive
consumer products
defense systems
materials processing
manufacturing
medical
xerography
Whether an industry is an established powerhouse in the American economy, or a disruptive innovator leading to whole new opportunities, mechatronics is there. The ECPI University graduate with mechatronics knowledge can be a valuable asset in many businesses.
Dr. Dave
Steve Jobs of Apple fame was a quirky individual, no doubt, and a leading proponent of pushing technology and engineering forward in service to people. In the mechatronics world, such a person is Dr. Dave Alciatore, a mechanical engineering professor who is also a world-class billiards player.
Dr. Dave wrote Introduction to Mechatronics and Measurement Systems, a foundation textbook in the field. Yet he also wrote The Illustrated Principles of Pool and Billiards, has a DVD instructional series, and offers classes in billiards.Mechatronics professionals have flexible, adaptable minds hungry for making the sorts of connections Dr. Dave sees between his hobby and his vocation.  
Elon Musk
Tesla Motors founder Elon Musk recognized the benefits of mechatronics, and used the skillset of mechatronics engineers to create the revolutionary Tesla S, a premium electric vehicle changing the way car buyers buy cars and car builders create them.
Musk is also CEO of SpaceX, the private space venture that launches rockets and space probes. No harsher test track exists than outer space. 
Mechatronics visionaries, such as Mori, Craig, Musk and Dr. Dave, are leaders in their engineering fields. They take risks, they combine radical ideas, and they produce amazing products large and small. According to the Bureau of Labor Statistics, the field is growing and the demand for mechatronics engineering technologists is fueling high salaries.  If you know you are a curious, risk-taking thinker who likes to tinker, an education in mechatronics from ECPI University could rocket you into a career that benefits you and benefits the world.

Up for the challenge? Consider earning a Bachelor of Science Degree in Electronics Engineering Technology with a concentration in Mechatronics in as little as 2.5 years from ECPI University.  It could be the Best Decision You Ever Make!

DISCLAIMER – ECPI University makes no claim, warranty or guarantee as to actual employability or earning potential to current, past or future students or graduates of any educational program we offer. The ECPI University website is published for informational purposes only. Every effort is made to ensure the accuracy of information contained on the ECPI.edu domain; however, no warranty of accuracy is made. No contractual rights, either expressed or implied, are created by its content.
Gainful Employment Information
For more information about ECPI University or any of our programs click here: http://www.ecpi.edu/ or http://ow.ly/Ca1ya.