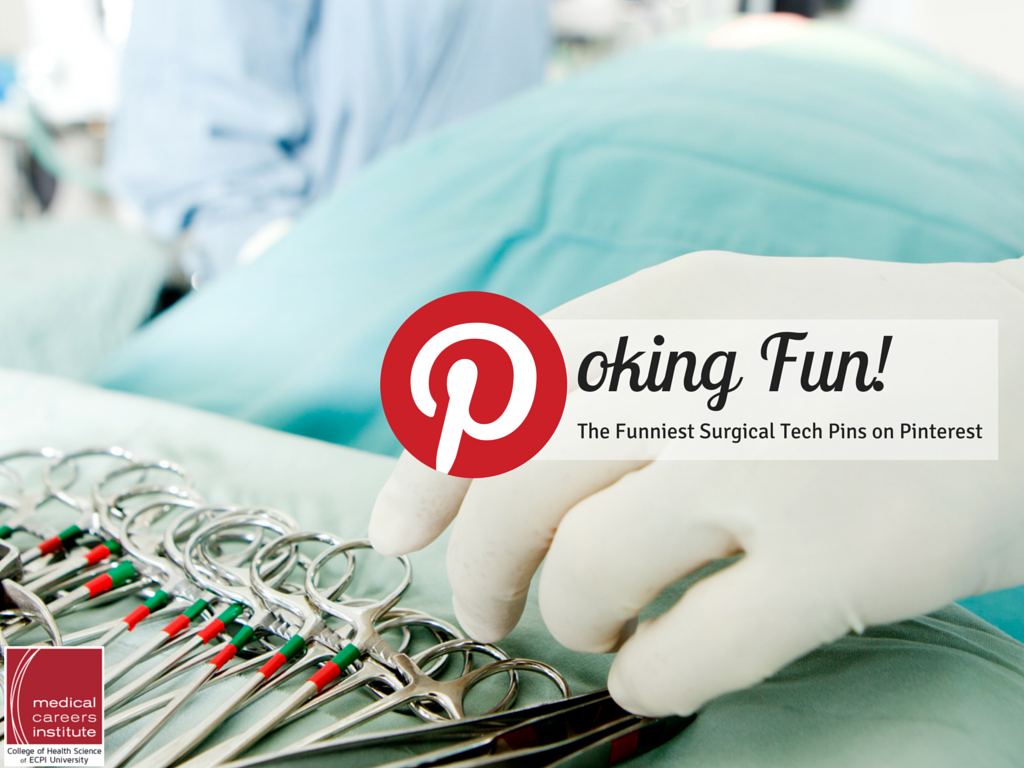 Working in the medical field requires a special type of person. Though the rewards of being a doctor, nurse or other medical professional are many, the hours are long, the work is hard and strenuous and the patients are not always the nicest. Working in certain specialties—such as a surgical technologist—requires patience, endurance, and caring. It also helps if you have a good sense of humor.
If you are thinking of becoming a surgical technologist—an integral member of an operating room team—then there are some aspects of the job that you need to know about, and these topics are best presented in a humorous way. Take a peek at the funniest pins for surgical technologists and explore this rewarding and interesting field.
Funniest Pins for Surgical Technologists That Poke Fun at the Job Duties
Surgical technologists are an important part of the team in the operating room. Also called operating room technicians, scrub technicians or scrubs, they ensure that the operating room maintains a sterile environment, focusing particularly on the operating tools and equipment. The following pins offer some rib-tickling insight on what is expected of a surgical technologist in the operating room.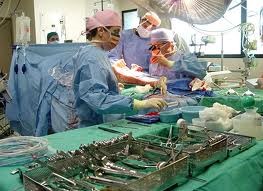 1. Surgical technologists know the real name and purpose for all those doohickies and thingamabobs in an operating room. Make sure your memorization skills are up to par.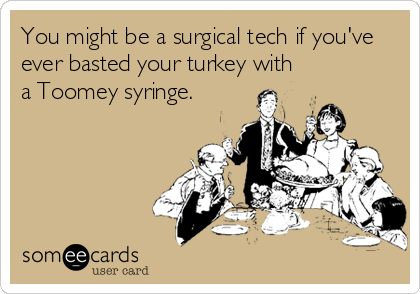 2. You might even find alternative uses for some of those tools. Necessity is the mother of invention, after all.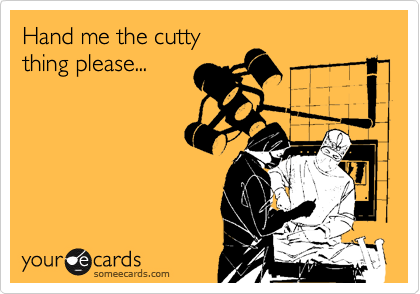 3. Sometime surgical technologists will have to interpret certain instructions. Hone your skills of deduction and inference.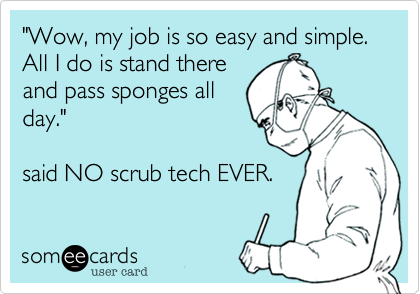 4. It's not an easy job!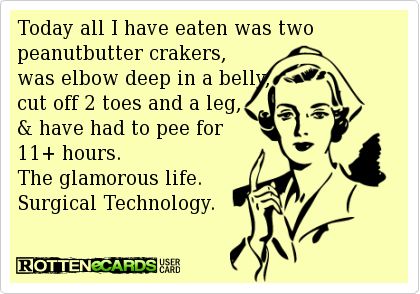 5. For a surgical technologist, the hours are long and the work is hard. Really hard.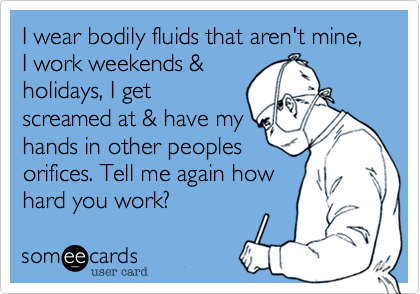 6. While the work is really hard, the bragging rights are truly impressive!
Silly Pins That Highlight the Particular Nature of Surgical Technologists
Surgical technologists are responsible for maintaining sterility in the operating room, which is paramount for the patient's well-being and recovery. Most surgical technologists can be a bit territorial and, well particular, when it comes to their job duties. These pins poke a little fun at the A-type personalities of those slaving away in the operating room.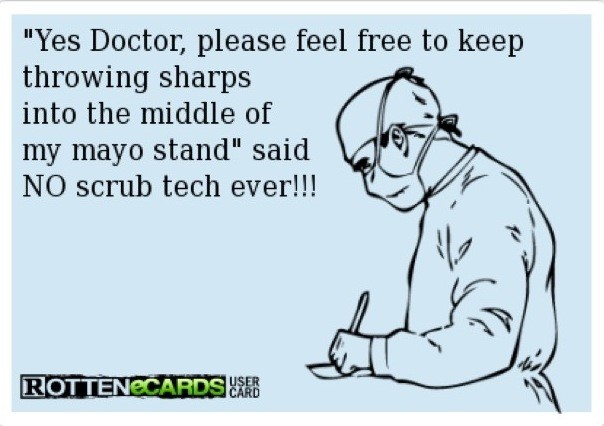 7. Surgical technologists don't want anyone else messing with their set-up, such as with the mayo tray that holds various sharp surgical instruments.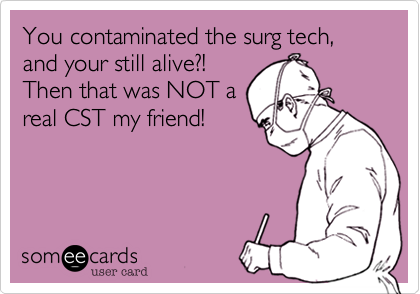 8. Sterility is everything, and most CSTs—Certified Surgical Technologists—will be moved to crimes of passion against those who compromise it!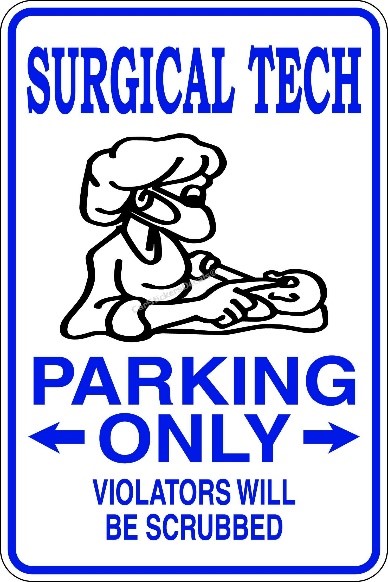 9. CSTs are also a bit territorial in other areas, such as parking spots. Learn how to say "you'll be scrubbed" in a don't-mess-with-me fashion.  
10. Sterility is really important, but your brain will test your resolve again and again.  Don't give in!
11. Surgical techs are awesome, and they want everyone to know it. Practice tooting your own horn.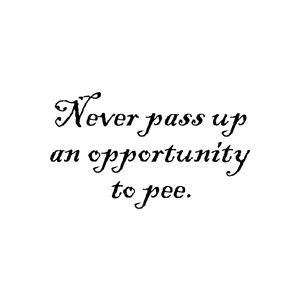 12. Due to the long hours in the operating room, surgical technologists have to pay much more attention to visiting the bathroom.                                                              
Hysterical Pins for Surgical Technologists about Working with Doctors
13. Despite possessing the wherewithal to attend years of school and tackling one of the most grueling professions out there, doctors aren't always the best at acting maturely.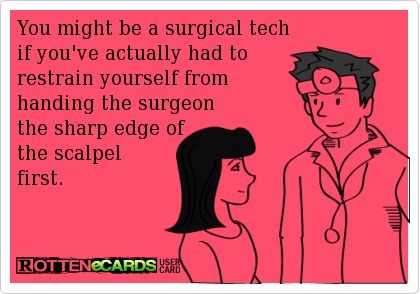 14. Surgical technologists will need to show restraint sometimes.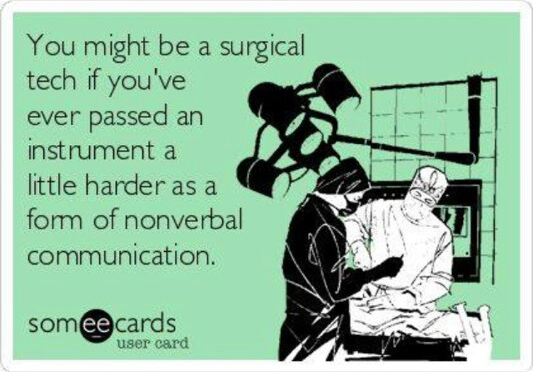 15. You'll need to explore other forms of communication.  
Medical training has definitely gone high-tech! I had a chance to see a mock surgery today, and it's amazing... http://t.co/3qOTGUmt4p

— Amy Lacey (@amylacey8news) March 5, 2014
Becoming a Surgical Tech
At the end of the day, surgical technologists perform a challenging and important job that keeps everyone protected in the operating room. If you think you have what it takes to join the elite ranks of surgical technologists, consider a degree from ECPI University. Contact ECPI University NOW for more information about earning your Associate of Applied Science degree in Surgical Technology! At ECPI University you can take advantage of an accelerated, year-round program that allows you to earn a degree in as little as 1.5 years! Be a cut above the rest! Contact us today for more information – it could be the Best Decision You Ever Make!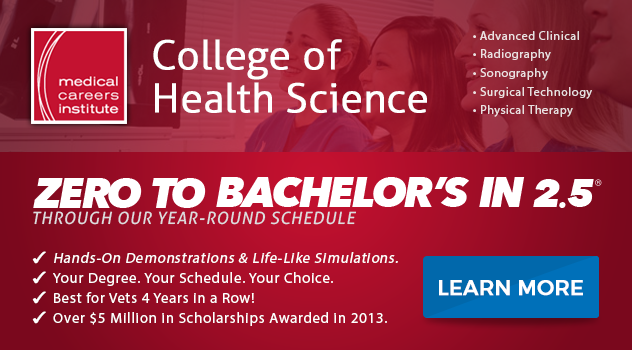 DISCLAIMER – ECPI University makes no claim, warranty or guarantee as to actual employability or earning potential to current, past or future students or graduates of any educational program we offer. The ECPI University website is published for informational purposes only. Every effort is made to ensure the accuracy of information contained on the ECPI.edu domain; however, no warranty of accuracy is made. No contractual rights, either expressed or implied, are created by its content.
Gainful Employment Information
For more information about ECPI University or any of our programs click here: http://www.ecpi.edu/ or http://ow.ly/Ca1ya.