Studying Culinary Arts: Tips, Tricks, and Suggestions for Acing Tests
When preparing food, experimenting with new recipes and creating your own delicious work or edible art is your calling, culinary school is perfect for you. It takes your passion and drive for food and molds it, giving you additional knowledge and insights into working with new ingredients while taking your ability to the next level. Skilled graduates from culinary arts schools have the opportunity to thrive in the industry, working in top restaurants or even opening their very own.
If you are currently enrolled in a culinary arts degree program or you're considering it, chances are you have a few questions as to how you even study for such a course, and what you can do to improve your ability to thrive. Here is some advice for excelling in such a program.
What are Tests and Exams Like in Culinary Arts School?
While enrolled, you're going to have two different kinds of exams. The first is the more traditional test you're probably familiar with. It includes multiple-choice questions, essays, and other standardized testing methods. The other is through an actual food preparation exam, where you produce a particular item for your instructor.
Both types of tests are important to your education. You need to be able to prepare the food requested, as you would at a restaurant. But you also need to have the knowledge to understand why food behaves the way it does and how to cook it effectively.
How can You Study for Practical and Theory Tests?
So how do you study for both? There are a few different ways.
In terms of the preparation method, the best way to study is to practice. This is no different from practicing a sport or other physical activity. This way, you cannot only practice preparing the food but tasting it as well in order to see what works and what you need to improve upon. This way, when you go in for the exam, you are able to repeat what you've produced at home previously.
On the other hand, you need to study for the more traditional tests. Although these tests will be college-level, the method of testing will probably be consistent will what you've encountered in school before. Develop your own method of studying that works for you. Flashcards, detailed notes, rereading material, etc. Study in the way that works for you and make adjustments if you run into a particularly difficult topic.
What Are Some Tips For Success in Culinary School?
The most important tip for success in culinary school is to have fun with it. Cooking and creating unique recipes is an art form. This is something you dedicate yourself to. So while you are learning and you might even struggle at times, always see the fun in it. You're doing something you love and you're challenging yourself. This is the best way to get better and to set yourself up for success in life.
On top of that, just enjoying yourself. Also, don't push everything off until the last minute. Use what you learn in class back home. Culinary arts is very hands on, which is one of the best ways to learn. So take what you learn and practice it whenever you can. You'll only improve upon your skills.
Are you interested in a culinary career? If you want to earn an Associate of Applied Science in Culinary Arts Degree, consider ECPI University's Culinary Institute of Virginia. With an accelerated schedule and year-round classes, you could graduate faster and start looking for work sooner. For more information about this exciting degree program, connect with a helpful admissions advisor.
It could be the Best Decision You Ever Make!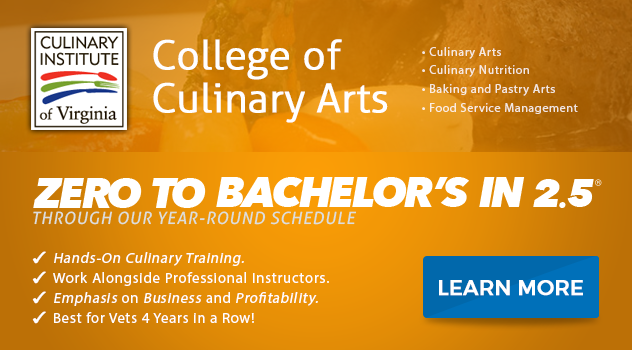 DISCLAIMER – ECPI University makes no claim, warranty, or guarantee as to actual employability or earning potential to current, past or future students or graduates of any educational program we offer. The ECPI University website is published for informational purposes only. Every effort is made to ensure the accuracy of information contained on the ECPI.edu domain; however, no warranty of accuracy is made. No contractual rights, either expressed or implied, are created by its content.
Gainful Employment Information – Culinary Arts - Associate's
For more information about ECPI University or any of our programs click here: http://www.ecpi.edu/ or http://ow.ly/Ca1ya.