What Skills Are Needed to Work in Cyber Security as a Recent Graduate?
Cybersecurity is undoubtedly an essential aspect of the proper functioning of every business enterprise. It fundamentally acts as the nerve center to which information is recorded, stored, and transferred to various personnel within the organization. With the rising cases of data breaches occurring almost every day, the war of talent in InfoSec is stronger than ever.

The best cybersecurity professionals come with a handful of soft and hard skills, including:
Soft Skills
Strong Research and Writing Skills
Possessing strong research and writing instincts is an invaluable asset that each information security analyst must have. Such a skill comes in handy when experts execute policy creation and enforcement. This essentially means that cybersecurity staff must conduct intensive research and work with end users to understand how technology is harnessed daily.
Collaboration
Working closely with associated professionals in the IT industry can be challenging for recent graduates. However, cybersecurity experts are expected to have broader collaborative and people skills, which involve working well with colleagues throughout the organization in achieving set goals and objectives. The ability to become a team player and problem solver speaks volumes about the value of communication skills.
Adaptability
Working in cybersecurity predominantly requires having a passion for learning. You'll need to be a lifelong student as much as a teacher. Typically, the IT threat landscape is constantly changing with new viruses, worms, and susceptible firewalls. Keeping up with the latest vulnerabilities and persistent threats can give you an edge to thrive.
Networking
Networking in terms of the "getting to know you" is a critical tool that goes way beyond the technical side. It entails harnessing your social and communication skills to expand your professional contacts and connect, which is paramount in your professional development. You'd be surprised how fast news travels within a local industry, so keep your cool and be polite to everyone. Especially when you're just starting out, everyone is a potential resource or mentor. 
You can also use this opportunity to tap into the experience of the professionals you connect with to cultivate your critical thinking skills and improve the organization's performance. You also need skills necessary to express complex concepts verbally and in writing, interpersonal skills to listen actively to others, as well as good presentation skills.
Hard Skills
Technical Know-how
This entails understanding the fine print; the 'how' and 'why' various components work together. This includes:
Understanding the management and architecture of operating systems, networking and visualization software
Designing and evaluating network architecture
Proficiency in scripting languages and multiple programming languages
Understanding how components work
Knowledge & implementation of cloud computing
Ability to write custom scripts providing a wide range of security alerts
Antivirus and anti-malware knowledge
Problem Solving
As an information security expert, diagnosing problems, modeling, and analyzing data should be in your forte. This requires attention to detail and tenacity beyond compromise. Solving complex problems in a rapidly evolving environment requires grit, innovation, and a forward-thinking approach. A cybersecurity graduate must have:
The ability to identify complex issues in network architecture
Knowledge of intrusion detection and prevention systems
Ability to write custom scripts providing a wide range of security alerts
The Pursuit of Professional Development
Continuous learning isn't just a skill, it's a lifestyle. As an IT professional, you must follow and understand the best practices, methods, standards, and trends, as well as internet-driven vulnerabilities. 
How Can Someone Gain These Skills Through Formal Education?
Cybersecurity skills remain crucial to many organizations and while you can learn the art all by yourself, there are some skills that can only be acquired through formal education. Learning it all on your own may take decades, whereas some cybersecurity degree programs are accelerated, able to be completed in 1.5 or 2.5 years!
Enrolling in a cybersecurity program allows you to acquire knowledge from educators and experts with comprehensive experience in this field. These skills show that you are well equipped to protect and secure vital information from attackers.
The Benefits of Formal Education Vs Learning On Your Own
Formal education provides you with additional and up-to-date information on various IT concepts which make it easier to execute. Also, formal education promotes brainstorming due to the interactions with like-minded learners compared to individual learning. Such interactions promote creativity and innovation leading to improved critical thinking skills and sound decision-making.
Are you interested in learning cyber security? If you want to set yourself apart by earning a Bachelor of Science Degree in Computer and Information Science with a Major in Cyber and Network Security, ECPI University offers this course at an accelerated rate. ECPI University is also designated a National Center of Academic Excellence in Cyber Defense Education (CAE-CDE) by the NSA and DHS. For more information on this exciting program, connect with a skilled admissions advisor today.
It could be the Best Decision You Ever Make!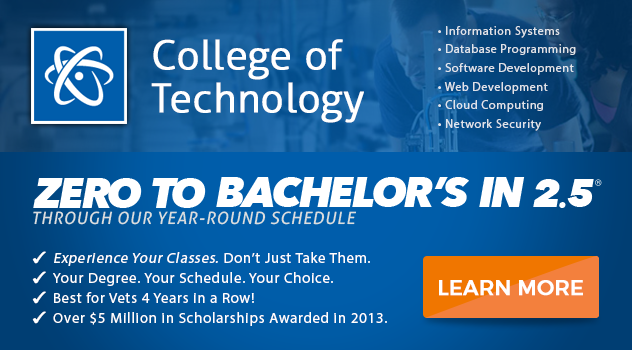 DISCLAIMER – ECPI University makes no claim, warranty, or guarantee as to actual employability or earning potential to current, past or future students or graduates of any educational program we offer. The ECPI University website is published for informational purposes only. Every effort is made to ensure the accuracy of information contained on the ECPI.edu domain; however, no warranty of accuracy is made. No contractual rights, either expressed or implied, are created by its content.
For more information about ECPI University or any of our programs click here: http://www.ecpi.edu/ or http://ow.ly/Ca1ya.