Why Be a Chef? 5 Reasons for Attending Culinary School
Being a chef was once an occupation that didn't get much love. However, towards the turn of the century, more and more cooking shows began appearing on TV, resulting in the emergence of hundreds of celebrity chefs. Now, being a chef is akin to being an artist.
If you have an interest in culture, a love for food, and the wish to do something creative with your life that requires you to continuously work on a craft, then you might want to think about enrolling in a culinary arts program in order to become a chef.

Pursuing an Education as a Chef
If you're still on the fence as to whether the culinary arts is the path for you, consider the following benefits of becoming a chef:
Personal fulfillment - Not only can you bring your very own creations to life, gaining personal fulfillment through accomplishment, but you'll also be making people feel satisfied on a daily basis. There's nothing like pouring everything into the creation of a dish only to see someone eat it with a huge smile on their face.
Job opportunities around the world - Chefs work around the world, which not only means that you should be able to find a job as a chef, but also that you have the opportunity to travel if you so desire. Chefs can also work in luxury resorts, on cruise ships, or at spas.
Be the boss while working as a team - As a chef, you'll be the boss of the kitchen. However, you'll also work closely with the team members that you choose in order to develop your menu and to run the kitchen effectively.
The ability to continuously improve your craft - Even the most respected chefs in the world are continuously learning about their craft by studying different cultures and ways of preparing dishes and figuring out how they can incorporate what they learn into their own style.
The ability to be creative - Even if two chefs get the exact same training, they can still make their job their very different by developing and implementing their own styles of cooking based on their unique tastes. The ability to be creative and to try new things is a big reason many chefs are drawn to this field.
Reasons to Attend a Culinary Arts School
If you've decided that becoming a chef is what you want to do, then you have two choices: you can work your way up by starting at the bottom at a kitchen or you can enroll in a culinary arts school. The following are five reasons why you should consider enrolling in a culinary arts school:
Learn how to cook - The main reason to go to culinary school is to learn how to cook. This means learning how to use equipment and tools common in professional kitchens, how to use spices, how to follow recipes, and how to make your own recipes. You'll learn all the basics you need to know, in addition to more advanced skills that only a professional chef can teach.
Get a more comprehensive education - You might be able to learn how to be a chef by working your way up in a restaurant, but odds are you won't learn much about the business side of things. This is where many chefs without a culinary arts education end up failing. Most culinary arts programs will place some focus on the business aspect as well.
Receive a degree in 15 months - It can take years and years to get anywhere near the chef position when working your way up in a restaurant. Some culinary arts programs can be completed in as little as 15 months, which means you can get started on pursuing your dreams as a chef even sooner.
Get access to more opportunities - Even if you work your way up to a head chef position at a restaurant, you won't have nearly as many opportunities as you would have with a culinary arts degree. Chefs with degrees can pursue other positions, such as private chefs, nutritionists, food scientists, food writers and more.
Take advantage of networking opportunities - Working with professional instructors and fellow students will provide networking opportunities that you could take advantage of in the future.
Our Culinary Program
Are you interested in the world of culinary arts? If you want to become a chef, you will need the right education to get there. Earning an Associate of Applied Science in Culinary Arts from ECPI University's Culinary Institute of Virginia, could be the first step in your journey. For more information about our classes and programs, connect with a friendly admissions counselor today.
It could be the Best Decision You Ever Make!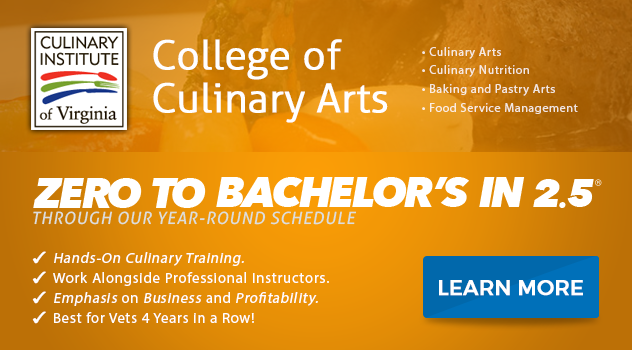 DISCLAIMER – ECPI University makes no claim, warranty, or guarantee as to actual employability or earning potential to current, past or future students or graduates of any educational program we offer. The ECPI University website is published for informational purposes only. Every effort is made to ensure the accuracy of information contained on the ECPI.edu domain; however, no warranty of accuracy is made. No contractual rights, either expressed or implied, are created by its content.
For more information about ECPI University or any of our programs click here: http://www.ecpi.edu/ or http://ow.ly/Ca1ya.