Why Does a Nurse Need a Degree: The Importance of Nursing Education
If you want to be a nurse, you must have formal education in nursing and pass the RN-NCLEX nursing exam through the State Board where you reside. There are no exceptions made for anyone and there are several reasons for this. Namely, in order to treat the sick and injured, you have to be properly trained. 
When you start thinking about a nursing career, your thoughts are going to turn nursing school. This is where you learn all of the ways to keep yourself and your patients safe while you deliver care. The reasons why a nurse must have a degree are diverse, but some of them include:

Better Patient Care
Research now links registered nurses with at least an associate's degree to generally more positive patient outcomes, fewer medication errors, lower mortality rates, and higher diagnostic proficiency. Medical advancements have been seen to open avenues to quality services. Higher education could also broaden your competency in healthcare financing, public health, systems thinking, quality care, and community health.
These classes help you to develop your skills through data analysis and technology. For you to have a competitive advantage in your career, you need to pursue programs that prepare you to assume roles in acute care, primary care, specialty practices, and long-term care.
Changing Industry Demands
As the medical industry adapts to new technology and policies, the changing consumer market demands highly qualified nurses. With an influx of baby boomers needing care and more qualified nurses retiring every day, there's a need to make sure the number of current nurses will meet needs.
With this transition, the healthcare sector is strongly relying on information technology. The evolution of the internet now offers medical practitioners a wealth of information in medical databases which is analyzed for better clinical procedures and strategies. They are also able to connect with medical researchers who might be oceans away working on rare diseases or conditions they are seeing in their ER.
More than ever, nurses now need to be better prepared to meet the diverse needs of patients. A nurse must, therefore, adapt to the high tech environment to facilitate an up-to-date service and advice patients on the most advanced treatment methods.
Today, the growing role of informatics is changing the coordination of care and how patient information is recorded and communicated. Advancing your education can thus enable you to achieve better outcomes, optimize operational efficiency, and reduce costs. The new abilities learned can be innovative, allowing you to learn how to analyze data and automate clinical care. Educated nurses bring unique insights to the medical field.
The nursing profession is continually evolving, resulting from employer standards, a change in the population, and external pressures. A well-trained workforce can improve the healthcare system and empower nurses to be well-prepared to handle complex challenges in the industry.
Why More Degree Holders Are Needed
The required level of education for nurses has been widely debated over the years by nursing organizations and key stakeholders in the medical sector. Several studies have supported the significant link between furthering education and better outcomes in patients.
An advanced degree program can introduce nursing students to different levels of competences in areas such as leadership, health policy, and quality improvement. Students seeking further education can be introduced to different levels of preparation in research skills and assessment of gaps in practice and teamwork.
An increase in the number of nurses with degrees is crucial, following the increased scope of patient needs and expectations. A degree should enable you to master more than just the basic knowledge of care and gain a stronger foundation for adapting to evolving models of healthcare. As a nurse, you need to be competent enough to provide patient-centered care by recognizing and responding to physical, social, and mental needs.
Are You Ready to Go to Nursing School?
Are you interested in becoming a nurse and want to take your first step towards realizing your goals? If you want to earn an Associate of Applied Science in Nursing Degree (ADN), ECPI University offers this program at an accelerated pace. For more information, connect with a friendly admissions advisor today.
It could be the Best Decision You Ever Make!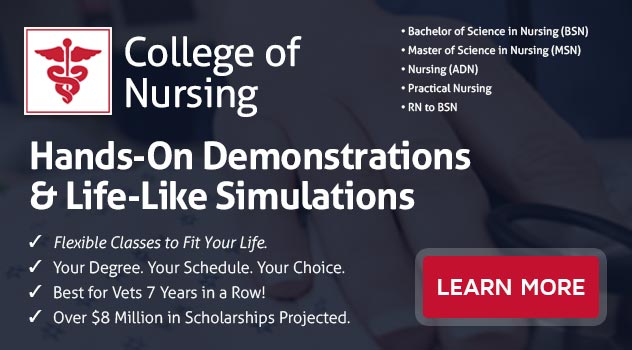 DISCLAIMER: ECPI University makes no claim, warranty, or guarantee as to actual employability or earning potential to current, past or future students or graduates of any educational program we offer. The ECPI University website is published for informational purposes only. Every effort is made to ensure the accuracy of information contained on the ECPI.edu domain; however, no warranty of accuracy is made. No contractual rights, either expressed or implied, are created by its content.
For more information about ECPI University or any of our programs click here: http://www.ecpi.edu/.