5 Advantages to Cloud Computing
There was a time when daydreamers weren't fully appreciated on college campuses. After all, if you spent all day with your head in the clouds, you weren't likely to become an effective and efficient computer expert. But things are different now, thanks to cloud computing.
Today, cloud computing has become an international phenomenon that has changed the way people communicate, companies conduct commerce, and colleges prepare their students for success. And why wouldn't cloud computing change everything? It is, after all, an innovation that delivers incredible advantages. Here's a look at 5 advantages of cloud computing that every computer science or computer information student needs to know about:
1. Immediate Upgrades
There was a time in the not-so-distant past when companies had to wait for long periods of time to get their software updates. First they came in the mail, courtesy of the U.S. Postal Service. Then they were emailed and required painfully long and inefficient downloading. And next came file sharing, which didn't always work.
Thankfully, all of this options are now outdated, thanks to cloud computing.
Today, Software as a Service, or SaaS, delivers immediate updates. No more waiting. No more wondering if it's going to work. No more frustration. Just instant upgrades and updates to the software.
2. Reduced Cost
Remember when companies and non-profit organizations used to wonder where they were going to put their servers?
No? Well, that's because of cloud computing.
Not that long ago, companies used to have to pay copious amounts of money for bulky servers that took up a lot of space and consumed incredible amounts of energy. Thanks to cloud computing, companies and organizations no longer have to invest in space or energy. Instead, all of their data is stored in the cloud, which doesn't take up any physical space.
3. Mobility
Wherever you go, whenever you need it, the cloud delivers the data and applications you need, provided you are connected to the internet.
Believe it or not, this is a change from the way things worked just 10 years ago. Back then, if you were away from the office (or school) you had absolutely no way to access your spreadsheets, reports, calendar, or homework assignments.
These days, you can get the information you want, when you are mobile and need it—anywhere, anytime—as long as you have an internet connection.
4. Collaboration
Ever have an assignment that requires collaboration? Most people, whether for work or school, have. And you have probably had a classmate who just can't be reached.
Not anymore.
These days, everyone is always accessible; classmates, colleagues, friends, and family.
And you all have access to the same information, thanks to the cloud. There is no longer an excuse for not seeing a document, email, or text that a colleague or classmate has shared with you. This is great news for those looking to put in extra hours and get ahead of the curve.
5. Flexibility
As a computer information student, you certainly understand and appreciate the importance of flexibility. After all, there are times when you might be a little late for class or need a little extra time on a homework assignment. But you might not understand the true value of flexibility until you get a real-world job working in a computer profession.
One of the biggest benefits of cloud computing is that it allows you to expand or shrink any strategy or tactic at any time. That can allow your company to make the most of popular promotions and minimize the damage done by those that the public isn't as interested in.
Leverage the Power of Cloud Computing
Cloud computing isn't only for large companies and non-profit organizations. It's a powerful tool that can be leveraged by anyone at any time to improve their lives—including you!
Earning a Bachelor of Science Degree in Computer and Information Science focused on Cloud Computing could be only 2.5 years away for a dedicated student in our accelerated program. If you are interested in exploring a field that leverages the power of cloud computing, connect with ECPI University today to explore all of the options related to degrees in computer and information sciences.
After all, sometimes having your head in the clouds isn't such a bad thing...
It could be the Best Decision You Ever Make!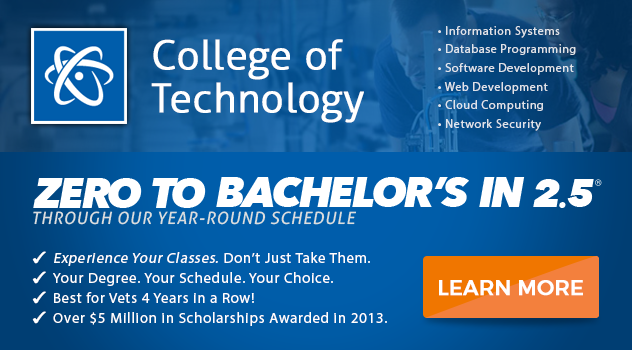 DISCLAIMER – ECPI University makes no claim, warranty, or guarantee as to actual employability or earning potential to current, past or future students or graduates of any educational program we offer. The ECPI University website is published for informational purposes only. Every effort is made to ensure the accuracy of information contained on the ECPI.edu domain; however, no warranty of accuracy is made. No contractual rights, either expressed or implied, are created by its content.
For more information about ECPI University or any of our programs click here: http://www.ecpi.edu/ or http://ow.ly/Ca1ya.