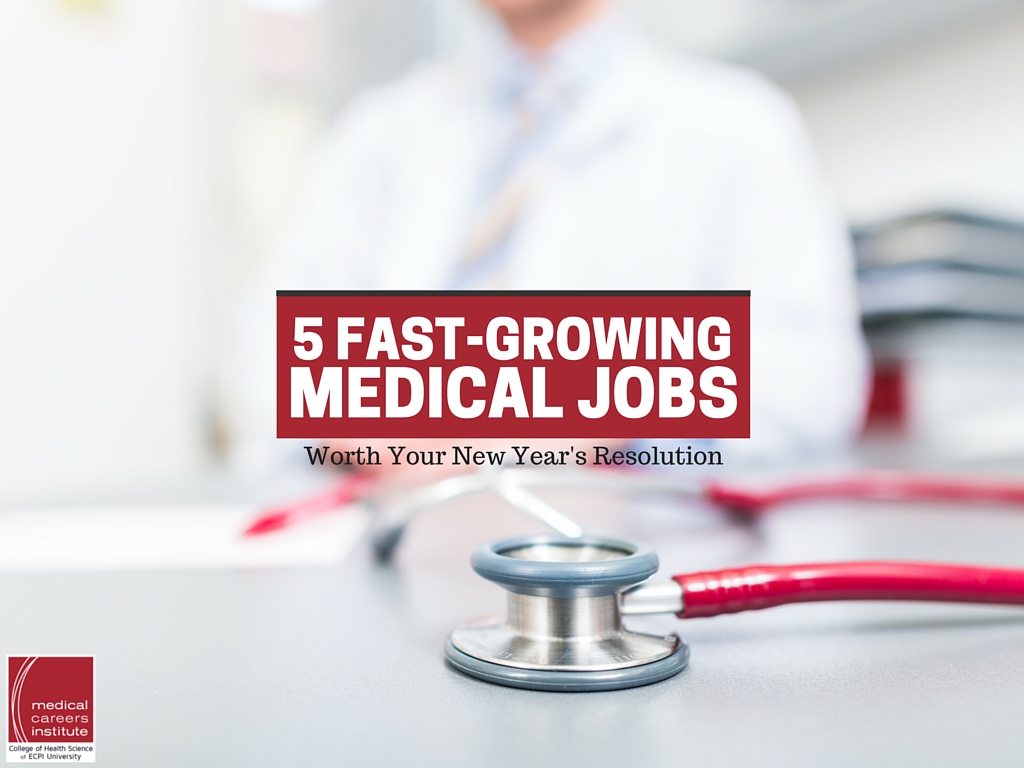 If you want to get into a new field but are worried about jobs suddenly drying up right when you graduate, then look in the medical field for fast-growing jobs that show no sign of slowing down. As technology gets better and people live longer, the need for specialized aides, nurses, and administrators continues to increase. Here are five fast-growing medical jobs that you may want to seriously consider for a career change.
Personal Care and Home Health Aides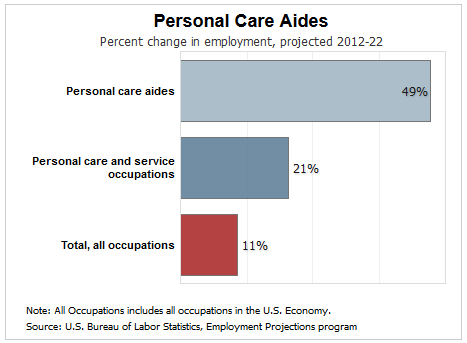 As the population gets older, a lot of people are going to need varying levels of help in their daily lives. Some will need constant care, but others will just need a hand now and then with tougher tasks. Personal care aides and home health aides will see some of the biggest job growth over the next several years as insurance companies, hospitals, and retirement homes try to meet the demand. You may have to do everything from grocery shopping to helping with meal preparation to assisting people with bathing and housekeeping.
The pay tends to be lower, but the sheer amount of growth means finding jobs should be relatively simple. The Bureau of Labor Statistics projects that personal care aide jobs will grow by a stunning 49 percent, and home health aides by 48 percent, between 2012 and 2022.
Sonographers/Ultrasound Techs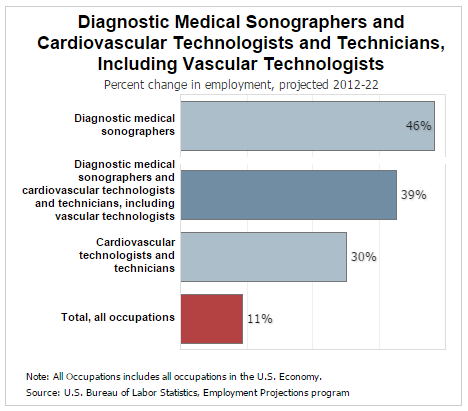 Diagnostic procedures are increasingly relying on ultrasounds as a non-invasive way to see what's happening inside someone's body. Techs are needed to perform these tests, but it's not as simple as just holding a probe against someone's skin. Ultrasound techs need to be aware that the patient is human and needs both compassion and matter-of-fact information. Ultrasound techs are compensated nicely in general. The BLS projects a growth rate of 46 percent to this field between 2012 and 2022, with the 2012 median annual salary at $60,350.
Physical and Occupational Therapist Assistants and Medical Assistants
If you're interested in therapy or working right in a doctor's office but would like a faster route into a job, look into becoming an assistant. Physical, occupational, and medical assisting are all in need of more people. The fields do require degrees -- mainly associate's degrees or special accredited programs -- and can take up to a couple of years to learn, but these fields are growing so quickly that devoting the time to the educational requirements could be worth it. Plus, if you live in a less urbanized area, your job prospects and pay possibilities may be even better than in big cities.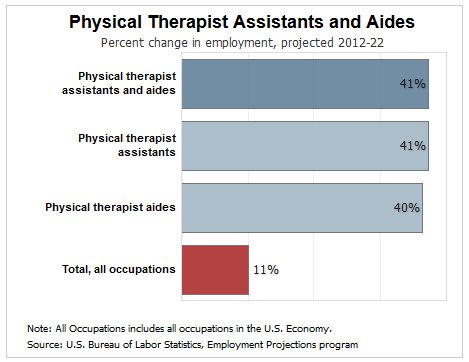 The BLS projects that physical therapist assistants will see job growth of 41 percent, occupational therapy assistant jobs will increase by a whopping 41 percent, and medical assistant jobs will rise by by 29 percent, between 2012 and 2022. Median annual salaries for these careers in 2012 were:
Dental Assisting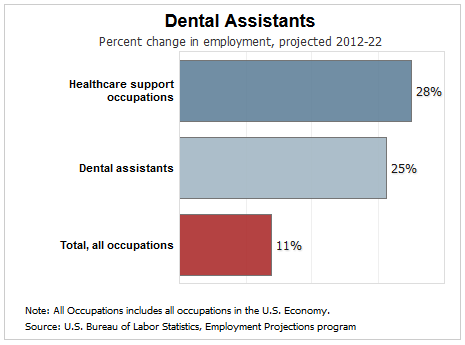 Increased populations and increased awareness about how dental health affects heart health and vice versa mean more people are getting their teeth cleaned and checked on a regular basis. Assistants are the ones who take x-rays of your teeth and who talk to patients about dental hygiene. They may also do behind-the-scenes work such as sterilizing instruments. Dental assistants tend to receive solid pay. The BLS projects dental assisting jobs will grow by 25 percent between 2012 and 2022. The median annual pay in 2012 was $34,500.
Nursing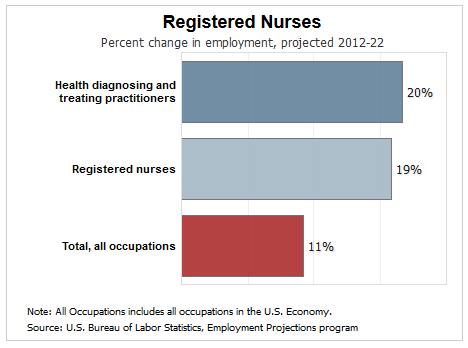 The fifth medical field that is in great need of people, especially as the population grows and as medical insurance reforms increase access is nursing. Whether you are interested in becoming a registered nurse (RN), a Practical Nurse (PN), or another type of nurse, you can bet that these subfields, especially if you are interested in becoming a travel nurse or a per diem nurse, will have more and more openings available. Even though the shortage of nurses now is not nearly as bad as it was before, there will still be a nurse shortage over the next several years. As a matter of fact, the BLS says registered nursing jobs are expected to increase by 19 percent between 2012 and 2022, and in 2012 the median annual pay was $65,470. Practical and vocational nurse jobs are expected to soar by 25 percent between 2012 and 2022, with the 2012 median pay at $41,540 per year.
Round 2 of Nursing School!! #ecpi #mci #lpn pic.twitter.com/GLXi27xLsI

— Tiffany Travis (@tiffanyntravis) April 7, 2015
You can obtain degrees and certificates in these fields and more through ECPI University's College of Health Science and College of Nursing. Most degree programs run from 15 months to 2.5 years, and ECPI University's year-round schedule could allow you to advance quickly through your chosen program. Contact us now for more information and find out more about the many programs we offer. It could be the Best Decision You Ever Make!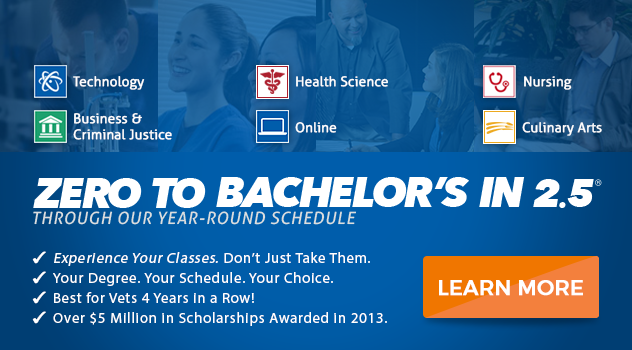 DISCLAIMER – ECPI University makes no claim, warranty or guarantee as to actual employability or earning potential to current, past or future students or graduates of any educational program we offer. The ECPI University website is published for informational purposes only. Every effort is made to ensure the accuracy of information contained on the ECPI.edu domain; however, no warranty of accuracy is made. No contractual rights, either expressed or implied, are created by its content.
Gainful Employment Information – Master of Science in Nursing
Gainful Employment Information – RN to BSN - Bachelor's
Gainful Employment Information – Nursing (RN) - Associate's
Gainful Employment Information – Practical Nursing – Diploma
Gainful Employment Information – Dental Assisting - Associate's
Gainful Employment Information – Medical Assisting – Associate's
Gainful Employment Information – Physical Therapy Assisting - Associate's
Gainful Employment Information – Sonography - Associate's
For more information about ECPI University or any of our programs click here: http://www.ecpi.edu/ or http://ow.ly/Ca1ya.