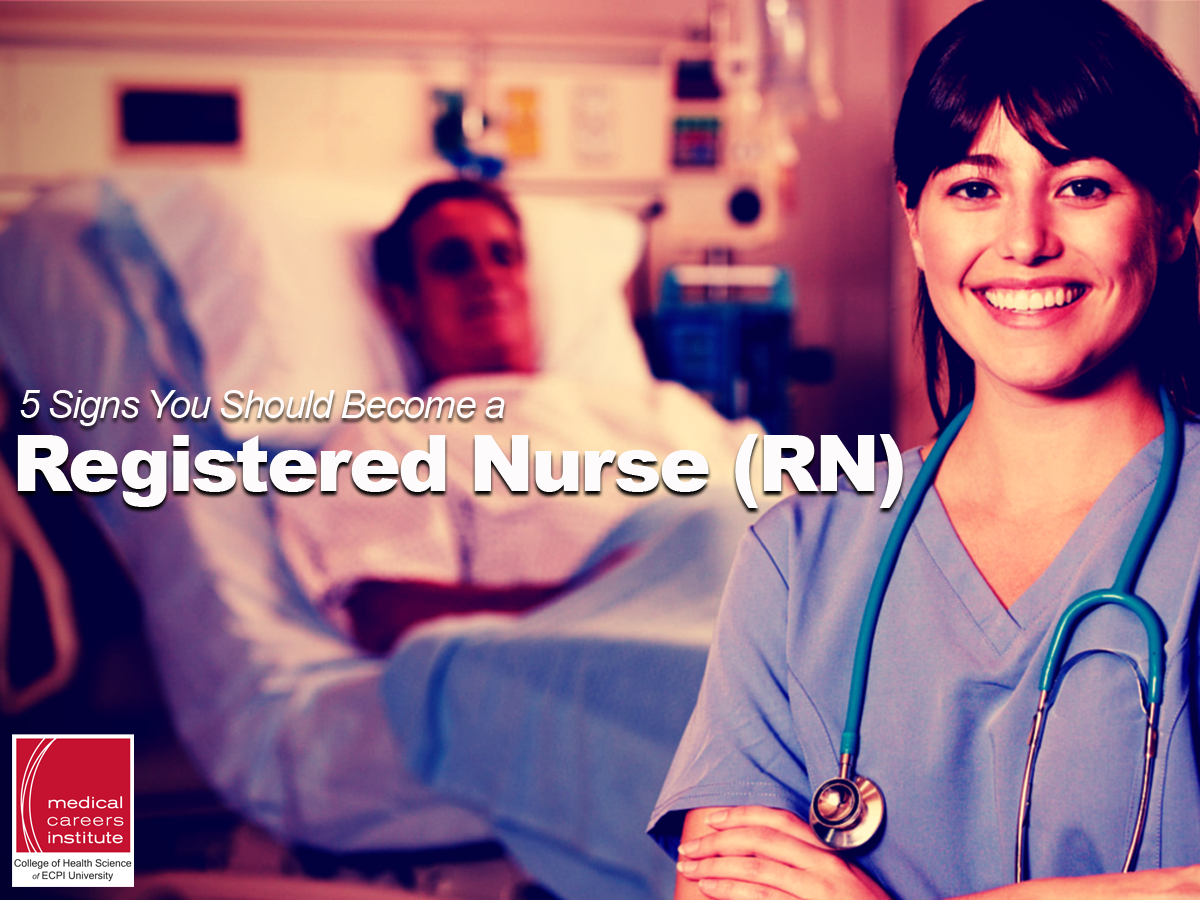 Thinking about a career in registered nursing? The nursing field can be fulfilling, but it isn't for everyone!
Most people associate registered nursing with images of smiling hospital workers feeding people, administering medicine, and making beds. These images are accurate, but they only give you part of the picture. Registered Nursing can be anything but glamorous. They often times have to clean up bodily fluids and compel patients who don't understand their treatments to take medications, perform therapy or even eat in order to nurse them back to health!
Before you apply to a registered nursing program, you may want to ask yourself if these 5 signs indicate you should become a registered nurse...
You genuinely care about people...
Although these experiences may turn some people away from nursing, they are paradoxically some of the most rewarding aspects of the job. As a registered nurse, you'll prove to yourself and to others that you are a caring person, willing to stick by those who need you no matter how difficult it is. Many nurses report that their career path has made them more empathetic, moral people and compassionate people.
You value job security...
One of the greatest fears among young adults these days is that they'll suddenly lose their job and be left unable to pay their bills. If you've recently bought a house, gotten married, or are otherwise on shaky financial ground, sudden job loss can be devastating. Nursing is one of the fastest growing occupations in the country, and is projected to keep growing. According to the Bureau of Labor Statistics, the industry will add over half a million jobs over the next eight years. You won't have to sacrifice good pay for this security, either; the median pay for registered nurses in 2012 was $65,470.00 a year full-time.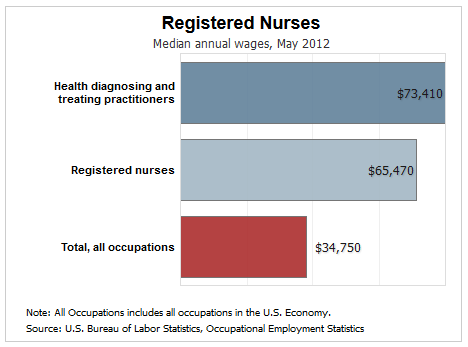 You need a flexible schedule and/or don't mind shift work...
Registered Nursing is one of the rare fields that combine secure income with flexible working hours. Hospitals need nurses on duty 24 hours a day and 7 days a week, meaning that, in most cases they'll be happy to let you choose a shift at that fits your schedule. Of course, experience and seniority still play a role in shift selection, flexibility can still be achieved if you are willing to adjust your schedule as well. A typical shift can last anywhere from 4 to 12 hours a day depending on the facility and staffing levels.
You need to be able to work anywhere...
Unlike many professional fields, registered nurses can work anywhere in the country with minimal re-training or re-licensing requirements. This situation is ideal if you have relatives in multiple parts of the country, if your spouse's job requires you to move frequently, or if you just don't feel like staying in the same area for long periods of time.

You are good at math and science...
Comfort and kind words aren't the only services you'll have to provide as a registered nurse. You'll also have to calculate the dosage for medications, monitor changes in your patients' vitals, and predict any side effects that medications could have on each of your patients. If you have an interest in science and enjoy doing math problems, nursing will give you ample opportunity to practice and perfect these skills.

Are you interested in a career in registered nursing, but you need a school that is flexible and can accommodate your busy life/work schedule? ECPI University, College of Health Science (Medical Careers Institute) has a Registered Nursing program which offers affordable and accessible training for aspiring nurses. For more information, visit our website today.

DISCLAIMER – ECPI University makes no claim, warranty or guarantee as to actual employability or earning potential to current, past or future students or graduates of any educational program we offer. The ECPI University website is published for informational purposes only. Every effort is made to ensure the accuracy of information contained on the ECPI.edu domain; however, no warranty of accuracy is made. No contractual rights, either expressed or implied, are created by its content.
Gainful Employment Information
For more information about ECPI University or any of our programs click here: http://www.ecpi.edu/ or http://ow.ly/Ca1ya.