When workplace computers or networks are on the fritz, management calls in IT professionals. Often, these folks work as company employees, but it is also common for businesses to outsource IT work. In any case, as computers and technology become even more intricate features of the business landscape, the role of IT professionals and managers is even more necessary.
To that end, here are eight important benefits of IT management training.
1. The pay can be amazing.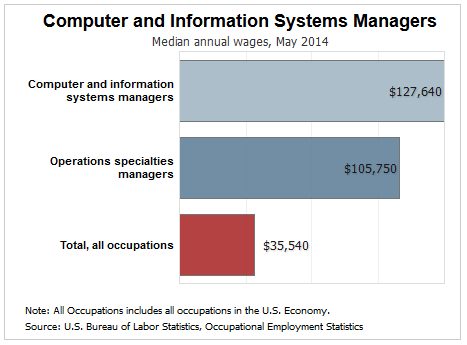 The median salary for an IT manager is $127,640, according to May 2014 data from the Bureau of Labor Statistics. The upper 10 percent of managers earn in excess of $187,200. The highest-paid managers work in information, while those working in computer services design, finance and insurance, manufacturing, and management of companies also bring home higher-than-average money for IT managers.
2. You can often customize your duties.
IT management encompasses such diverse job titles as IT director, IT security manager and chief technology officer. Depending on your specific interests, you can find work that best matches what you want. For example, IT security managers supervise network and data security. They collaborate with top management to establish security policies and disseminate the information. On the other hand, an IT director sets IT system requirements and directs IT activities. The directors hire and train employees, and they also track budgeting. Such positions are good for folks who want a wider range of duties.
In addition, because all types of industries need IT assistance, you have the ability to work in a field you're passionate about. For instance, you could work in public schools or for the federal government in Washington, D.C.
3. The work is challenging—in a good way.
If you are innovative, passionate and love technology, IT management training could take you a long way. The very nature of the work and rapid changes in technology ensure that your education never grows stagnant. Every day brings challenges aplenty and things for you to learn.
4. IT managers are in demand.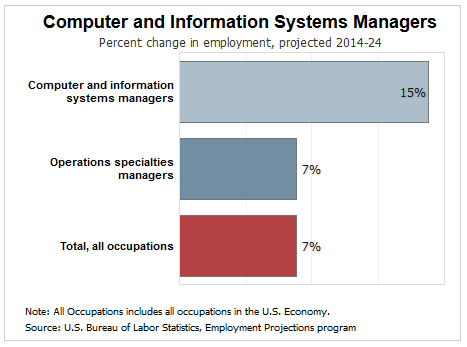 The demand for these IT professionals should grow 15 percent from 2014 through 2024, a rate that is much higher than the average for all jobs, according to the Bureau of Labor Statistics. The insurance carriers industry, in particular, will see IT manager growth at a rate of 26 percent. Healthcare is another field that should enjoy robust growth of IT manager positions. In general, cybersecurity issues and expanding digital outreach account for these increases. Retiring managers also create new job openings.
5. You can work just about anywhere.
IT managers are needed all over the United States. While California, New York, Texas, Massachusetts and Virginia are the states with the most managers, they find work anywhere—because technology is everywhere.
6. The advancement potential is virtually unlimited.
In many cases, IT managers start out managing at a lower level. They work their way up to become IT directors, project managers and even chief technology officers. In turn, a chief technology officer could become a chief executive officer.
7. Companies need qualified candidates.
Quite a few businesses report that they have difficulty finding qualified IT managers, says the Bureau of Labor Statistics. IT management training helps job applicants prove that they are up to the task. Many IT programs collaborate with businesses to stay on top of real-world problems and to ensure that graduates can step in to help right away. IT is a fast-paced field, and the best applicants combine work experience and an understanding of current technology. IT management training that includes externships helps you get some work experience, and you may even get hired by the company you do your externship with. Also helping you with work experience is the fact that much of your coursework is project-based to give you a feel for real-world situations. In addition, senior projects often have you create technology requirements and marketing plans for a business.
After you complete an education program, the skills you should have include web design, networking, programming, information literacy and management theory. You'll know about conducting business research, analyzing reports, developing business plans and communicating effectively in an international market.
ECPI is an amazing school, where you learn not just from instructors that have knowledge on what they are teaching but have had first hand experience. It is very good environment

Posted by David Bacsa on Friday, March 13, 2015
8. Earn your degree quickly.
Depending on the program you choose, you could complete your degree in a mere two and a half years. What a tremendous investment and wise use of time. In return, you stand to get compensated well for a rewarding and useful career.
Does a career in IT Management sound like it's for you? Contact ECPI TODAY for more information about earning your Bachelor of Science in Business Administration with a concentration in IT Management. It could be the Best Decision You Ever Make!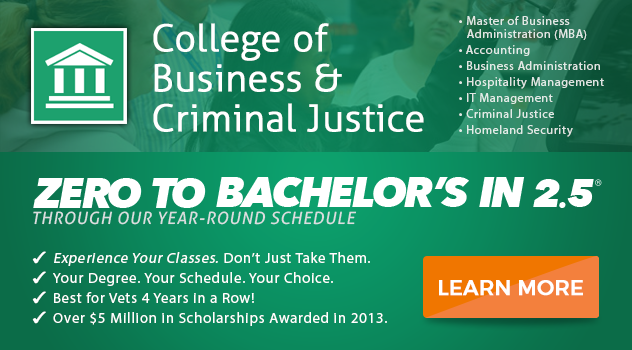 DISCLAIMER – ECPI University makes no claim, warranty or guarantee as to actual employability or earning potential to current, past or future students or graduates of any educational program we offer. The ECPI University website is published for informational purposes only. Every effort is made to ensure the accuracy of information contained on the ECPI.edu domain; however, no warranty of accuracy is made. No contractual rights, either expressed or implied, are created by its content.
Gainful Employment Information – IT Management - Bachelor's
For more information about ECPI University or any of our programs click here: http://www.ecpi.edu/ or http://ow.ly/Ca1ya.