Accelerated College Degree Program Benefits
You may have heard of accelerated college degrees before, and wondered "what's the catch?" While it's true that accelerated college degree programs are not for everyone, they really are as they seem: college education at a breakneck pace. 
Accelerated Degree Programs Save you Time
Seems pretty obvious, right? But it's worth breaking down the concept for those new to accelerated education:
Traditional associate degree: 2 years 

Accelerated associate degree: 1.5 years

Traditional bachelor's degree: 4 years 

Accelerated bachelor's degree: 2.5 years 
Many students who choose the accelerated route do so for unconventional reasons. Typically these students are further along in life--they may be former drop-outs ready to try again, job switchers looking to try a new industry, blue collar workers tired of the daily grind, and anything in between. An accelerated college degree program is a wonderful option for any of these circumstances.
The fresh-out-of-high-school "college experience" of dorm life, meal plans, and keg stands won't be found at an accelerated university. The courses, students, and experiences will all be industry-driven and future-focused. This is college for busy working adults! 
It's the Same Degree, Only Faster
Upon learning pf a 4-year degree condensed into 2.5 years, many might assume that something is being omitted. This is not the case: Accelerated programs fit the same material and the same amount of education into a much smaller window. A bachelor's or associate degree earned from an accelerated institution is just as valid as one earned from a traditional one--as long as both are properly accredited. 
Year-Round Education
How do they condense so much knowledge and learning into such a small timeframe? By making a few tweaks to the way things are traditionally done. Students in an accelerated degree program do not break for the summer months or winter holiday season. While it may sound like a drag, it's only for 1.5 - 2.5 years!
Immersive Classroom Learning
Students in an accelerated degree program will attend school for a shorter period of time, but individual classes are long. Missing one day of a class like this can be devastating, which is why this type of education is recommended for very motivated learners who are serious about changing their lives. It's a challenging road, but--once again--a shorter path to your goal of graduating. 
Remote Learners
Another non-traditional route is online education. For some time, there was a common belief that online degrees carried no value. This may be true of some institutions (particularly in the past), but as long as an academic institution is properly accredited, an online degree is just the same as any "ground" campus degree. And the best part of an online degree is that students can self-pace their education, progressing at a speed that is comfortable to them. 
Accelerated Learning Styles
Not everyone learns the same. We're people after all, not cookies to be cut all in the same shape. Some students may prefer a summer break, returning refreshed and ready to learn. Other students may return feeling lost, having forgotten all the skills and information they worked so hard to gain in the spring. It all comes down to who you are and how you learn. 
Accelerated colleges hear from students all the time: "I tried traditional college and it didn't work for me." If this resonates, an accelerated program may be a perfect fit for you. Traditional colleges are big on expensive textbooks and taking attendance. Many students learn by doing, not reading. A fast-paced accelerated degree program should offer a healthy mix of classroom learning (via free e-books) and hands-on technical training (i.e., doing something different every day).
Accelerated Programs Attract Dedicated Students
If you're going to school 50 weeks out of the year, it's fair enough to say you're a very dedicated student. If you want to be surrounded by classmates who want to be in college and want to learn as fast as you do, this is the place for you to be. No one who wants to major in partying or procrastination is likely to apply or stay enrolled in an accelerated degree program.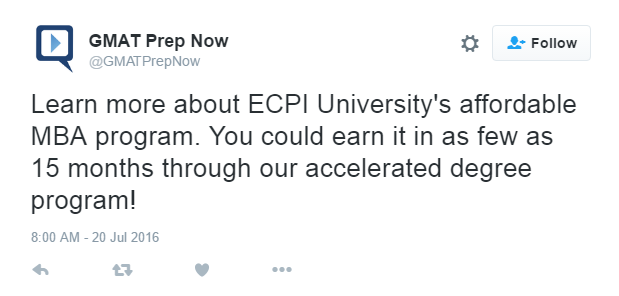 Are you ready for the pace and demands of an accelerated degree program? If you want to earn your degree, contact ECPI University today to discuss your future and how we could help you achieve your goals. Whether you're interested in the field of business, criminal justice, technology, health science, culinary arts, or nursing, ECPI University has a program you could fit into.
It could be the Best Decision You Ever Make!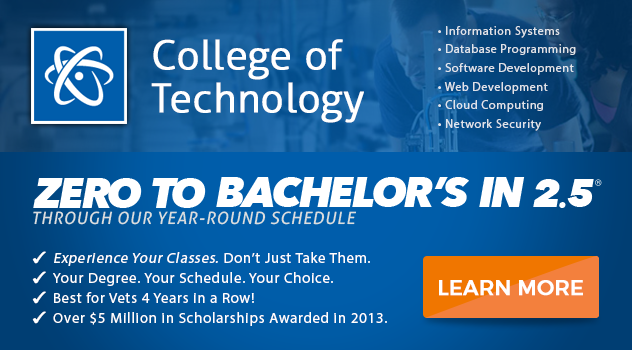 DISCLAIMER – ECPI University makes no claim, warranty, or guarantee as to actual employability or earning potential to current, past or future students or graduates of any educational program we offer. The ECPI University website is published for informational purposes only. Every effort is made to ensure the accuracy of information contained on the ECPI.edu domain; however, no warranty of accuracy is made. No contractual rights, either expressed or implied, are created by its content.
For more information about ECPI University or any of our programs click here: http://www.ecpi.edu/ or http://ow.ly/Ca1ya.